"It's about uncovering the role of women that's been neglected–and criminally so," David Bownes, the exhibition's curator, tells Co.Design. "Women played a really significant role during the 20th century in developing poster art. If this exhibition can highlight that fact, which has been neglected and forgotten, that would be my goal. Ultimately, you don't want to have an exhibition called Poster Girls and you want to have an exhibition that includes both men and women with no gender call-out, but right now women need to be put back into the story."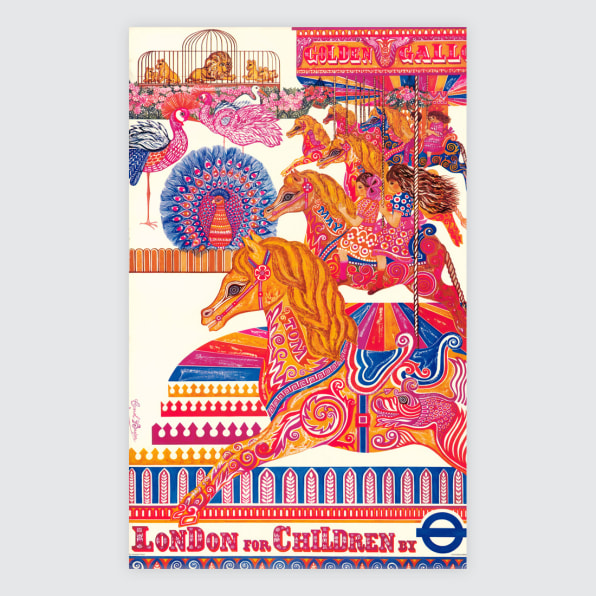 London's transportation system has a remarkably strong design legacy–from its typography to its mapping to its station architecture and logo–and it's due in large part to Frank Pick. As managing director of the London Underground in the 1920s, he oversaw every bit of the system, but he had an especially deep personal interest in the station posters. One of his first responsibilities, which he held in 1908, was to manage the system's marketing.
Pick was influenced by the Arts & Crafts movement–which strove to make every object beautiful–and believed in equality between men and women. He made a concerted effort to hire women (and men) to design posters for the underground when design wasn't seen as a women's profession. Pick began by hiring women book illustrators to design posters, which is why some of the earliest examples from the TfL's archives–which include over 6,000 posters–have a more whimsical look.
"In the 1910s, the posters by women designers look like enlarged pages from nursery rhyme books since their day job was designing books for children," Bownes says. "By 1920s, there are women that are working in the style of the best male designers–meaning flat color, simplified shapes–and over the 1920s and 30s [women designers] turned to graphic abstraction, or what we'd call art deco. After WWII the style had become much more illustrative."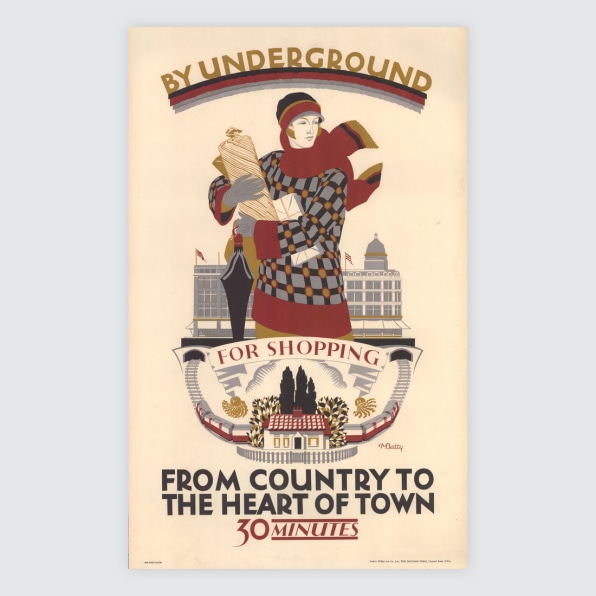 Bownes considers Transport for London's "golden age" of poster design to be the '20s and the '30s, which was when the discipline came of age and when TfL was commissioning close to 100 posters annually. This is when the effective format–a simple image, a short message–became the norm. Art and design schools began teaching poster design, and a disproportionate number of students in these programs were women, compared to other art and design programs. (Bownes doesn't know exactly why.) Graphic design was suddenly seen as a potential career opportunity for women, and TfL's commissions helped launch the careers of many of them.
"It was said at the time that the ideal design student job was a commission from the Post Office for a stamp or a commission from London Transport for a poster," Bownes says. "Those were a springboard for a career in design. When you got those, you've arrived."
Those design careers didn't necessarily revolve around poster design either. One of Bownes's favorite designers in the collection is Dora Batty, who eventually became the head of the textile design program at the Central School of Arts & Crafts before becoming the school's director in 1950.
"For me, Dora Batty is the greatest of all the designers [in the show]," Bownes says. "If you look at [her 1925 "From country to the heart of town in 30 minutes" design], that poster has got all the elements of a modern British poster from the mid 1920s: simplified colors, simplified spaces, and you see the understanding of textiles in the clothes the women is wearing. It's spot on in the message the underground was encouraging, which was off-peak ridership. It was elegant, well observed, and appealed to a new female audience. Previously a lot of posters are designed to be looked at by men. This one shows a young , independent woman traveling to the city for her own pleasure or enjoyment. She's not defined by her children or her husband."
Another stand out is illustrator Carol Barker's 1973 "London for Children" poster, which features psychedelic colors and exuberant patterns. "It's a joyous and impactful poster that is emblematic of that period's style," Bownes says.
TfL estimates that around 170 women have designed over 1,000 posters in its collection. Bownes points out that we may never know the true contributions of women designers, however. Many posters were unsigned, and some signed only by initials. "The status of women was so low and some of those unsigned posters might have been women," he says. So while we may never know the true impact of pioneering women working in poster design, this exhibition is one step in recognizing the contributions of those who should be household names, but aren't.