What happens when an object can't be recycled anymore?
At the materials consultancy Material Connexion, the answer is simple: just reimagine the object's primary purpose.
The company helps connect assorted industries to material manufacturers, and often, that means looking at materials in new ways. So a nylon originally intended for medical packaging might one day find its way into automobile parts or even sneakers. As such, Material Connexion has a library of more than 8,000 materials, which are used to advise countless Fortune 500 companies.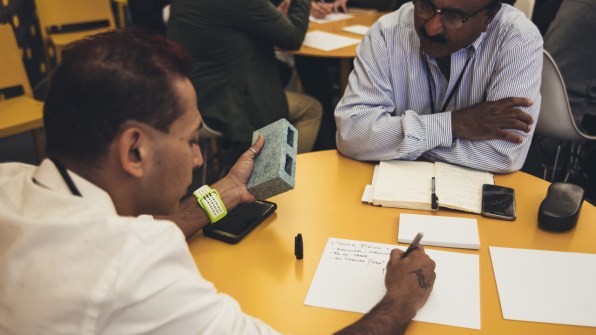 Take, for example, PaperBrick building blocks, created by Netherlands-based Studio Woojai and presented at The Fast Company Innovation Festival this week.
After newspapers are weakened by the recycling process and can no longer serve their original purpose–they are more or less spent. "With paper or plastics, you can only recycle it so many times," explains executive vice president Andrew Dent, "after five times, it's useless."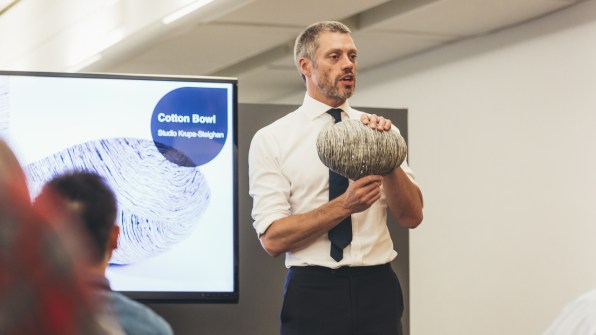 Instead of then letting such waste die in a landfill, Material Connexion works with designers to think up creative ways of extending its life. So that used-up paper pulp is compressed into something entirely different: a brick.
These paper bricks are surprisingly sturdy yet lightweight and stackable in much the same way as their clay counterparts. They can also be molded, cut, and drilled, just like wood or other construction materials.
"It's super solid," says Dent, "it can be pushed together like stone."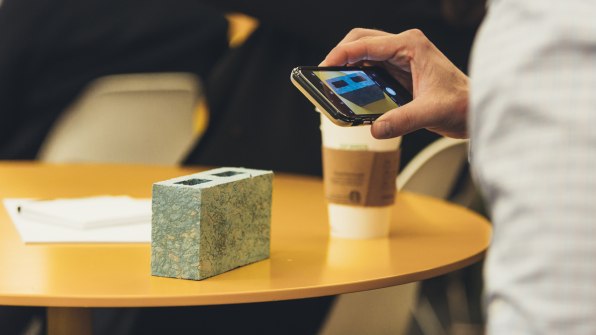 The difference is they're softer–with a fabric-like texture–and require a bit of wood glue to stay together. Most noticeably, the bricks have an artsy marble-like appearance in blue and gray shades. They can be crafted in small or large formats and used to build furniture, benches, and even houses, although Dent does admit it there are some unique concerns: "The question is: Would animals want to eat it?" says Dent with a laugh, noting that a fire retardant coating would, therefore, be advisable. "But apart from that, you could build a house with it."
The New York-based company often showcases recycled materials, like discarded skateboards (made into mosaic tiles) or hemp fiber (for interior walls). But its definition of sustainability goes beyond the recycling bin.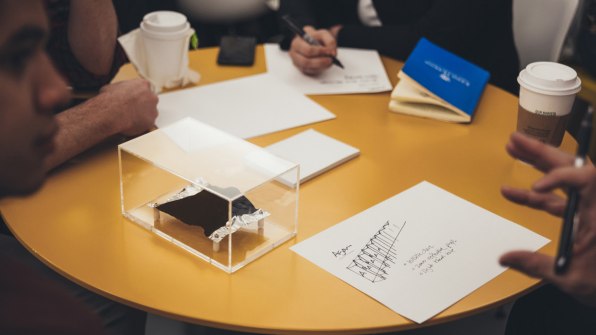 "Our research team scours the world, looking for the most interesting materials, but also to help the brands we work with make sure that the materials that they're sourcing work well within their product," explains Dent. The team does the legwork, all while asking: Can it be manufactured easily and without too many resources? What is its toxicity? Can it be further recycled? Does the material perform both aesthetically and with high performance? What is the social welfare of employees? Do the materials enhance the local ecosystem?
"There are so many separate categories of sustainability," says Dent, "we can work on all of those."
Sustainability, says Dent, is more than just eco-friendly–it's an effective manufacturing process. While companies love "the good story" that the buzzword can provide, they are more intrigued by how such processes can save them time, money, and human resources down the line. Some future clients might incorporate something as visual as the PaperBrick, while others might opt for subtler materials which simply use production processes that require less water.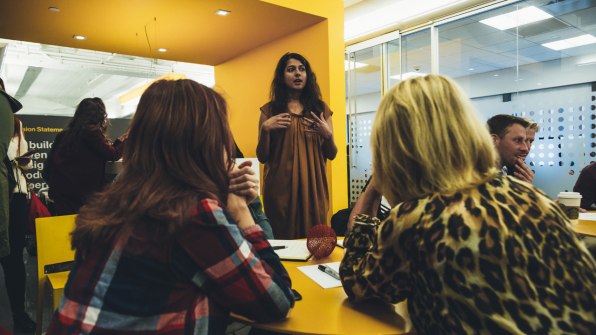 "Think about nature–the way it uses materials is highly efficient," says Dent. "We can mimic that and make sure you have zero waste, make materials that are local to you, and incorporate materials that work within your eco-system … these are all ideas that work towards more efficient production."
And although Material Connexion certainly takes credit for scouting sustainable materials, the company is quick to point out that it's also a popular business incentive these days. "Sustainability is often driven by our clients' needs," says Dent. "And they want to make products they can be proud of. "