Eighty percent. It's a high metric for just about any type of user behavior. It's also the percentage of Snap's 173 million daily users who have taken snaps at restaurants, the company reveals to Co.Design in a commissioned data set it is sharing for the first time in full. It's proof that, yes, Snapchatters really do more than take selfies in their bedrooms.
Photographing their culinary adventures is just the sort of habit that's encouraged Snap to launch its new Context Cards, which allow users to swipe up on some public snaps to get more information about the locations they were taken. That includes restaurant reviews, the option to make reservations, and even the ability to book a ride there with a tap. As we put it during the announcement, Context Cards make Snap look less like a zany doggie face filter company and more like the world's most beloved information utility: Google.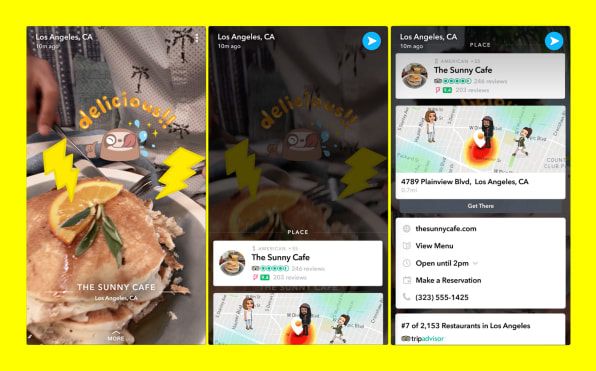 It's no coincidence that Snap has invested early in the restaurant angle of Context Cards, powered by partnerships with Michelin and OpenTable. According to another report, 90% of people who search for restaurants on phones and tablets will choose a restaurant based on the result. In other words, all that mobile data on where you might want to eat is probably useful, and actionable. If people are already snapping their experiences at restaurants, why not introduce a few tools for others to track down the haunt and try it for themselves?
But Snap's strategy, the company will tell you, goes much deeper than restaurants alone. It recognizes that, just as they likely do with other social networks, people snap their adventures out in the world. Yes, 81% of Snapchatters have snapped in the privacy of their own home, but the same percentage–81%–have snapped at parties. Seventy percent have snapped concerts, 67% the mall, 59% the beach, 58% an amusement park, 50% the gym, 49% the airport, 41% a sports stadium, and 40% a museum.
So sure, Snap's audience prefers partying over studying art history, but it's an active group, snapping 3 billion photos and videos a day. They're even doing things while they use Snap at home–73% have used it while watching TV and movies, while 64% have used it while cooking.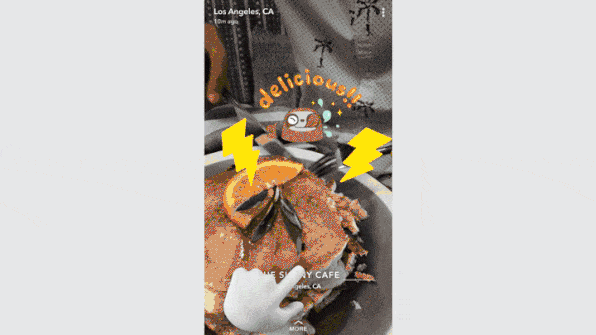 With features like Context Cards, the company believes it can nudge its users from not just to sharing things they do but discovering the next thing to do. Again, it's very Google-y of it to chase after that discover feature. But Snap's advantage here is that it can potentially own the entire circle of behavior in a way that Google doesn't, from content creation, to consumption, to discovery, back to creation again.
In Snap's strategy, you see something cool someone is out doing. You pull up the Context Card. You go do it yourself. You share it. Someone else pulls up the card. And they repeat. While it's much the same model as seeing someone eating charcoal ice cream on Instagram and tracking down that ice cream yourself, Snap is both pushing and claiming that extra step to take action–and potentially monetizing it–by teaming up with services outside its own app. What if you actually bought a concert ticket through Ticketmaster through your favorite musician's snaps? Or you were able to subscribe to Blue Apron in the same clip you watched of a friend cooking with one of its meal kits? It's easy to see just how blurry the lines between sharing, doing, buying, doing, and sharing again become.
But while the stats are intriguing and the design strategy is promising, none of this may matter all that much to Wall Street if Snap's user growth can't snap out of its plateau. There is no company in the world that understands advertising to its users like Snap does. Now it just needs more, and more, and more of them–each quarter.