Cold metal. Eerie clicking sound. Torturous duck-billed shape.
Yes, I'm talking about the speculum, the anxiety-inducing device that doctors use to check women's vaginal health. Despite its status as an instrument of discomfort and its dark history–involving a doctor who experimented on slave women–the speculum remains to this day one of the centerpieces of the often dreaded annual pelvic exam.
A team of four designers at the global design agency Frog is on a mission to redesign it–and reimagine what it means to go to the gynecologist in the first place. They've created Yona, a speculum prototype that ensures there's no cold metal against a woman's most intimate body parts. Along with the speculum itself, they've imagined solutions to other sources of anxiety during the annual exam.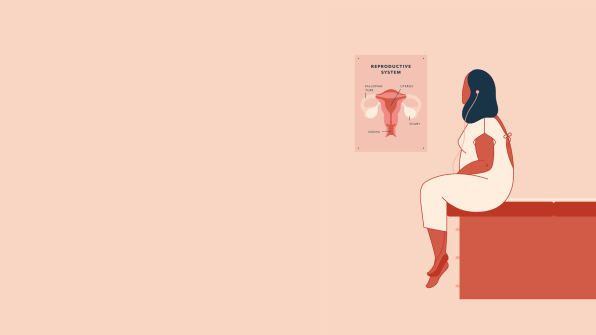 It began from the designers' own experiences going to the gynecologist. Hailey Stewart, an industrial designer and design researcher at Frog, and Sahana Kumar, a former Frog experience designer who's currently at Google, both had their pelvic exams the same week, and started sharing just how uncomfortable their experiences were. They talked to more women at Frog and began doing extensive interviews to understand what it is about going to the gynecologist that's so dreadful. They heard from young women who'd just experienced their first pelvic exam, women who'd had the sexually transmitted infection HPV, and women who'd given birth. "We had these humbling moments speaking with patients in their living room and opening up, and it was always this reaction of, I could sit here and talk about this all day long," Stewart says. "It was not hard to get people talking."
The designers heard the same thing again and again–how horrible the speculum is. "The speculum is metal and cold," one user told them. "It feels more like a weapon than something that's meant to go inside of me."
To counter this invasive kind of experience, the designers began with shapes more reminiscent of what generally is inserted into women's bodies, taking visual cues from vibrators. But they also spoke with healthcare providers and OB-GYNs to understand what doctors needed out of a redesigned speculum. Ultimately, they opted for a design that resembles its predecessor in overall shape because health providers needed to be able to fit the device seamlessly into their practice.
Still, while the design resembles the specula of old, the designers came up a few tweaks to help women feel more comfortable. Yona is covered with the silicon used in vibrators and sex toys (the designers even took a trip to San Francisco sex store staple Good Vibrations for research purposes). Changing the angle between the handle and the bill from 90 degrees to 105 degrees meant doctors could operate the device further away from the exam table, which eliminated the last scooch toward the doctor–an awkward repositioning before the speculum is inserted that patients said often made them feel incredibly vulnerable, exposed, and embarrassed. And the bill itself is now composed of three leaves, which the designers say means the doctor doesn't have to open it quite so far to get the same access.
But it wasn't just the speculum that needed redesigning. Users told them about the dread that creeps up their spine while they sit in a crinkly paper dress waiting for the doctor to arrive. "People essentially equated that as just as anxiety-inducing as the speculum insertion itself," Stewart says
So the designers also focused on redesigning a few of the worst elements of the annual exam. To eliminate the need for a scooch forward, which can be embarrassing and uncomfortable for patients, Kumar and her team propose that doctors add a "your butt goes here" graphic to the sanitary paper lining the patient chair.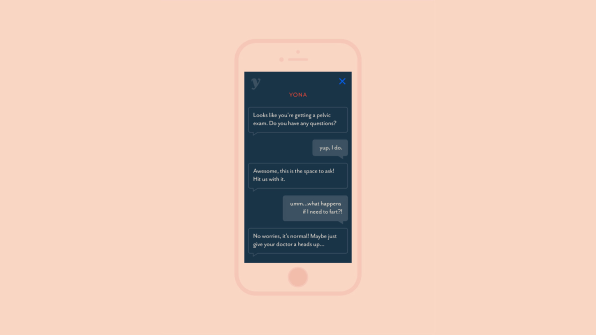 Kumar also envisions an app that guides each patient through the experience. It would let you fill out a medical questionnaire via a friendly chatbot and there'd be a place where you could ask questions you might not want to ask your doctor, like, "is it okay to fart during the exam?" The app would also feature a guided meditation for those nerve-wracking moments before the doctor comes into the room. This isn't just good for patients; it's good for doctors. When a woman is more relaxed, the doctor has an easier time inserting the speculum and doing the exam.
The team also imagines a "comfort kit" with socks for when patients' feet are in the stirrups, a weighted gravity blanket to calm them down, and a stress ball–something they imagine patients purchasing for themselves, at no cost to the health provider. The idea is due to the team's desire to ensure that healthcare providers wouldn't need to invest significantly more to make women's experiences better, but it's hard to imagine any woman deciding to purchase a kit like this before heading to the gynecologist. If doctors provided it, that might be a different story.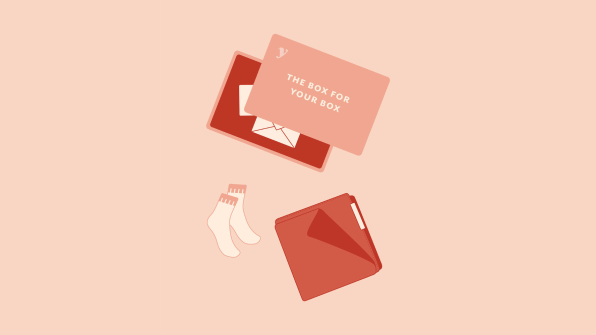 For now, Yona is a concept and remains in prototype phase. The team is looking for development partners to bring their designs to doctors' offices. According to Fran Wang, the mechanical engineer on the team, Yona still needs to undergo a tremendous amount of user testing and validation because it is a medical device. Then, there's a far bigger challenge–getting Yona into doctors' hands where it can make women's experiences on the exam table better.
"Give me something I can take into my normal life," one patient told them during user research. "Empower me to think holistically about my health." Perhaps Yona will turn the dreaded annual exam into something a little bit more humane.