Over the years, Ad Age has expanded from a broadsheet to a magazine to a multi-platform media brand, but at its core it still thought of itself as a magazine until it began its transformation last year, when it brought on a new publisher, a new editor, and hired the New York-based studio Original Champions of Design to develop a new visual identity for the company and a redesign of its website and magazine.
"[The redesign] couldn't just be around a cool logo; it needed to be driven from the belly up by editorial," Joshua Golden, Ad Age's publisher, says. "We're expanding into the world of culture."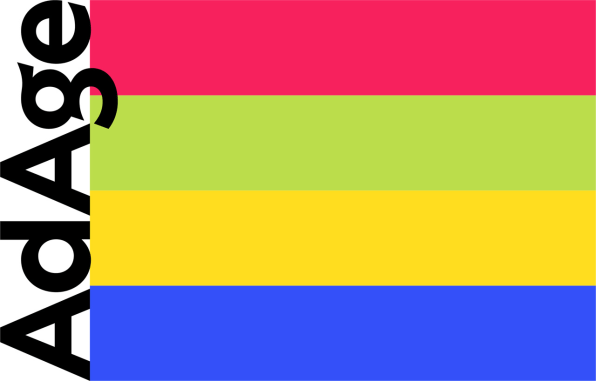 Ad Age's mission–providing essential information to industry leaders–isn't changing. What's changing is what that essential information is, and who those industry leaders are. While the company was reassessing, it looked deep into its past. A number of those archival finds helped guide the redesign,  starting with the old slogan "important to important people," which became a North Star for its reinvention.
Ad Age's leadership recognized that it was suffering from inertia–it wasn't evolving as fast as the industry it was covering. It wasn't talking about what was important, and it wasn't reaching the people it needed to. "Somewhere along the line 'trade' [publication] became synonymous with 'boring,'" Heidi Waldusky, general manager of marketing and brand at Ad Age, says. "We're telling people what's best in class, but we weren't practicing this ourselves."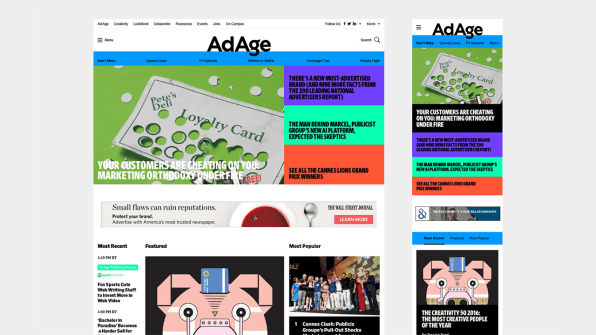 "Important" news for the ad industry today meant stories framed through the lens of culture, including politics. For example, an article in the newest magazine issue talks about how the NRA is now targeting female consumers because of lagging gun sales after Obama left office. Online, it's talking about how the GOP should rebrand. "Important people," meanwhile, shifted from talking to executives in a corner office–the CEOs, CFOs, and COOs–to the people actually making decisions about what goes into campaigns and influencing their peers. That could be anyone from a creative director to a marketing director to a designer: people who are on the front lines of advertising and marketing.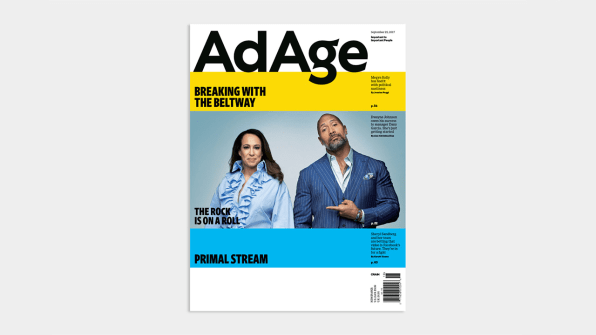 "The challenge at Ad Age is they're constantly publishing," Jennifer Kinon– OCD's cofounder and the 2016 Hillary campaign's design guru–says. "They're true journalists in an exciting industry with so much content to cover. Our job was to raise their work to the level of advertising, which is so polished and has high production value."
When Kinon and her lead designer Mike McCaughley embarked on the project, they took a deep dive into the company's archives in Michigan. They found that though the company began as a newspaper, it always had an editorial view–and a highly curated approach to what it published, editorially and visually. This translated into the visual language OCD deployed in the identity, which uses vibrant color blocking inspired by the idea of highlighting, framing, and clipping information.
The bands of color serve to organize information on Ad Age's magazine cover, mobile and desktop site, conference collateral, white paper report covers, and merchandise–while maintaining the polished, high production look the brand was after. It also references a graphic device Ad Age used decades ago; the front page of its newspaper featured a bright blue logo and color band on its masthead.
"Really, it's getting design out of the way, but reminding people that Ad Age does exist," Kinon says.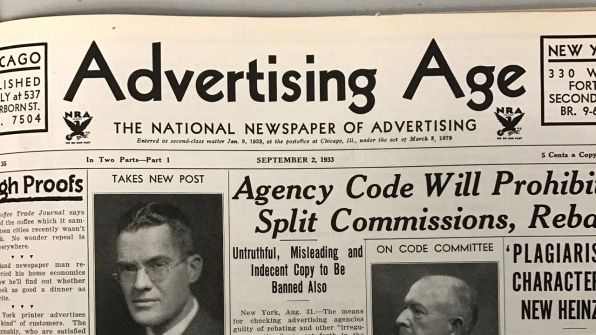 Ad Age is no design neophyte and its history also served up another element the new identity: its logo. McCaughley found a copy of Ad Age's first edition dating from the 1930s and admired the logo, which was hand-drawn by the company's founder, G.D. Crain. OCD then hired typographer Tobias Frere-Jones to create a new logo and font for Ad Age that riffed on the archival logo and his own Retina font, which was designed for legibility in print and on digital interfaces.
"It wasn't creating new things and attaching them to the brand's history," McCaughley says. "It was finding parts of its history and revealing it to this audience."
Now Ad Age has a bold visual identity that both gives the company a signature while simultaneously becoming a supporting player to the real star: the subjects of its stories.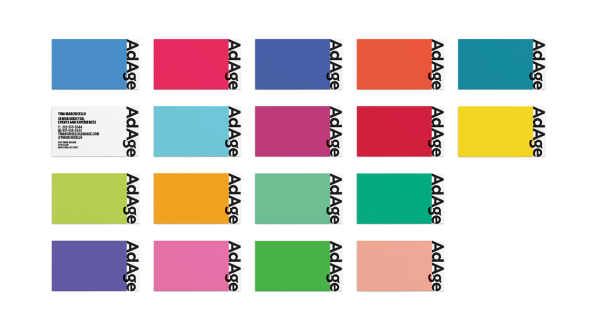 "It's the order of the day now," Kinon says about the flexible design system. "Any brand that comes into conscious now has to live on digital, on print. We can't design for just one place; we need to design for all modes of communication. It's all lingua franca."
Advertising has always influenced our culture. The difference today is it's become more pervasive and more powerful, as companies spend billions to wield influence and gain market share. Advertising isn't a page in a magazine, a commercial, or a billboard. It's in the websites companies pay search engines to boost to the top of your Google results. It's stories that brands pay your favorite magazines to produce for them. It's propaganda on social media designed to influence your political viewpoints. We're all better served to think more critically about how advertising impacts us, and Ad Age's new identity and editorial perspective is in service of this.
"Publishing is struggling as a medium, but people thrive on information," Waldusky says. "We don't want to back away from that."