The ads for Ikea's Riggad line, created by Swedish agency Acne, were timed to coincide with the release of the iPhone 8, or "your phone's favorite lamp," as Acne puts it. The entire campaign is a play on Apple's litany of tired double entendre advertising slogans and famous catchphrases. Let's review!
In Ikea's hands, "Think Different" —the legendary ad that made Steve cry—becomes "Link different," probably making him turn in his grave.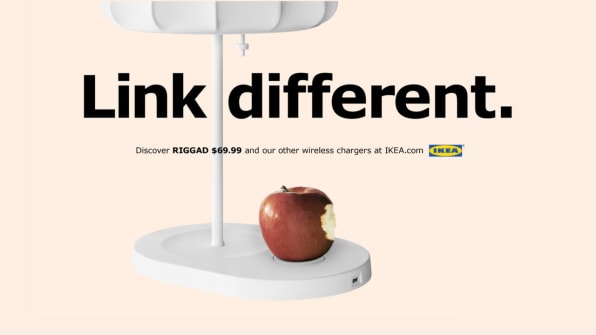 Meanwhile, the classic jobsianbolic line about the iPhone 4, "This Changes Everything. Again," becomes "This Charges Everything."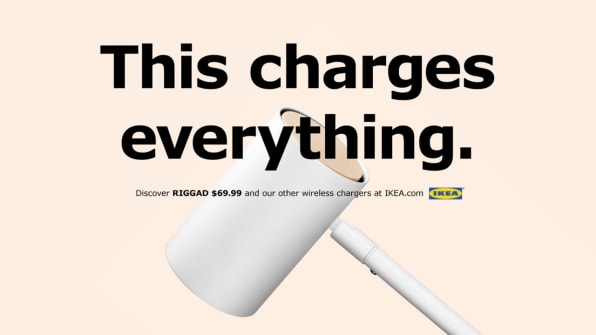 The sorely-missed "There's one more thing…" of yesteryear Steve Jobs keynotes–which the company brought back to introduce the iPhone X this year–gets banalized into a blatant ad.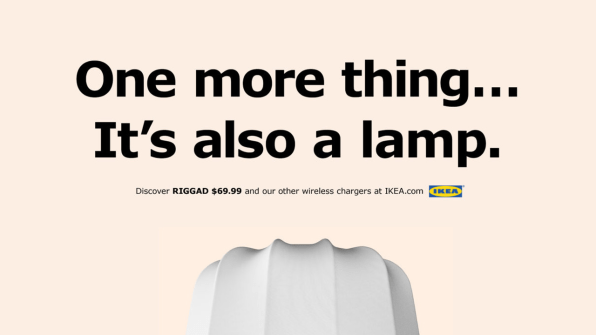 And finally, two Ikea original lines riff on Apple's book of puns:
Perhaps this playful ribbing—"tack så mycket for the ongoing Ikea Place app promotion, Apple! Here's an ad campaign that makes fun of your pretentious wordplay!"—is just a reflection of the Swedish company's aspirations to become a consumer electronics contender. It seems logical that Ikea would like to put itself at Cupertino's level in the mind of consumers.
I don't care. I just want to see corporations poking fun at each other with sharpened screwdrivers until they bleed.