Most people don't know it, but Shake Shack's branding was created for free. Pentagram partner Paula Scher was happy to provide pro bono work to what was then a little burger joint in her local park. Less than a decade later, Shake Shack IPO'd for $100 million. In a world of cheesy fast-food marketing, its lean, modern look no doubt had something to do with Shake Shack's success packaging its premium burger.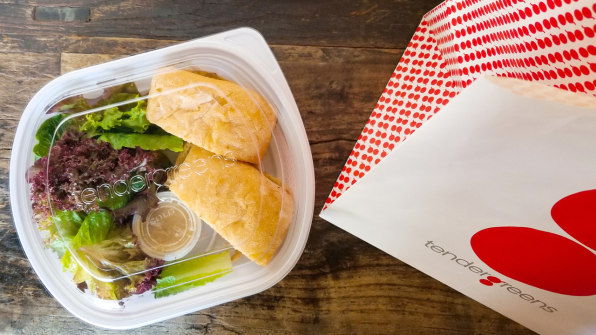 Shake Shack founder Danny Meyer has teamed up with Scher again in hopes that the "fast-casual restaurant brand" magic strikes twice. This time, the business is Tender Greens–the first outside business Meyer's Union Square Hospitality group of restaurants has invested in. The new Tender Greens plays off of the shape of a "g" constructed from a crock and a plate. It's the sort of visual scheme you'd expect in a classic print logo, but it adapts at its bottom to feature photos of dish after dish of Tender Greens's ever-changing menu.

Founded in California in 2006, Tender Greens probably sounds like an organic, vegan salad bar. The inky script of its logo, punctuated by an arugula leaf does nothing to buck that assumption–a design originated by cofounder Erik Oberholtzer's brother. In fact, Tender Greens is a restaurant more like a bohemian, fine dining upgrade to Chipotle. The model is what makes it unique: Each restaurant is operated by a single chef, who runs a team preparing new, locally inspired specials all the time. This ever-rotating, family-style presentation of dishes is scooped onto your plate with plenty of meat. Essentially, the company has given creative chefs a way to run their own restaurant, but within a scalable business plan with less risk.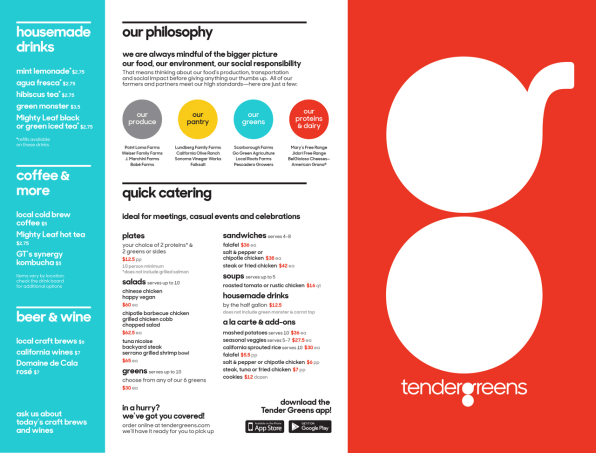 Tender Greens has 24 locations in California. It will be opening its first restaurant in New York City in February–which prompted the new branding–and it plans to double the number of locations over the next five years. The name "Tender Greens" has enough recognizability in California that executives felt it had to stay. But for the rest of the brand? Meyer had an idea.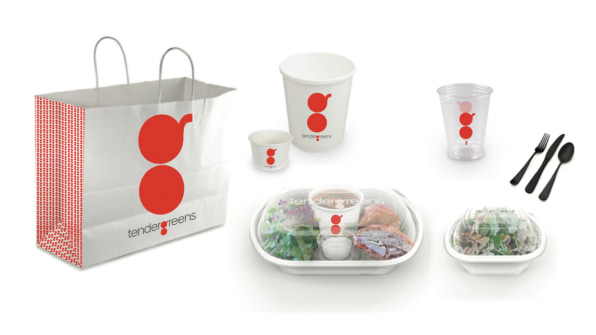 "He introduced us to Paula Scher with the statement, 'Paula is the best in the world. She's in the design hall of fame. You and I are not. Trust her. She's going to make you uncomfortable but trust her. Let her take you somewhere amazing,'" Oberholtzer recounts. So the team flew Scher out to Los Angeles to visit locations and eat.
During the visit, Scher lasered in on something that Oberholtzer himself hadn't quite articulated. "What came out of that was, very quickly on the tour she was like, 'Your brand is all about the chefs and the chef's kitchen. That's the magic. That's what differentiates you. We need to bring the public's attention to that," says Oberholtzer. "To the fact that every day, twice a day, there are new dishes across the group–48 new dishes coming out, and they may never come back again."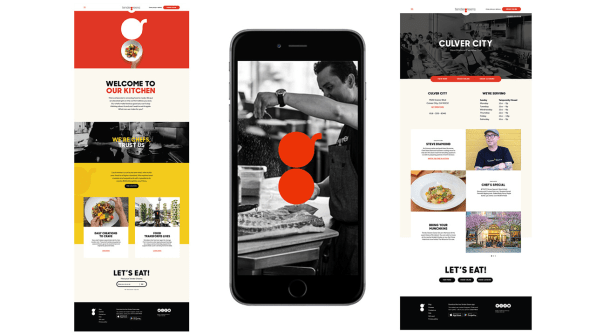 "[Oberholtzer] was talking about something that really represented the life of a chef. One of the things that he thought was really important to the chef was the knife. And he thought knives have three screws in them, which could be a series of dots. And I didn't think anyone would catch that other than a chef," laughs Scher. "I realized, it wasn't a knife, it was the notion of the cookware, pots, pans, etc. And I realized you could build a 'g' out of it if they were [drawn from] overhead."
So the Tender Greens mark was simplified to a "g"–one crock (or pan) on top, and a plate at the bottom. It's a literal rendition of what happens when a customer walks through the line at Tender Greens, getting these family style dishes served onto a plate.
But the real cleverness of the mark is that it's not built to be still or stagnant. It's created to change. The lower half can be swapped out with infinite dishes. And that means it might even display the latest special, to be promoted on an electronic sign or social media. It's a tease of both Tender Greens's variety, and a promise of what you might be eating right now.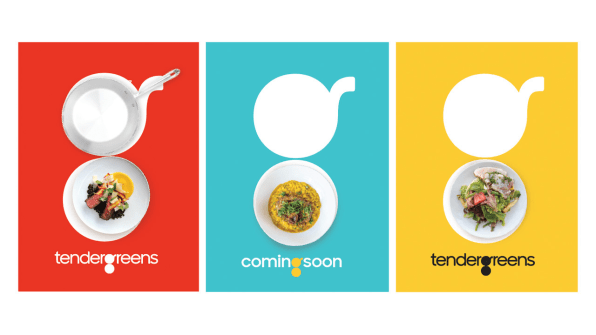 Will it stick? Pentagram is a highly respected graphic design firm. But its creations often seem aimed at the New York intelligentsia rather than Middle America. It's places like Kansas City, not Manhattan, where fast food is often tested before it's scaled.
"This is a tricky thing to talk about. You're talking about what is a populace idea of what something like this should be. I don't deliberately [lean] that way, though I think my work is fairly populist. I think my goal is to take something and elevate the expectation of what it can be," says Scher. "I think Shake Shack did that. It elevated what your expectation of what a hamburger joint could be. You do it un-cynically. I'm going to try to make this thing a little bit better designed, but not so cold or offensive that you couldn't be included in it."