"Her body, her choice!" "My body, my choice!"
A crowd at the Women's March in Los Angeles shouted these words earlier this year in protest of the recent election of Donald J. Trump, whose pejorative comments about women and promises to roll back women's rights sparked massive demonstrations across the country.
Now, the organization Cities & Memory is collecting and sharing such sounds in a new project that archives protests around the world. But the field recordings, handily organized on a global map, don't stand alone. They're coupled with musical interpretations, layered with one person's perspective and memories of a protest and its goals.
In one stunning piece of music that samples the "Her body, her choice!" chanting, a slow, mechanical roar builds up to a rhythmic section of static, which forms the base for a melody punctuated by samples of the screaming crowd. Entitled System Failure and composed by Ron Freyenschlag, it's a dramatic interpretation that captures the intensity and urgency of the protesters' anger–perhaps more strongly than the original recording.
This pairing of field recordings and artistic remixes is the prevailing idea behind Cities & Memory, founded in 2014 by the U.K.-based digital consultant and musician Stuart Fowkes. The new project called "Protests and Politics," which launches today, is part of a series of thematic sound and remix collections Fowkes has curated, including the sounds of the world's religious places and the London Underground.
"Looking at news coverage in the last two to three years, if any sound defines the age we're living in, it's actually the sound of protest," Fowkes says. Brexit and the following protests personally motivated Fowkes to create the collection. "Britain has never been so divided," he says. "That's where a lot of people's voices were making themselves heard."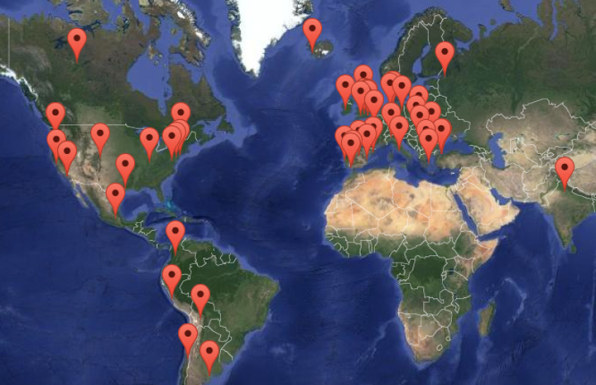 After putting out an open call for field recordings and for musicians to remix them, Fowkes collected nearly 200 sounds from 27 countries, and worked with 73 sound artists to bring them dramatically to life with music. The protests included in the field recordings date back to 1991, and include demonstrations against Donald Trump, Brexit, the Islamic State, Assad in Syria, the first Gulf War, the treatment of black people in America, education cuts, and bank bailouts. Most are post-recession; Fowkes believes that's because of the proliferation of cheap recording devices, including smartphones, as well as the rise of movements like Occupy Wall Street and Black Lives Matter.
Fowkes ended up contributing about 25 sounds from the U.K., Germany, and Italy, and remixed four songs. One is entitled "Brexit Means Brexit." A melancholic swell of string instruments underlay the measured voices of pro-Brexit supporters, the shouts of people from the Unite for Europe march chanting, "EU, we love you!," and people singing "God Save the Queen."
Of the dozens of recordings, Fowkes noticed patterns in the ways that people protest around the world. In the U.S., he says, protests from Los Angeles to Chicago to New York tend to use the same songs and chants, likely because it's spread through organizing groups, the news, and social media. In Hungary, protests are remarkably quiet, rarely rising above the volume of a conversation. Banging on pots and pans in order to raise a ruckus originated in Spanish-speaking countries, particularly in South America, but has since spread around the globe. "In those, the chants are not so prominent, it's about literally making as much noise as possible," Fowkes says.
While many of the protests featured in the project lean left in their political agenda, there are a few right-wing ones. Fowkes points to one of the National Front marching in London, where they're "chanting horrible racist things." Another was an anti-Muslim protest in New York City where a group of counter-protesters turned up, using whistles, cowbells, and drums to drown out their ideological opponents.
Sound is the ideal medium to get a sense of how people express unrest around the world. After all, it's a primary mechanism for protests' power. "One part is about people being visibly seen, but what lives on is the sound, it's the chants, it's the words," Fowkes says. "It's literally about making yourself heard."