The last time we checked in with designer Celine Semaan in 2014, she was just starting her popular silk "Cities by Night" scarf project–which features aerial views of cities taken by astronaut-photographers on the International Space Station–for her fashion company, Slow Factory.
A lot has changed since then, and Semaan decided to revisit the idea with more of a political bent after Trump enacted his immigration ban at the beginning of this year. "I had the idea that I wanted to print a 'Middle East/North Africa at Night,' which would represent the seven countries that are banned," she said. The scarf–emblazoned with the word "banned" across it–became the first piece of her latest collection, a collaboration with the ACLU.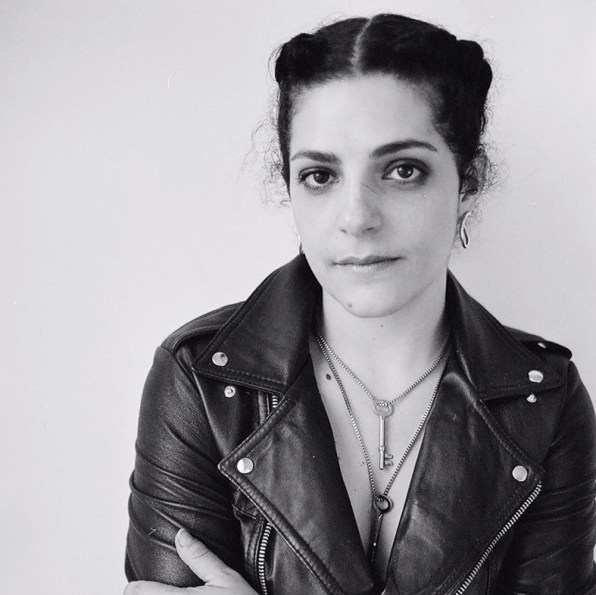 For Semaan, who fled Lebanon for Canada with her family when she was four, fashion has always been a means for conveying an activist message. "Fashion is the second most polluting industry after oil," she says. "The industry's impact on environment is insane. To me, it's all connected–global climate change, the refugee crisis, and the fashion industry."
She founded Slow Factory in 2012 with the intention of partnering with an NGO or nonprofit that focuses on human rights or the environment for each new collection. For example, Slow Factory partnered with American Near East Refugee Aid (ANERA) for its Dignity Key necklaces, which helped raise money to build a school in Gaza, as well as funding and education initiatives in refugee camps in Lebanon. 
In April of this year Semaan, who has also worked on Slow Factory as a fellow of the MIT Media Lab, described her idea for the "Banned" scarf to a friend who works with the ACLU, who encouraged her to talk to the organization. It turned out that the ACLU was launching a campaign to write the First Amendment in Arabic in various places in Washington, D.C., and New York City, including a wall in the Williamsburg neighborhood of Brooklyn, so Semaan created a quick prototype of what became the First Amendment jacket: a reversible bomber jacket with the First Amendment in Arabic on one side and English on the other. To kick off the collaboration, Semaan planned to shoot product photos in front of the wall when it was finished. "Within 24 hours [of the campaign going up], the wall was vandalized," says Semaan. "By the time we got there they were painting over it in green." 
They shot the product images anyway, with Iranian blogger, model, and activist Hoda Katebi standing before the painted-over green wall. The third piece to the collection, added most recently, in June, is a necklace featuring "We the People" in gold script. The product copy for the necklace reads, "We the people necklace is a reminder of our constitution and our rights to stand strong and united against bigotry."
For all of the pieces in the collection–which range from $75 to $200 on the Slow Factory website–10% of the proceeds go to the ACLU. But like her work with ANERA, Semaan says the collaboration doesn't start and end with the donation. When they total the proceeds in December (six months after the launch), she will work with the organization to decide how the funds will be used. In the meantime, she says, producing the products and speaking about them in the press and on various panels is its own sort of social good. "We use products as cultural activism," she says. "Fashion carries meaning and meaning carries action."