Anyone who owns an Amazon Echo is familiar with the blue ring. It's the glowing, abstract face of the Alexa assistant that signifies when it is listening, thinking, and speaking. It's about as ephemeral as user interface can get. 
Perhaps it doesn't seem odd that Amazon attempted to register the ring as a trademark in 2016. After all, trademarks give companies more protections over their brands. Amazon wants to protect Alexa like Nike wants to protect the swoosh. But in fact, it's a relatively rare, aggressive move on Amazon's part: registering a trademark not for a corporate logo, but a piece of a user interface. 
Amazon's move hints at a future where brands and their interfaces are less tangible, and yet even more deeply embedded into the world around us–a place where the brand is the AI, and the AI is the interface. In that future, the brand will no longer be a logomark, but a pulse, an animation, a glow. One legal expert takes us into the confusion of this brave new world.
Companies don't trademark user interfaces often. Instead, they patent them. These patents can be worth billions of dollars, but there's a catch: Most patents have a 20-year expiration date. "[Patent] rights don't last forever," says Sarah Burstein, associate professor of Law at the University of Oklahoma. "Trademark rights last as long as the mark is used in commerce, so they can potentially last forever."
So why doesn't every company protect its user interfaces via permanent trademarks rather than short-lived patents? Because legally, you can't register a trademark on something that has any kind of real-world utility. And user interfaces are entirely about utility.
Think of a trademark as a visual identifier for a company. Because of trademarks, you can look at the three stripes on any pair of running pants and instantly know they're made by Adidas. They're a signifier of brand cachet in a world where, sometimes, that cachet is the only reason one pair of running pants costs more than another. Technically, federal law describes a trademark as "any word, name, symbol, or device, or any combination thereof" that's used "to identify and distinguish his or her goods, including a unique product, from those manufactured or sold by others and to indicate the source of the goods, even if that source is unknown."
Trademarks sound pretty invincible, right? They have at least one major caveat, however. As Burstein explains, trademarks must be "nonfunctional." A trademarked design can't do work, like a patented one does, because while trademarks can be protected forever, patents are meant to expire specifically so innovations can be shared by everyone. Trademarks are designed to defend against counterfeiters, not protect innovation.
Which is why Amazon might not get its registered trademark after all. "Based on Amazon's description of the light ring, it appears that the lights provide the user with information about what the device is doing," observes Burstein with a logic that makes sense to us. "So the moving light sequence claimed in Amazon's trademark registration application might be deemed 'functional' and, thus, ineligible for protection."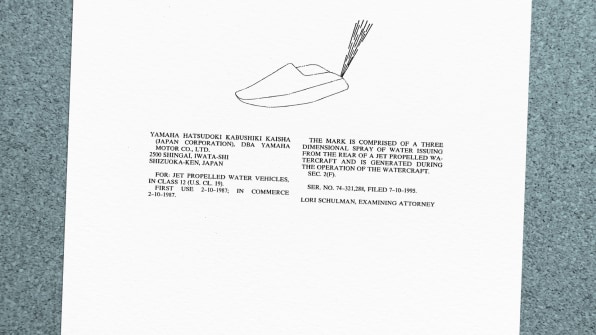 As Quartz points out, Amazon has already refiled its own trademark registration, scrubbing it of color-changing features, like changing orange for setup mode, or red for muted, and focusing instead on the animated blue to purple light ring. While Amazon had no comment to Co.Design regarding why it was attempting to trademark Alexa's ring, it seems feasible that the company was scrubbing some of the advanced features to make the ring look more logo-like than interface-like to land trademark status.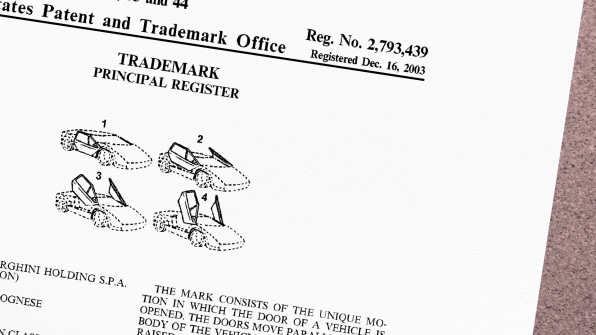 There is some precedent for functional things that have scored trademark status. The three-pronged water spray of a Yamaha jet ski, and the vertical flipping doors of a Ferrari are both at least quasi-functional and registered as trademarks. But an even better comparison would probably be Microsoft's registered trademark for a "rectangular shape with curved sides and a circle in the lower portion." The company goes on to describe what is quite obviously the Xbox 360 console's glowing ring. Much like the Amazon ring trademark, the filing doesn't mention much of the ring's functionality, that it could glow to show the connection of a controller, or turn red in an infamous error code that fans dubbed The Red Ring Of Death. In 2007, Microsoft was successful in doing almost exactly what Amazon is attempting today.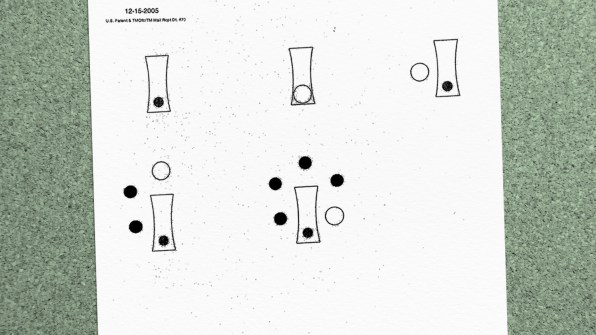 Let's imagine that Amazon does get its trademark registration. What then? How far do its rights go? After all, Amazon describes a relatively broad idea of a of a blue-colored, gradient circle. Does this mean that Amazon could take action against any UI out there that used blue gradients? Or circles? Circles with voice assistants?
"I don't think Amazon could make a plausible claim for infringement against the use of moving light circles, regardless of the color," says Burstein. "But a competitor could be found to infringe if they use teal instead of blue, depending on the other circumstances." And on top of being forced to stop using a mark, an infringer could be forced to destroy their product or pay damages.
In any case, Burstein reminds us that trademarks are meant to protect consumers as much as companies. These laws ensure that we can know the brand that we're buying at any time with full confidence. However, in the stance of Alexa–and a burgeoning world of AI where we're seeing countless new companies come to market every day–a trademark of the Echo ring could be pretty intimidating to competition, too. "Trademarks can have a really broad scope, depending on the facts," says Burstein. "And the test for trademark infringement is fuzzy enough that these kinds of claims can stifle legitimate competition and creativity."
But truthfully, Amazon is scraping right up against what may one day be a much larger problem that spans well beyond the world of voice assistants.
Imagine that in the future, every brand is interactive by design. Here, the swoosh is no longer just a swoosh, and it's not an animation either. It's the voice of Nike. It's a living, reactive thing rather than a static logo stamped into perpetuity. And whatever we choose to call that amalgamation of brand and utility–and whether we afford brands any rights to protect is–doesn't seem chartable based upon the legal frameworks of today.