In the days since the blaze, it's become clear that the structure's cladding, which was added in a renovation, exacerbated the flames. Now, London is testing 600 other high-rises to asses the fire safety of their cladding–and so far, officials have found 11 public housing high-rises that are fitted with a similar product.
As investigators learn more about the tragic fire and forces at play in Grenfell Tower, the catastrophe is also emerging as a symbol of broader political and economic issues. While building systems have become more advanced and materials are more sophisticated than ever, many people are questioning how a highly flammable product ended up on Grenfell Tower. Architecture is supposed to make us safer, not endanger our lives. The short answer? It's due to the politics of regulating private industry and deepening class divides.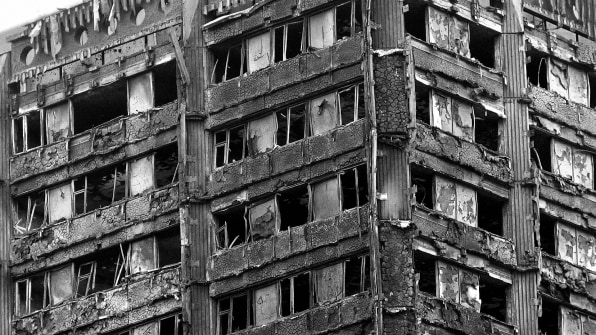 Same Materials, Different Regulations
Originally constructed in 1974, Grenfell Tower underwent renovations in 2015-2016 that included new cladding and windows on its Brutalist facade. The builders specified a product named Reynobond PE, which is essentially plastic sandwiched between aluminum sheets. The cladding was affixed to the exterior, leaving a gap between the existing concrete facade. Investigators say the material created a chimney effect that spread the fire faster, and the plastic core fueled flames.
U.K. building codes allow Reynobond PE. But other countries, including the United States, have banned its use in tall buildings, citing fire safety concerns. Germany banned Reynobond PE in structures over 70 feet tall in 1980, and even the manufacturer cautioned against using the material on any building more than 30 feet tall.
There's wide variation in building codes for a variety of reasons. Climactic and geologic conditions vary from place to place; earthquake-prone Japan and Chile have very stringent codes when it relates to reinforcing buildings, which some have credited for saving lives when natural disasters strike. Miami-Dade County, in Florida, beefed up its code after Hurricane Andrew.
But while building codes can make our buildings safer, more environmentally friendly, or more accessible, they're also often influenced by the age-old debate of regulation versus deregulation. Some argue that tight governmental regulations on construction and materials are necessary public protections; others believe it's red tape that stifles business. In the case of Reynobond, the debate around regulation and deregulation may have played a role. The "mania for deregulation" led to standards that "just aren't good enough," one expert told the Guardian.
In fact, building materials became a debate point in the United Kingdom; after Brexit, one government-backed group explored the possibility of reducing regulations surrounding building material safety, calling them "red-tape folly" which is "expensive and burdensome for small businesses." Indeed, safety does come at a price–sometimes it's monetary and sometimes the cost is borne in human lives.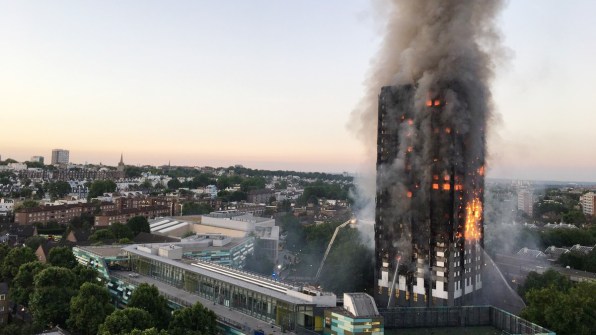 Cheaper Buildings At The Expense Of Safety
While Reynobond PE is a flammable material, it also comes in a flame-resistant version called Reynobond FR. The difference? Reynobond FR's core material doesn't catch fire like the polyethylene in the PE version–and it's about $2.50 more expensive per square foot. For Grenfell Tower, that would've increased the cladding's price by just 5,000 GBP, or about $6,350.
The cladding wasn't the only problematic fire-safety risk in Grenfell Tower. For years, residents voiced concern to their landlords about the absence of fire sprinklers in the building, a lack of a building-wide fire alarm system, and only one escape route–but building management dismissed their complaints.
While modern buildings often have multiple stairwells, fire-suppression doors, and sprinklers, Grenfell Tower was a product of the 1970s, a time well before these measures–which would be expensive additions to the building–became mandated. Experts told the Telegraph that a second stairwell could've helped those who were trapped in Grenfell's lower floors, sprinklers could have extinguished the initial fire, and external sprinklers (which are mandated in Australia and Dubai in buildings that use combustible cladding) could have stopped the fire from spreading.
The Look of Gentrifying London
London is one of the most expensive cities in the world and one of the most rapidly gentrifying. Edwin Heathcote, architecture critic of the Financial Times, called cladding "a typical response to gentrification" and argued that "prettification" was partly to blame, Public Radio International reports.
A 2014 planning document, which the Independent cited in a recent story, reads: "Due to its height the tower is visible from the adjacent Avondale Conservation Area [Note: Conservation areas are the British equivalent of historic preservation districts] to the south and the Ladbroke Conservation Area to the east . . . The changes to the existing tower will improve its appearance especially when viewed from the surrounding area."
The class divide and social inequality in London are also seen in the very management structure of Grenfell Towers, as the Guardian points out in an editorial. Under Margaret Thatcher in the 1990s, public housing was sold to private management companies, many of which have not kept up with maintenance in the properties that they oversee.
There are still many questions and uncertainties about the Grenfell Tower fire, and as investigations continue more information will likely emerge. Was it gentrification—and the cladding it brought along with it—that relegated the building to dismissive private management? Was it lax building codes that permitted the architectural equivalent to kindling to be tacked onto the facade?
There might never be an answer, but one solution to future problems seems evidently clear: safety, not profit, should be prioritized–and if that means more oversight so be it.
Editor's Note: This post has been updated to include new details on the fire's origins.
Save