Rise Science is using its expertise in sleep science–paired with player-centered user experience design from Ideo–to help coach professional and college-level football athletes get more of it. According to Jeff Kahn, the CEO and cofounder of Rise Science, the company's randomized controlled trials have shown that players can get 54 more minutes of sleep a night by using the company's sleep coaching system.
Both Rise Science's internal studies and published research suggest that that much extra sleep can impact players' performance. Kahn points to 70% fewer injuries across the season, 8% faster reaction times, a 5% increase in successfully completed plays and even three to five more plays per game. For athletes, that could be the difference between starting or being benched; for teams, it could mean the difference between winning and losing.
Kahn and his cofounders, Leon Sasson and Jacob Kelter, were studying engineering at Northwestern when they became fascinated by sleep science (mostly because they found themselves constantly sleep deprived due to late nights finishing homework). When they learned how effective sleep was in improving performance, they began to think about research opportunities. Several of their friends were on the school football team and also complained about a lack of sleep during a rigorous training schedule. So with the team's trainer's blessing, the three students decided to start a research project over the summer to measure how much sleep the players were getting and to figure out how to get them to sleep more.
"We would actually go and use a lot of ethnographic research, go into players home and observe," Kahn says. "When they got home, we asked them to be thinking out loud."
They realized that bedtime was the only time most players had to decompress and that while players would often set themselves a goal for when they wanted to go to sleep, they'd just as often stay awake longer watching television or reading–what Kahn called "sleep procrastination."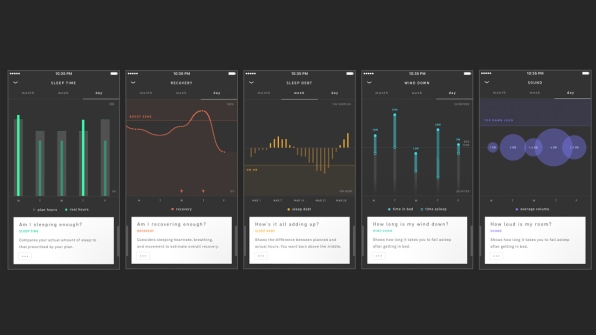 So the three started tracking the players' sleep data, texting them every night to learn when they were going to bed–this was back in 2011, so collecting data wasn't as easy as it is today. The players would wear bicep straps to sleep, then download the data to a USB drive when they arrived at the gym the next morning. Using the data, the trio made personalized sleep plans for the athletes. By making them personally accountable and giving them a personal schedule to follow, the team was able to help the players sleep nearly an hour more each night.
Kahn and his cofounders realized they had a business opportunity on their hands, so they launched Rise Science, built a rudimentary app, and took on their first team–the University of Tennessee–after graduating. But they saw that only 15% of players were actively engaging with the app by the end of the 20-week season.
So they turned to global design firm Ideo, accepting a position in the firm's Startup in Residence program in late 2015.  Ideo started by thinking about how to improve the app, and in doing so observed Kahn and the Rise Science team in action working with players from the University of Tennessee and the Jacksonville Jaguars. That's when the realization struck.
"It's actually not about the app," says Toi Valentine, a designer at Ideo who worked with Rise. "We realized there was something more interesting. The benefit is having the coach and the real-time feedback from the expert."
Valentine and the Ideo team worked with Rise Science to design an entire sleep coaching system–from a sleep kit with a bed sensor that slips under the mattress, ultraviolet glasses, and a sleep mask, to a rethinking of what the app could offer to players.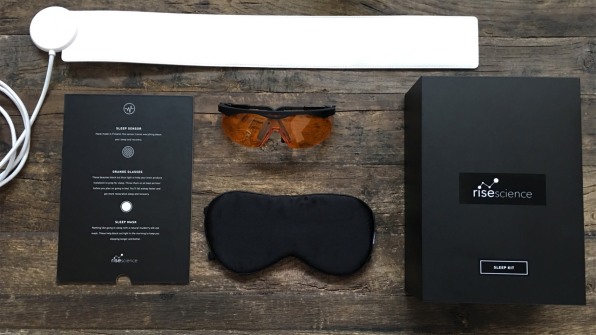 The sleep kit is supposed to make it as easy as possible for players to stay on top of their sleep schedule. It's connected with a cell phone chip rather than through Wi-Fi because that makes the process as seamless as possible. "We found that any layer of effort or time to get sleep data, you're going to reduce the chances of it working over seasons," Kahn says.
While the current app still has personalized charts that show sleep time, sleep debt, how long it takes for a player to fall asleep once they're in bed, and even how noisy their room is, it also features a "chat" section, where the player can have a conversation about their habits. The chat section is partially fueled by an algorithm, which translates sleep data graphs into something easier to understand–but if it sees an irregular pattern, it asks the player if something is going on, and flags the case for the Rise Science team to look into. Then, the player can get personalized advice from a person. For instance, if a player missed three of his sleep targets, the machine might follow up with him, and a human coach can intervene.
After spending three months in the startup in residence program, Rise Science worked with four teams during the 2016 season–the University of Tennessee, the University of West Virginia, the Miami Dolphins, and the Chicago Bulls. For the 2017 season, they're on track to work with about 12 teams.
But Kahn says that sports are just the beginning for them. "Sport is great but that's step one of Rise," he says. "We believe sleep is the foundation of all human performance."
Currently, the startup is doing experiments with high-performing corporate teams to see how their system might help in the business world. While there aren't any results from that yet, it's not hard to imagine that Rise will be able to help C-suite execs get more sleep as well. And one day, they hope to help anyone who wants to get more sleep achieve that goal.