"This is still the best single room that I have ever designed," Johnson once said about the Sculpture Gallery, an angular building on his sprawling New Canaan, Connecticut, estate.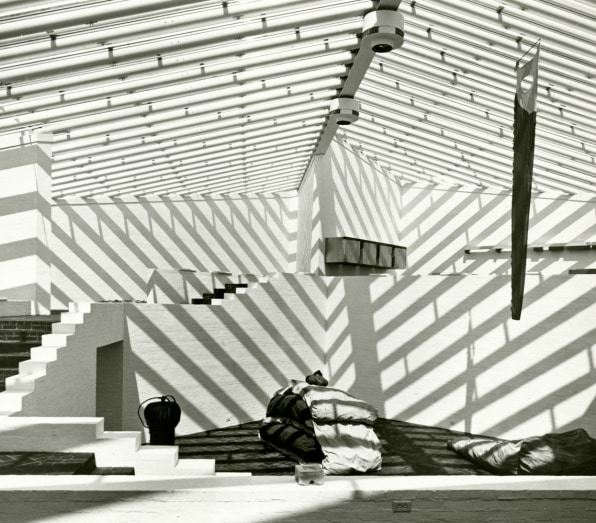 Completed in 1970, the gallery was designed to showcase Johnson's sculpture collection, which includes large-scale works by Robert Rauschenberg, George Segal, John Chamberlain, Frank Stella, and Bruce Nauman. Now the gallery has undergone its first major restoration.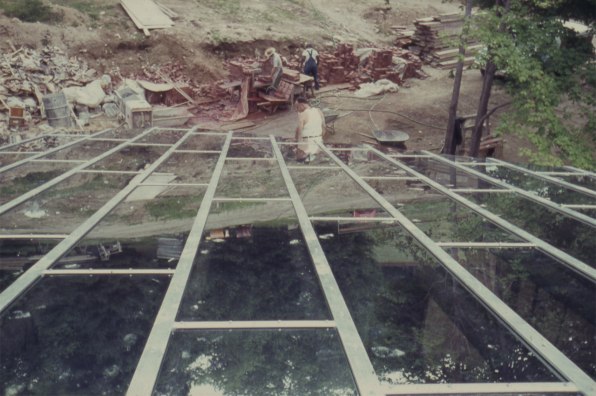 While the Glass House ushers the bucolic surroundings indoors, the Sculpture Gallery is introverted so that nothing competes with experiencing the artwork.
The building's white walls and meandering staircases were modeled after a Greek village. Its glass ceiling is supported by steel rafters, and when the sun shines into the building, the roof casts striped shadows into the interior that change throughout the day.
Over the years, the roof began to leak and water seeped into the building, causing paint to peel, the trusses to rust, and the lighting to become non-operational.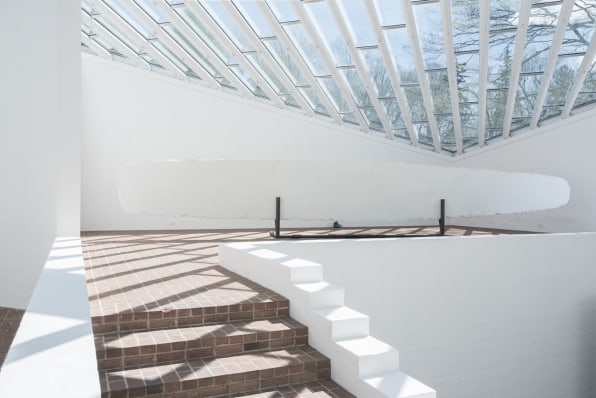 "The building was in need of TLC," Irene Shum, curator of the Glass House, tells Co.Design.
Working with Alan Ritchie, one of Johnson's colleagues and a partner in his firm, and the builder Nicholson & Galloway, the Glass House replaced the entire roof with more robust materials while retaining the original design characteristics and staying as close to Johnson's original concept as possible. (Before he died, Johnson wrote a detailed Conditions Survey and Recommendations report for his estate outlining his wishes for the buildings' maintenance.) For example, the original glass was single-pane, but the restorers specified double-pane glass for its energy efficiency and how it protects the artwork from UV light, which can deteriorate pieces. They also commissioned an entirely new cold-cathode lighting system from the original supplier that was built to Johnson's original specs. In addition to sandblasting the interior and repainting it bright white, the builders also completed below-grade waterproofing.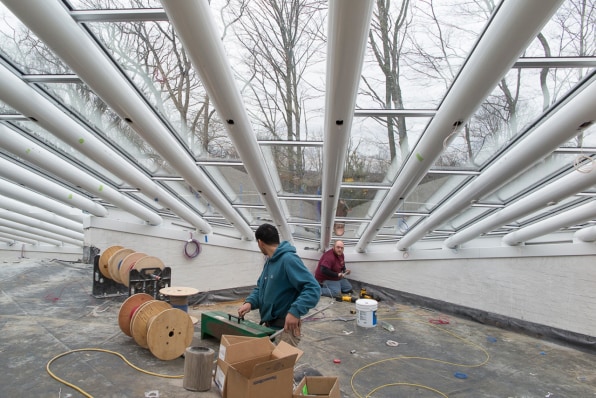 The restored gallery first opened to the public last month and it's best viewed in person. "The Sculpture Gallery is most dramatic midday, when the sun is high, when strong shadows are cast," Shum says.
See the structure in the slide show above and visit glasshouse.org for more.