Jean Lin, curator of the SoHo gallery and co-op Colony, began thinking about what to present at NYCxDesign almost a full year ago. As she chatted with the independent designers she represents, one theme emerged: lightness, and its myriad formal and aesthetic interpretations. But over the months that followed, as Trump rose to power and populism gripped the world, their conversations took on a new dimension. Light was no longer a creative statement; it was a philosophical outlook.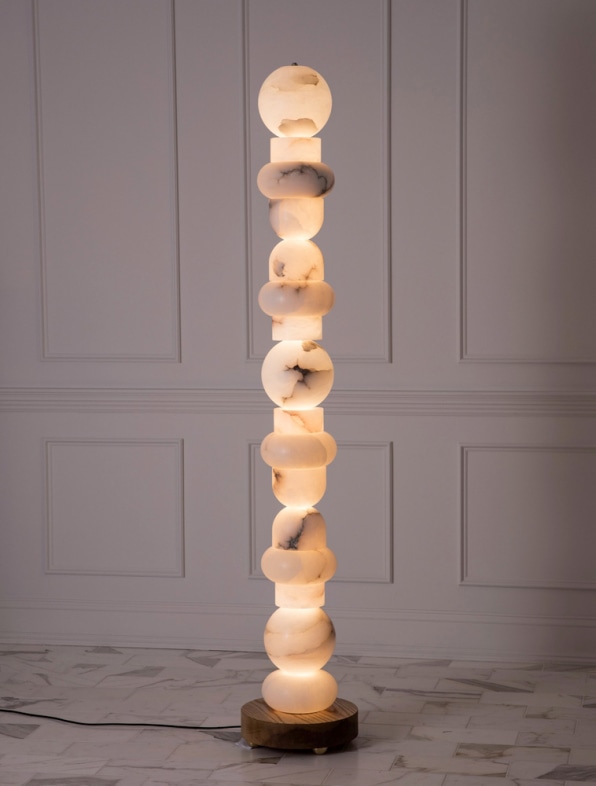 "Physically, light is so many things–color, weight, material, luminescence," Lin says. "From the beginning, the theme was 'Lightness: the Full Spectrum' because we knew the broad versatility the word lightness could have in the world of design. What we didn't know at the time was how much emotional weight would be added to our collective shoulders after the election, and how putting together this exhibit could be an act of lightness in itself, finding our own contribution to the greater good in a terribly bleak moment in history."
Throughout NYCxDesign, experiments in light–as a material, as a concept, as atmosphere, and even as a process–abounded. Light, in 2017, has captivated an entire industry. Beyond a fleeting design trend–ahem, millennial pink–light embodies something crucial during taxing times. It's about symbolism, history, politics, and finding meatier ground for inspiration.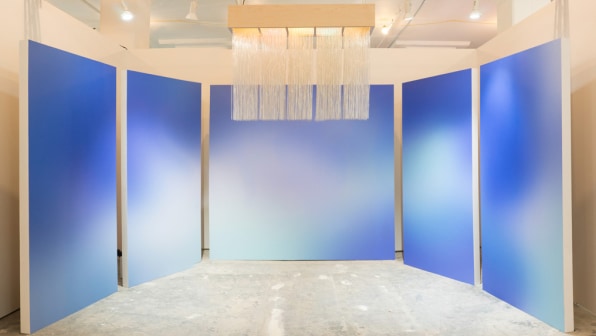 At Colony's show, designers experimented with light as a medium and material: Allied Maker presented a towering illuminated column composed of ultra-thin alabaster orbs and cubes. Fiber artist Hiroko Takeda wove wispy, semitransparent tapestries. Farrah Sit's pendant lights toyed with perceptions of gravity and tension. A marble wheel precariously rests on a neon light, reminiscent of a Diabolo balancing toy.
But in a broader sense, Lin's discussions about the show with Colony's designers changed how she views her gallery's place in the design community. "I've realized Colony's role is one of support and connection," Lin says. "We are here both as a physical space and a emotional support system of many like-minded people who feel disgusted by the actions of the new administration and energized to find ways to work toward the greater good, politically and socially."
Elsewhere, designers invoked sociopolitical undertones in their work using light. At Sight Unseen Offsite, the bespoke wallpaper company Calico debuted Aura, a new line based on a New Age photography technique that supposedly captures an individual's invisible energy, known as "aura photography." Each of the seven hazy, pastel color palettes emerged from an aura photograph taken of Calico's team, and the company hopes to create custom versions based on aura photographs of its clients. Nick Cope, who founded Calico with his wife, Rachel, thinks that the interest in light's intangible qualities and its symbolism could be a by-product of the political climate.
"Perhaps we all need a bit of escape from the material world, so designers are heading to the fringes to create work that is more esoteric," he says. "In fact, following Brexit and the U.S. elections, we sat down and made it a mission to explore the creation of work that has social meaning and contributes somehow to the greater good of humanity. We hold aesthetics so highly and that will not change, it will simply be elevated by purpose."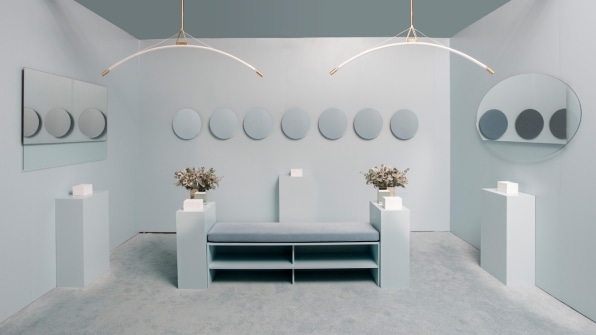 Also at Sight Unseen, the Providence, Rhode Island-based duo Ben and Aja Blanc presented mirrors whose surfaces were treated with glazes ranging from almost completely opaque to clear. The designers invited visitors to their installation to pause and reflect with the help of cue cards. One read: "Stand still, stand quiet, stand centered. Disrupt."
The studio was inspired by the Light and Space artist James Turrell and, less predictably, the work of 19th-century American landscape painters, who used light to depict intense, romantic landscapes–frontiers ready to be tamed and conquered. However beautiful, these paintings were emblematic of the notion of Manifest Destiny, a strong-arm policy that mandated that land was for the taking. It's a mind-set that the duo see mirrored in our current administration.
Elsewhere at NYCx Design, light was a more abstract and often mystical substance. Lindsey Adelman Studio exhibited new work from designers Mary Wallis and Karl Zahn under the theme of "Afterglow," a meteorological term for how the sky looks during twilight, after the sun has set. The studio described the pieces as "physical structures [that] act as a vehicle for the immaterial."
Designer Bec Brittain's new Aries system used prisms to deconstruct white light into the full color spectrum. Trueing, an emerging studio out of Brooklyn, used dichroic glass, originally developed by NASA, to create the Janus light, which was inspired by the cosmos and aurora borealis. The lamp is essentially an iridescent glass disc suspended in a brass frame. Rotating the glass causes it to catch the light in different ways and reflect different colors.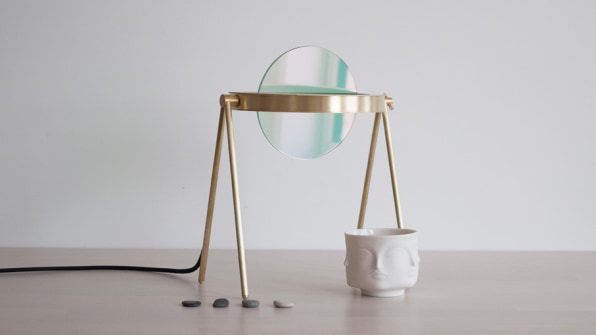 Independent designers have consistently yielded strong lighting pieces in the past few years, due in part to an equally strong market for these products. Since lighting is often the main statement in an interior, customers are willing to shell out more for something unique. Formally, the explorations continued to be gorgeous at this year's NYCxDesign, but there was a marked interest in the quality of light as well.
Washington D.C.–based designer Jonah Takagi and Oslo-based designer Hallgeir Homstvedt collaborated on the minimal Half & Half pendant for Roll & Hill, which has a metal fixture and frosted glass shade. Brendan Ravenhill, a designer based in Los Angeles, riffed on traditional Japanese fishing floats for his Float series, exhibited at ICFF. Studio Dunn–a lighting and furniture company based in Rhode Island–updated their Equinox pendant and sconce to include a hand-rolled glass diffuser whose textural nuances–which were intended to evoke planetary topography–make the light almost look like a candle.
Coil & Drift turned to resin to achieve the atmospheric quality it wanted for its Cirrus chandelier and sconce. "We gravitated toward cast resin because of its lightness, clarity, and flexibility, and we worked with our caster to cast forms with as many bubbles and character as possible," studio manager Taylor Augustine says. "The resin we're using is actually clearer in color than regular glass, which hues green or blue normally, and we love that too."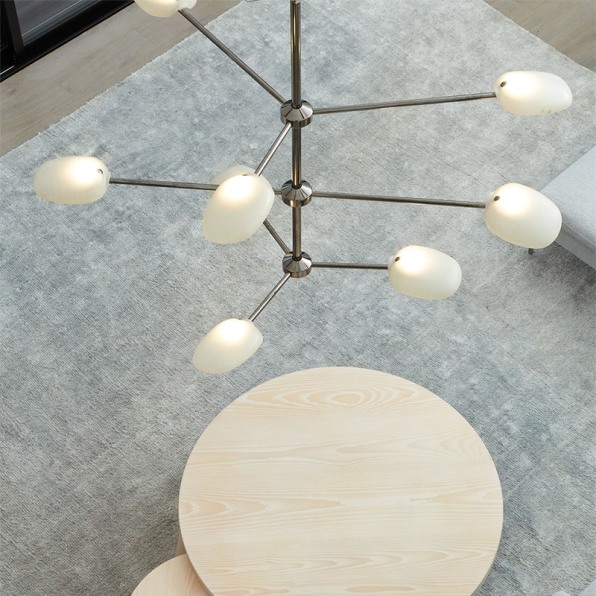 Rich Brilliant Willing collaborated with the interior design firm Meyer Davis on the customizable Pilot chandelier. One of the options includes fiberglass shades, which impart an organic contrast to the slick metal fixture and yield a warm atmospheric illumination not usually seen in LEDs. Fiberglass was the material of choice for the London-based designer Faye Toogood; her Puffball series of LED lamps for the gallery and manufacturer Matter, which derive their shapes from wild mushrooms, use the material to create a soft, warm effect.
One of the most fascinating uses of light exhibited at ICFF involved using it to generate a material finish. Studiopepe's Out of the Blue series of indigo ceramics, which were originally exhibited during Milan Design Week in 2016, were picked up by Matter for its NYCxDesign presentation this year. The pieces are dyed with a technique that's similar to a cyanotype photographic printing process. The designers coat the ceramics with a light-sensitive chemical, then expose them to the sun to achieve a gradient blue finish.
So what's to make of this fascination with light: Are we looking for some type of clarity in challenging times? Warm fuzzies to comfort us? Something ephemeral and experiential? A little bit of mysticism to escape the harsh reality? It's likely a little bit of all of the above. Light has been proven to lift our moods and in some cases actually make us healthier. Designers are quick to say that their work can change your life. In the case of lighting, it might very well be true.