These days, Terry Crews is best known for playing Terry Jeffords, the chiseled police sergeant with a soft side on the sitcom Brooklyn Nine-Nine. Which is why it's both enthralling and somewhat jarring to hear him enthusiastically recount his trip to the design world's most celebrated fair.
"Going to Milan [for Salone del Mobile], I was floored by the possibilities of what design could do," he told Co.Design. "I thought, this is true creativity. This is not about competition. It's about creating something that has never been done before."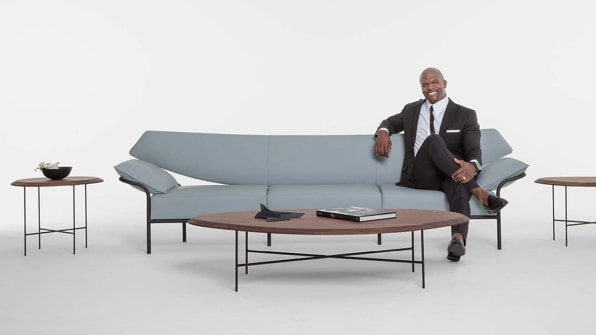 The NFL player-turned-actor, as it turns out, is also a real design buff–a passion that stretches back to his college education in graphic design. His trip to Milan was as a patron to designer Ini Archibong, with whom he struck up a mentorship over a decade ago. Last year, Crews cofounded a design label along with fashion designer Nana Boateng, Amen&Amen, for which Archibong's work was the debut collection.
Now, Crews's design credentials are expanding beyond his supporting role. With a new furniture collection produced by Bernhardt Design, released just in time for NYCxDesign this week, he is an emerging designer in his own right. Inspired by ancient Egyptian hieroglyphics, the pieces play on organic forms like lily pads and the smooth stones of the Nile River.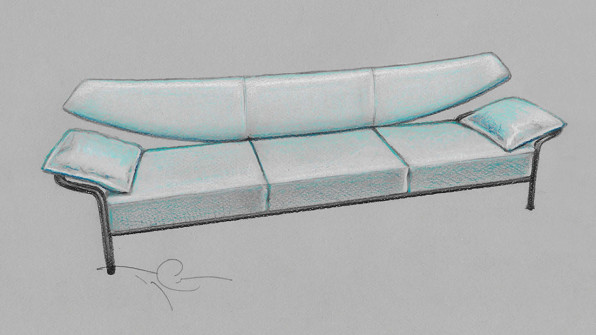 The collaboration is part of an ongoing Bernhardt Design initiative to work with people outside of the design world, which this May has also culminated in collaborations with Airbnb founder Joe Gebbia and musician Tift Merrill. Jerry Helling, Bernhardt Design's president and creative director, describes these collaborations as a way to tap into a "sense of passion and enthusiasm when you're doing something new for the first time."
With Crews, he certainly found someone with that sense of fervor, and with a long but atypical experience in the art and design worlds. I talked with Crews about his new collection, keeping a design practice as a side project, and finding his own unique approach to design.
"I saw no difference between being an athlete and being an artist"
For a novice in the industrial design world, Crews has a wide and varied design past. As a kid, he loved sketching and doing illustrations, which is still a hobby of his today. In the late 1980s, he went to college on an art scholarship at Western Michigan University–a school with a legacy of graphic design greatness–and became interested in type and graphic design. Long before wanting to be an actor, he envisioned a career in designing movie posters like Drew Struzan, the designer behind the posters for movies like Star Wars and Indiana Jones. When Crews walked onto the University football team, he was the only athlete he knew who was studying art.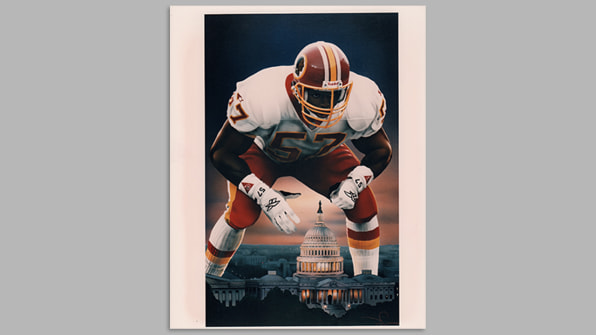 In 1991, he left college for the NFL just 12 credits shy of his art degree, but kept up the practice. Between getting cut from one team and joining a new one, he would paint portraits for his fellow football players, charging $3,000-$4,000 a piece. He's designed logos for rappers in Flint, Michigan, and kept a job in college doing courtroom sketches.
"I've always kind of been in that [art] world," he says. "I call myself 'the unicorn,' because I saw no difference between being an athlete and being an artist, but a lot of people thought it was either/or. I never agreed with that."
"Competition Is The Opposite Of Creativity"
It was after Crews left the NFL and started acting that he began to cultivate an interest in industrial and interior design. His office space is filled with an eclectic mix of prized design finds, from the aforementioned Star Wars poster to a Timothy Oulton mirror (in the Los Angeles Times, he labeled the style "feminist caveman").
Crews says he developed a taste in good design from witnessing the bad. "I would always see something and say, 'This is really clunkily designed' or 'This is not comfortable,'" he says. "But then you also notice the difference–something else that just looks good and feels good, and it wakes you up."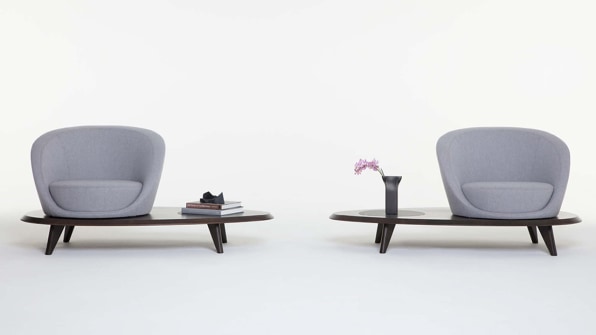 While playing the dad on Chris Rock's Everybody Hates Chris, Crews struck up a friendship with Archibong at an art gallery in Pasadena, California, where Crews lives. They bonded over a common love of design, but lost touch after a few years. In 2015, the two reunited after Crews looked up Archibong on LinkedIn. After wrapping up a season of Brooklyn Nine-Nine, Crews flew out to Switzerland where Archibong was studying design at École cantonale d'art de Lausanne (ECAL). He offered to support his next project, which resulted in Archibong's rainbow-hued collection, In The Secret Garden—and an invite to Salone del Mobile in 2016 through the festival's emerging designers program.
In Milan, Crews was impressed by the sheer magnitude of creativity on display. There, he developed a guiding philosophy to creative practice: "The truth is competition is a bad thing, because when you're competing you are just trying to be better than the next guy," he says. "It's actually the opposite of creativity."
"I wanted to go wild"
It's that insular world of design competitions, awards, and familiar players that Helling, who has lead Bernhardt Design for the last 30 years, is interested in breaking through with outside collaborations. He and Crews met up a month after Milan, at last year's New York City's design week, and Helling surprised Crews by asking him to design rather than just be a benefactor.
"Designers who work in this industry daily can get stuck in a box," says Helling. With outside collaborators, he says, "You get some interesting things that might not necessarily even be possible, but you can take the direction of what they wanted to do and make it possible."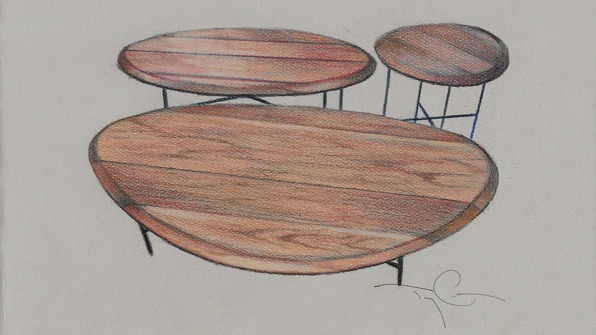 Crews came back to Helling with about 30 sketches, all based around the concept of ancient Egypt, as inspired by his favorite film, 1956's The Ten Commandments. Crews describes wanting to look outside of the European design bubble to think of something completely new. His three-piece collection consists of an Ibis sofa, designed after the ancient Egyptians' sacred bird; a group of benches called Float, inspired by stones in the Nile River; and a table named Lily Pad, after another piece of Egyptian symbology.
The pieces went through several iterations to get to a place of manufacturing feasibility and salability. Through the process, Crews says he learned the value of functionality and commerce–that a good idea needs to also have a strong practical foundation. After experiencing the process from start to finish, he hopes to design more furniture in the future.
For now, Crews is more than willing to provide the perspective that makes his pieces stand out from the mainstream. "I wanted to go wild," he says. "For me it was about giving him a viewpoint that no one else would have."