Here's a typical road map for new product: An entrepreneur thinks of a business plan and gives a designer a brief about what the product should accomplish. The designer then creates a product. Sometimes this works and a product or company becomes wildly successful; oftentimes it does not.
This problem got Jessica Helfand–a senior critic at the Yale School of Management and cofounder of Design Observer–thinking: Would involving designers with a business plan from the outset make design, and the business supporting it, better? For Shaping a Creative Future–a conference about the future of innovation and sustainability hosted by Prada–Helfand designed a workshop with students from Yale, the Polytechnic University of Milan, and the University of Hertfordshire to investigate the question.
"The idea of the reverse-engineered brief grew naturally from a class on design-driven innovation," Helfand tells Co.Design via email. "To me, this means designers are as much problem seekers as problem solvers, a position that elevates the designer's conceptual input and privileges the kind of formally iterative work–sketching, making, revising–that is the bedrock of the designer's methodology. Rather than the designer responding to a brief, what if we flip that idea, and the brief addresses the designer's vision?"
Helfand's program is attempting to indoctrinate design-led thinking in business. It's not a new concept–some of the most successful companies today, like Airbnb and Pinterest, were established by designers–but turning it into an educational program couldn't have come at a better time.
Silicon Valley's recent "innovations"–like $1,500 toasters and $400 juicers–have become the butt of jokes about what's wrong with design and the business of design today: Products that are over-engineered to solve problems few people have. By getting designers involved earlier in business plans, perhaps there's a chance to avoid wasting intellectual resources on ideas that are doomed to fail–and more potential for the next big, life-changing idea to emerge. It all starts with building a foundation in a designer's or businessperson's formative years.
Today's students will design tomorrow's products. If we want phones that won't shatter, tech that's not instantly obsolete, and strong solutions to our world's increasingly sophisticated problems, we need to change how designers are designed.
In the program, which included a briefing session in February and workshop in March, 32 Yale MBA candidates and 32 design students collaborated on conceptual projects to design the retail environments and shopping experiences of the future for Prada. The students were divided into eight-person teams composed of students from each school.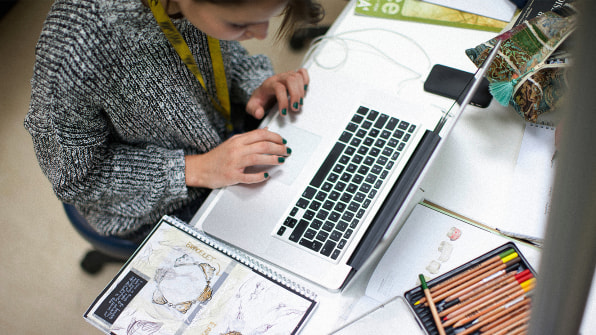 "This obliges the business students to really examine what is being proposed, leading to better questions, a process that in turn invites the designers to be more cogent in their articulation of the work, both verbally and visually," Helfand says.
Exploring themes of urbanism, futurism, and utopias; seasonality and spectacle; globalism and inclusiveness; and identity and gender, the students used data about Prada's customers and the company's identity to inform their proposals. (The students get the benefit of seeing how a corporation like Prada works and Prada gets to see fresh ideas from the students.) The projects included applications of emerging tech, like interactive mirrors, pneumatic tube delivery services, digitally customized patterns and projections, and alternative energy sources, Helfand says.
Betsy Rives, a Yale MBA student, worked in a group that explored how urbanism could inform a retail experience. She and her fellow team members conceived of an idea to turn an entire city into a store so that Prada shoppers would interact with the brand through retail installations in different neighborhoods in Milan that explore the brand's values. She doesn't think that design students need a strong business foundation and vice versa, but she does think it's important to collaborate so that everyone can speak and understand each other's language.
"Through the workshop, I saw that each of us had expertise far more nuanced than is indicated by the silos of business or design," Rives says. "All of us came in with the assumption that our skills were either design or business. Uncovering the immense diversity of expertise within the group and affirming for one another the necessity and power of that expertise was a valuable team experience."
Krystyna Taheri, a Yale MBA student on the same team as Rives, agrees. "Designers and business people alike can become stubbornly committed to their idea or vision and only through understanding of each other's language can both parties expect to get anything accomplished," she says.
After the workshop was complete, Helfand asked her students to reflect on the experiment. "Some observed that the designers on their teams could be defensive and inarticulate, circular in their process, and illogical as a result," she writes via email. "Others enthusiastically expressed how taken they were by the fluidity the designers brought to the evolution of their ideas. All of which reinforces the need to do this again and again, with more schools, in more–and different–countries. I mention this because just as there are cultural differences between designers and business students, the cultural coordinates framing the actual project introduce their own variables, their own very particular dimensions. What we want to avoid doing is torpedoing in with design and business solutions that ignore that very critical truth."
Helfand plans to continue developing multidisciplinary, multinational design-education programs. Yale is already part of the Global Network of Advanced Management, a program that helps foster communication between business schools around the world. Some schools–like Parsons,  the College of Creative Studies, IIT, and the Stanford D.School emphasize business along design–but Helfand wants to create a global network of design schools to improve communication and is in the process of putting together a board and fundraising to get the consortium off the ground.
"The tacit understanding is that we live in a global society," she says. "It is high time we introduced designers to participate in and lead a good deal of this work."
Save