In the 1970s, designers were treated as rock stars–album cover designers, that is.
"You were regarded almost like the fifth member of the band," says Aubrey Powell, whose studio Hipgnosis was responsible for the album cover designs for artists like Pink Floyd, Paul McCartney, Genesis, and Led Zeppelin. A new book, Vinyl. Album. Cover. Art, revives Hipgnosis's complete catalogue, displaying 480 illustrations from the studio's archive. It's a glimpse into a pre-digital era when a single illustration could take months to complete.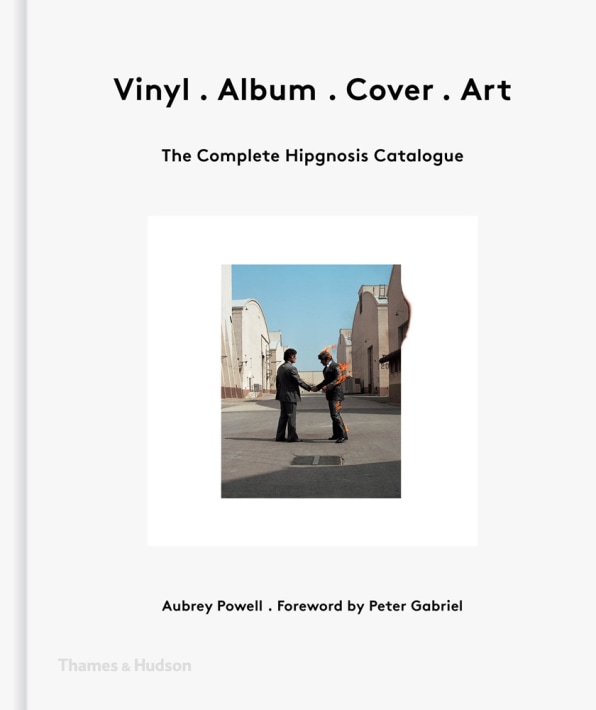 Hipgnosis got its start in 1968, when Aubrey Powell and his creative partner Storm Thorgerson were asked to do an album cover for their friends' second album. Lucky for Powell and Thorgerson, their friends happened to be the members of Pink Floyd; lead singer and guitarist Syd Barrett was their roommate. At the time, Powell was sneaking into the darkrooms at the Royal College of Art in London, where Thorgerson was a student, and experimenting with infrared film.
"Everyone was into Marvel comics and alchemy and all things spiritual and mystical, particularly LSD," Powell says. "We took some photographs out of books and comics, and I went to the darkroom and started playing around."
The resulting image for the album A Saucerful of Secrets–a surreal impression of the cosmos with large letters created using an old-school letter set–was the duo's first step toward album cover stardom.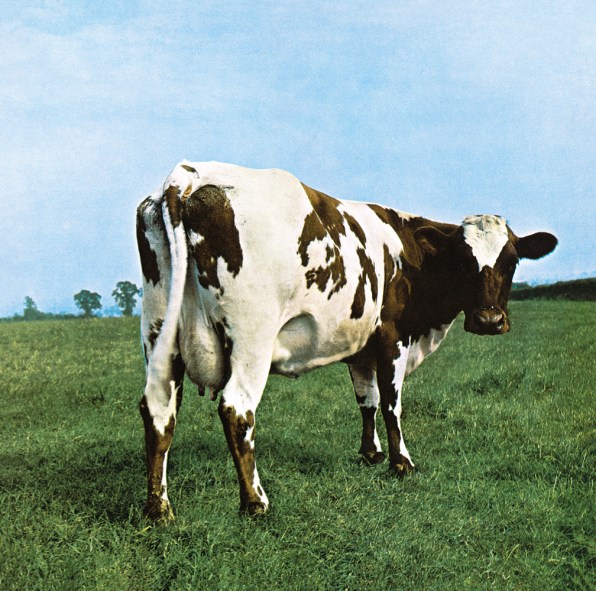 Perhaps one of their most striking covers was for Pink Floyd's 1970 album Atom Heart Mother, which is simply a photograph of a cow, looking at the camera with a rather perplexed expression on its face. While the idea started as a joke, the band loved it–though it gave their record company execs heart palpitations because the cover didn't have the band's name, the album's name, or any sort of recognizable information on it. But Powell says the band retained creative control.
"My proudest moment was walking down Sunset Strip weeks later and seeing just a picture of a cow on a billboard," Powell says. "Everyone was talking about it. Is it a band, is a movie? On the day of the release, they put the name on it on the billboards just for that one day. It was the biggest album they had [at the time]."
While initially, the duo's connections and cheap rates led them to more and more gigs, it was in 1973 that Powell and Thorgerson struck album cover gold. That year they designed the striking cover for Led Zeppelin's House of the Holy, where images of children playing on the rocks of Ireland's Giant's Causeway pepper an otherworldly orange landscape. To create the collage, each photograph was hand cut, then sanded down to be paper thin, then glued together. The collage was photographed on a giant camera to create a black-and-white print, which a coloring artist tinted by hand over the course of two months.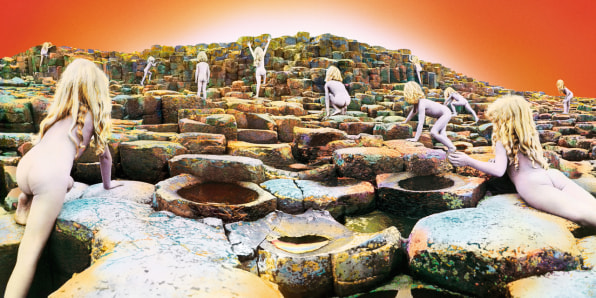 It's hard to imagine creating such intricate collages without the use of modern technology. "In those days there was no Photoshop, no ways to create digital photography," Powell says. "Everything had to be shot on film, it had to be processed. Today, you could probably do it in a couple of days. In those days it probably took six weeks."
The kind of flat, surrealist, enigmatic style became Hipgnosis's trademark. "They're like a surreal painting, like Salvador Dali and Magritte, because everything is sharp from front to back," Powell says. "They're not how the human eye sees."
The same year, they designed perhaps their most famous album cover, for Pink Floyd's Dark Side of the Moon. The cover's triangular prism and rainbow of light was inspired by a photograph of the sun shining through a glass paperweight that Powell found in a French physics book. Today, it's the image most associated with the band. "We literally sketched it up on a napkin," Powell says. "In those days we weren't very sophisticated. We were like an art school studio."
After Dark Side of the Moon, they could charge $50,000 for an album design–no longer the stuff of an art school studio. "We had the halcyon days, the very best of it, when album covers were important to people," Powell says. "There was no MTV, there was no VHI, there was no Spotify, there was no downloading, there was no access to online information, no Wikipedia. So the only thing that was available for fans to see something about their favorite group was either through very few musical papers like Rolling Stone, or the album cover."
As Powell and Thorgerson became more well-known among many famous musicians, they were treated like celebrities alongside them. Powell remembers flying with Paul McCartney in his private jet and hanging out with Mick Jagger. He and McCartney were driving from Palm Springs to Los Angeles when they were pulled over by the cops. "I got out of the car, and he looked at me and said, is that John Lennon in the back," Powell recalls. "I said, no, it's Paul McCartney. The policeman said, I knew it was one of them hippies." Instead of writing them a ticket, McCartney wrote him an autograph.
But despite its associations with music royalty, it's Hipgnosis's art that has kept its designs in the popular consciousness so many years later. "Through their work, LP covers became powerful moments of shared experience for people all over the world," writes Pentagram partner and fellow album cover designer Harry Pearce in the book. "They wanted to move people, to create moments that became infinite memories and to use interplay of sight, touch, and sound to sear their ideas into our minds."
While the album cover will likely never ascend to its former glory, Hipgnosis's work remains a testament to a time and place in history when the visual representation of music was just as powerful as the music itself.