Utopian architects tend to be irrationally confident that their work will make the world a better place; even if their designs never quite deliver in the real world, they're damn convincing as images. Inflatable design, in particular, has been inextricable from architectural constructs of utopia for decades–though it's never fully taken off. The New Inflatable Moment, a new exhibition at BSA Space, home of the Boston Society of Architects, dives into why.
"Inflatables are big, cheap, easy to make, and transform life into this magic bubble," Mary E. Hale, co-curator of the exhibition, with Katarzyna Balug, says. And now, they're experiencing a renaissance, driven by cultural, political, and economic forces.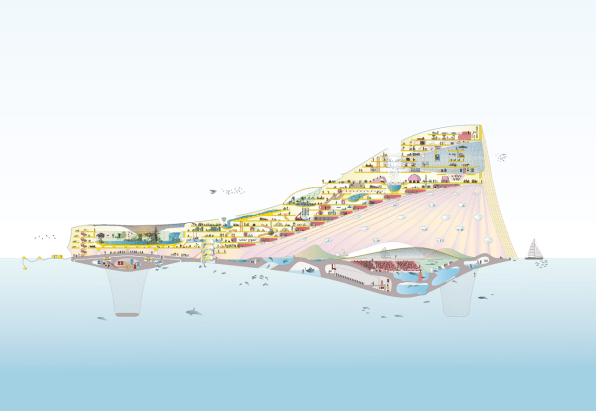 From 18th Century Balloons To The LSD Blow-Ups Of The 1970s
The inflatable experiments of the 1960s and '70s are seared into my memory as the embodiment of utopian architecture. Take Ant Farm, an experimental art collective active in the 1960s and '70s. Its enormous "pillows," as it called its inflatable spaces, were made from tape and polyethylene (the most common type of plastic), and inflated by normal fans. They were the definition of counterculture architecture: Anyone could make them, they were inexpensive, and they could be constructed virtually anywhere. Their shifting, organic shapes were the opposite of Modernism's dictatorial emphasis on perfect forms and proportions. Naked hippies loved them. Rebellious architects, too.
"You walk inside and it's a complete subversion of Modernism," Hale says. "Modern architecture is regimented and regular; it's right-angles heaviness. Here you're in a bubble, these translucent environments where there's no structure. It's a membrane held aloft by a fan. It's so simple and subverts everything about Modernism."
But Hale and Balug trace design's fascination with blow-ups all the way back to 1783–when Jean-François Pilâtre de Rozier and François Laurent d'Arlandes piloted the first manned, untethered hot air balloon flight over Paris.
"The domain of the sky wasn't just for gods, it was also for man who could achieve flight through science," Balug says. "Traditionally a utopia is an island that you go to through boats, sails, and wind. The idea of inflatables as utopia is that it's a vehicle, it's this hot air balloon taking you to there. In the 20th century, the bubble becomes a space enclosed from the world. You go in the bubble and escape."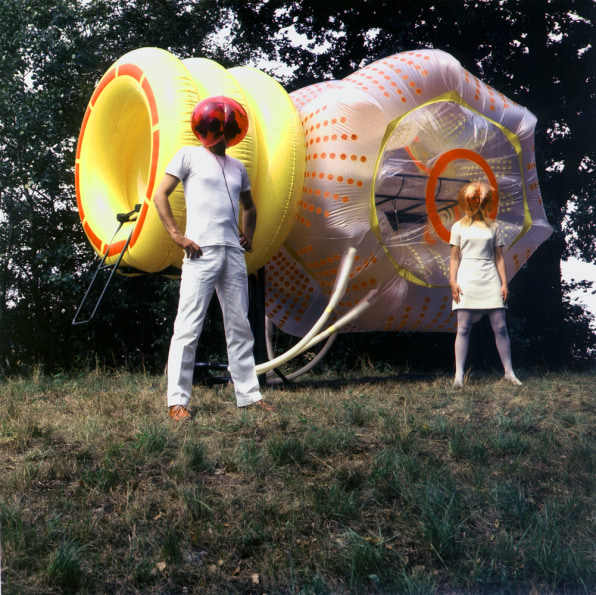 Like Ant Farm, other utopian architects have used inflatables to create intense, transformative environments. In 1967, Haus Rucker, an experimental group from Vienna that eventually moved to New York, created Yellow Heart, an inflatable space that people experienced while wearing helmets that obscured their vision and produced pulsing sounds. "You're transformed telepathically to another realm," Balug describes. "This mind-altering environment was recreating what Timothy Leary wanted to do with LSD."
In 1974, the British artist Graham Stevens began developing Desert Cloud, a pneumatic structure that functioned as a self-sufficient environment in the desert. Created at the peak of the OPEC oil crisis, the mylar structure was a passive system that naturally heated up air, causing it to levitate, while its shape created shade and collected condensed moisture. "Stevens was a pioneer in studying how inflatables can make the world a better place by experimenting with physical principals," Hale says. "It's this perfect architectural system that shows what would be possible if we use creativity to harness energy on the earth and free ourselves from fossil fuels."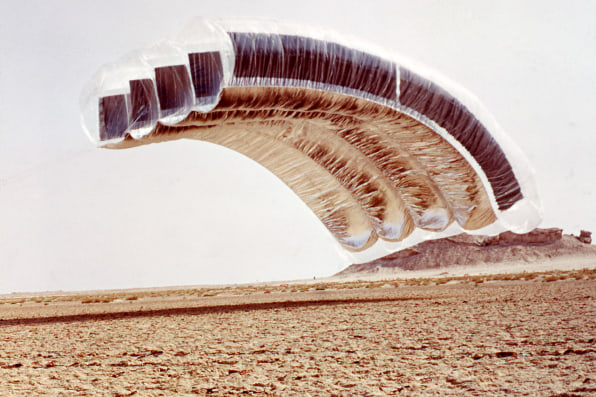 So why haven't any of these ambitious ideas taken off in the real world?
"We mostly focus on the positive aspects of the bubble," Hale says. "It seems that any actual utopian experiment that's been deployed has not been successful. The bubble, just like a balloon, it pops or loses gas. It's not meant to last. The medium comes and goes in artistic use and inflates and deflates the way a utopian ideal can."
Inequality, Recession, And Why Inflatables Are Back
Hale and Balug used Google's Ngram search–which charts the usage of keywords and phrases over time–to see how often "inflatable architecture" appeared in experimental-architecture writing over the last few decades. They discovered that an uptick began around 2005 and 2006. It made sense, since some of the social and political themes from the aughts–economic inequality, war, resource scarcity–mirrored those from the late '60s and '70s. The same forces that fostered the golden age of inflatables fueled its recent renaissance.
"We're thinking it has to do with the political and ecological climate we've had since the great recession," Balug says. "The systems we're grappling with and are being undermined–like the financial system and environmentalism–there's nowhere to go without completely reimagining them. There's a spirit of abandon, that nothing we know is working so we're revisiting inflatables in a new way."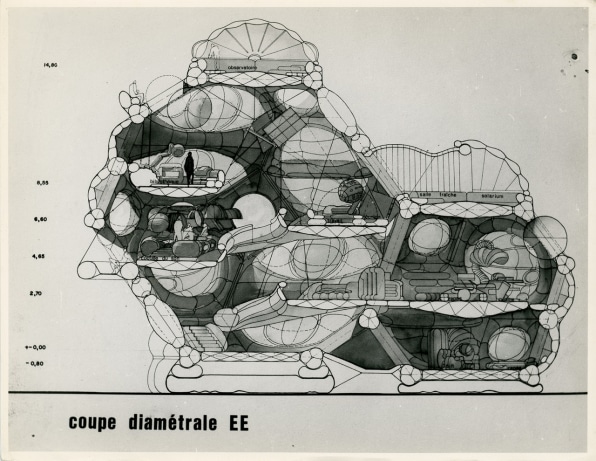 Today, contemporary architects are channeling the visual culture associated with inflatables and appropriating its message, but the technology, and the expectation of what inflatables can achieve, is more nuanced. It's not just about escapism and abandoning cruel reality for an idyllic space. While some architects are still trying to propose a sweeping vision of utopia, many are attempting to have measurable impact. "Maybe we're searching for ideals in projects from the '60s, but we're dealing with contemporary building technology and budgets," Hale says.
At the Hirshhorn museum, in Washington, D.C., Diller Scofidio + Renfro built an inflatable bubble to enclose the brutalist structure's courtyard for special events. Tomás Saraceno, an architect from Argentina, is experimenting with the idea of self-sufficient pneumatic structures that levitate and create their own cities without being hemmed in by the construct of nationality. Plastique Fantastique, a Berlin-based studio, is using pneumatic structures to create pop-up community spaces.
Counterculture may have driven the inflatables of the '70s, but over the past decade, inflatable architecture has grown up, cut its hair, and moved from an artistic pie-in-the sky pursuit to something more practical and applied. For Foster + Partners, blow-up architecture serves a highly technical and specific purpose–as a potential material for buildings on Mars. In Cornwall, U.K., Grimshaw used inflatables to construct biomes for the Eden Project, a permanent botanical garden.
"That gets into another aspect of how we're thinking about the future," Balug says. "We're forecasting; we're no longer imaging this perfect society. We run tests and analyses that predict, rather than imagine, the future."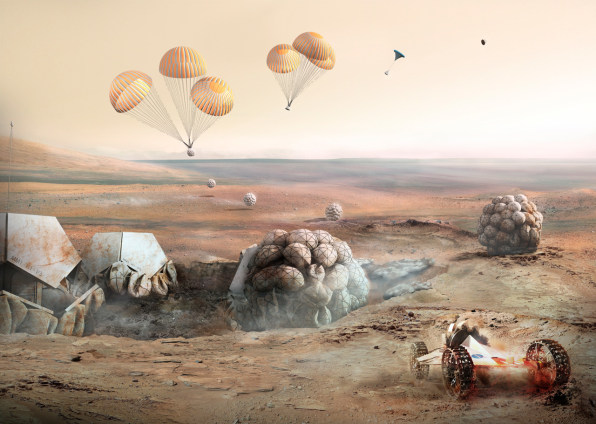 Hale and Balug hope their exhibition rekindles architects' experimental side–especially for general practitioners who engage with these subjects in architecture school but don't in practice–and gets non-architects excited about this type of forward-thinking design.
"I hope people come though the show with an altered perspective on what's possible in the world," Hale says. "[Sometimes] it's hard to remember what the essence of what we do is, which is create thoughtful, inspiring spaces for human habitation and life. That's exemplified in these projects."