This year, Frank Lloyd Wright, arguably the greatest and most popular modern American architect, would've turned 150 years old. To help commemorate the milestone, the Frank Lloyd Wright Building Conservancy–a Chicago-based nonprofit dedicated to preserving Wright's buildings–is publishing a new edition of its Wright Sites guidebook. In addition to showcasing dozens of beautiful FLW projects, it's also a testament to the power of historic preservation.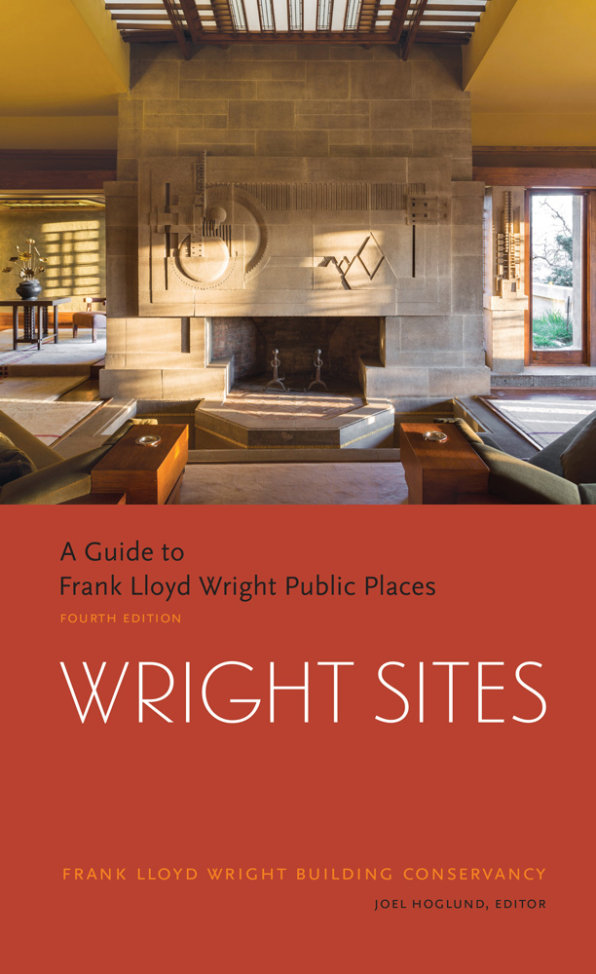 Edited by Joel Hoglund, the Conservancy's communications director, the book includes 74 buildings–including spiritual structures, schools, commercial spaces, and private homes–in the United States and Japan. Most importantly, all of them are open to the public.
"People who look at pictures of architecture are experiencing it in one way, but when you stand inside and confront one of these buildings in person, the value presents itself in a way you can't put in words," Hoglund says.
Wright Sites has changed since the previous edition published 15 years ago. Some projects are no longer accessible–like the Ennis House, which was sold to a private owner in 2011–and have been removed. Sixteen sites have become open to the public and are now in the book. About 25 projects in the book have undergone significant restoration. Of those projects, about 20 of them have received what the Conservancy calls a "comprehensive restoration," meaning a re-visitation of the building due to improved scholarship on the project or significant need.
The Conservancy's goal is to preserve Wright's buildings–of the approximately 500 structures he designed and built, roughly 400 remain–and keep them in as close to their original condition and use as possible; a house remains a house, a bank a bank, a hotel a hotel, and so on. While Wright is considered a modern architect, his youngest buildings are between 50 and 60 years old and the oldest are about 130. This poses a significant preservation challenge for a few reasons: real estate value (and what owners value) changes over time, the context of a project changes, older buildings need a lot of maintenance, and Wright incorporated a lot of untested techniques into his designs.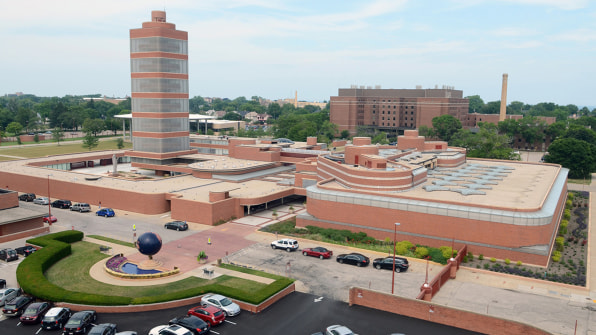 "Wright was an innovator," John Waters, preservation programs manager at the Conservancy, says. "And often his innovations were ahead of the curve in terms of technology. So at the time a house was built, there could be issues with flat roofs and sealants and that sort of thing. Technology has come a long way in the last 50 to 75 years that can be used to [fix those problems]."
Located in a Chicago suburb, Unity Temple–considered one of Wright's greatest works–is wrapping up a three-year renovation and is scheduled to re-open in June. Constructed in 1905, it was an early application of reinforced concrete. All of the exterior surfaces had to be refinished. The interior walls, which have a sand-textured finish, also needed to be redone. All of the wood trim inside the structure had to be refinished. The art glass–one of Wright's signature details–needed to be restored to replace the fine metalwork that holds the stained glass in place.
In Mason City, Iowa, Wright designed a bank and adjoining hotel in 1909. He riffed on the notion of a vault and opted not to include any street-level windows, just art glass at the clerestory level. Over the years, the building was turned into retail–a result of the bank going bankrupt in the 1920s–so the ground floor brick walls became storefront windows. The 50-room hotel was converted into apartments, which were eventually abandoned.
In 2005, a grassroots preservation movement began to restore the Park Inn Hotel and City National Bank to their original state. Mason City citizens formed a nonprofit and raised funds for a renovation, completed in 2011. Major efforts included rebuilding the brick walls, re-installing an art glass skylight, and building out the hotel rooms as Wright originally designed.
While the restoration effort is remarkable for preserving architectural history, it also shows how historic buildings, and Wright's in particular, can become a local beacon.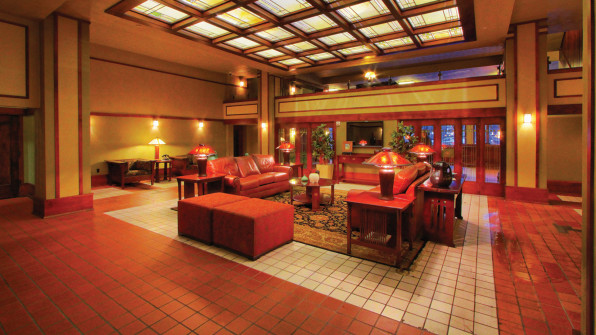 "It was a real community effort," Waters says. "People want to maintain their history. Architecture is such a great indicator of who we are as a people and Wright is a fulcrum of American architecture coming into its own. If someone looks at a building that needs a lot of work and appears to be shabby and run down, would they rather see it as a strip mall or band together and save local history?"
The forces of real estate and time pose preservation challenges; so does the natural environment. Affordable housing for the middle class was one of Wright's preoccupations, and he designed about 60 of these homes, which he named "Usonian." The Bachman-Wilson house, built in 1954 was one of these homes. It was constructed near a river, which began flooding more frequently and more intensely in recent years. The Conservancy and the house's owners, an architecture and design firm, decided that the structure would have to be moved to save it. After the Crystal Bridges Museum of American Art, in Arkansas, agreed to buy the house, it was painstakingly deconstructed, moved, and rebuilt. Now the house is open to the public.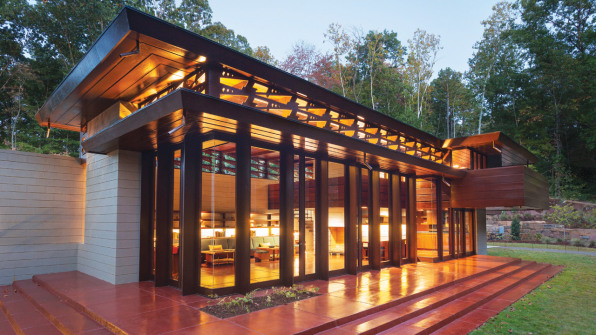 The Conservancy achieves its preservation goals a handful of ways: by marketing available Wright real estate to people who are fans of his work–the thinking is those buyers are more likely to respect the design–through a Wright on the Market page on its website; through its advisory committee, which offers technical advice and referrals to Wright building owners; and by its preservation easement program in which owners of a Wright building donate a portion of the structure–usually the most significant part of it, like the facade–to a nonprofit that's then responsible for maintaining the element. Sometimes it even assumes ownership of a building temporarily until it can find the right owner.
While there have been a number of preservation success stories, there have also been some challenges. The Hoffman Auto Showroom, located on Park Avenue in Manhattan and designed in 1954, was gutted. "The value of the real estate played into it," Hoglund says. "The developer knows that as much cache as Wright's name has, they're looking at the bottom line and a clean sweep was more valuable."
The Conservancy only has four full-time employees and relies on a network of hundreds of volunteers and about 1,000 members in its organization to fulfill its work. Wright Sites is another tool in its arsenal. "It's a good exercise in what the Conservancy does, which is try to create a tight community of people who care about Wright's buildings," Hoglund says.
The more people who care about Wright's body of work and preserving it as a physical record of 20th-century architectural invention, the better chance it has of surviving the next century.