Thriving as a creative person isn't about luck or talent. It's about blood, sweat, and tears. Putting in the hours, staying motivated on a daily basis, and staying dedicated to perfecting your craft over a lifetime.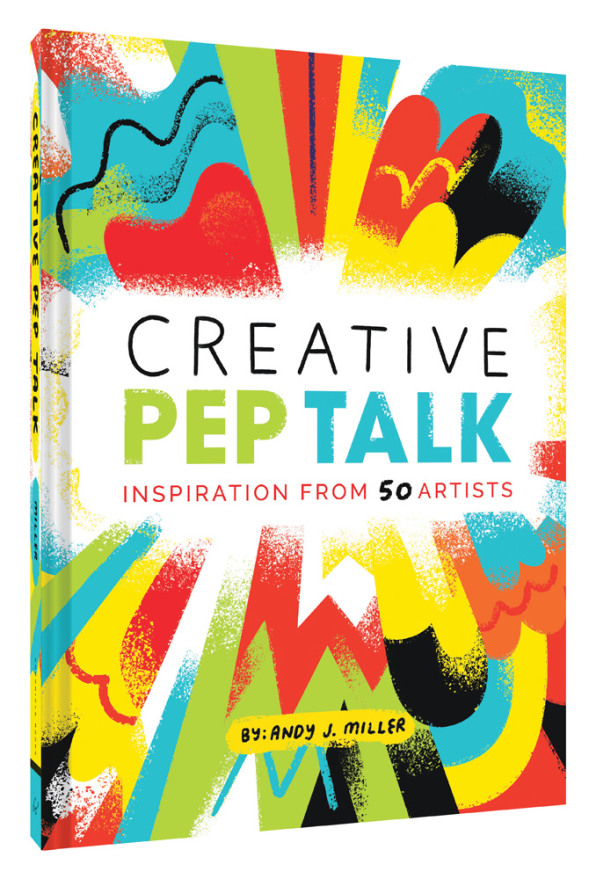 The world isn't ready for your creativity because it didn't exist until now. There's no cookie-cutter shape for you to fill in; you have to make your own space and mold it to your unique form.
Oh, and all the while, all sorts of people will be trying to stop you. Enemies, friends, and even your family will try to "save" you from your creative path. It's an uphill battle.
But you can do it. It takes clarity and strategy, discipline, and grit. Sometimes it even takes long nights and takeout pizza.
At Co.Design's request, I've selected my favorite illustrated words of wisdom from the artists, illustrators, and designers featured in my new book, Creative Pep Talk: Inspiration from 50 Artists
. Consider it your personal pep rally, cheering you on in this creative race.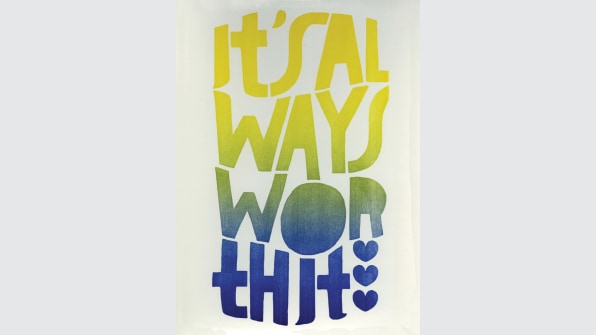 It's Always Worth It
"I spent much of my life until my late thirties lamenting mistakes and harboring regrets. Somewhere in there, I learned that what made me feel better each day was embracing everything about my life, including the things that didn't go well. This simple perspective shift changed everything for me and made it much more possible for me to feel happy every day. It also helped me take more risks, because even if I failed, it would be worth it since I would learn something new that made me a better, smarter, more compassionate person. I came up with this phrase to remind myself and others of this way of thinking."–Lisa Congdon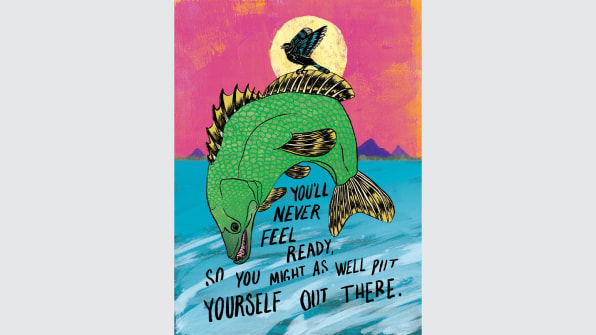 You'll Never Feel Ready, So You Might As Well Put Yourself Out There
"A few years ago, the illustrator Marshall Arisman told me, 'You'll never feel ready, so you might as well put yourself out there.' As young creative people, we often get caught up in whether or not we are good enough to pursue a professional practice. We sit alone working all day and all night with little to no insight into whether what we are doing is good or has any value. The way to solve these insecurities comes down to three simple steps:
Message three friends. Sometimes we look at a new piece or complete a series/portfolio of images, and we become overwhelmed by it. Asking three people you trust to give feedback or even simply asking them if your work is good is enough to make you feel excited about sharing it with everyone.
Internet high fives. Putting your work on the internet is a good way to get instant approval from friends, family, and fans who follow you. Don't get too hung up on numbers though. Forty people "liking" or "favoriting" an image should feel as good or as successful as 4,000 people liking it. In the end, someone took three seconds to look, take in what they saw, and press a button to say "I like it."
Send it off to people who could hire you . . . Maybe. I am not saying that you should send a sketchbook drawing to an art director or art buyer. What I am saying is that if you make a piece of art that you like and other people like, why not send it to people who may hire you? Maybe in an email or a postcard.
"Ultimately you don't know how someone who is in a position of hiring will receive it. It comes down to you feeling good about what you make. And if you feel great about what you create, someone else will see that passion and hire you for what you love to do."–Daniel Fishel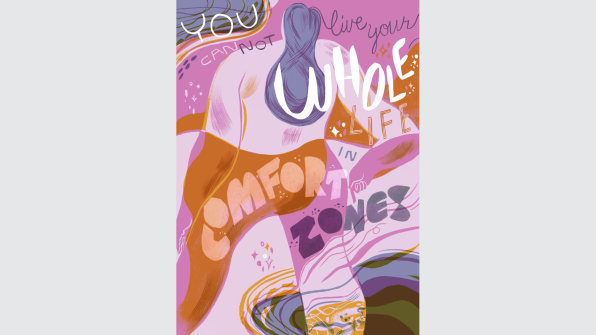 You Cannot Live Your Whole Life In Comfort Zones
"Something that I never could've anticipated in my creative practice is the fact that I crave growth. It's often uncomfortable and sometimes scary to push into unknown or weak areas, but I get restless if I stay in the same creative place too long. I'm a big proponent of lifelong learning and experimentation. Evolution and reflection are really key to my process. It's good to spend some time in areas where you're comfortable to grow and make your skills solid, but if you stay in one place too long you'll never get to explore the ideas just outside your periphery."—Meg Hunt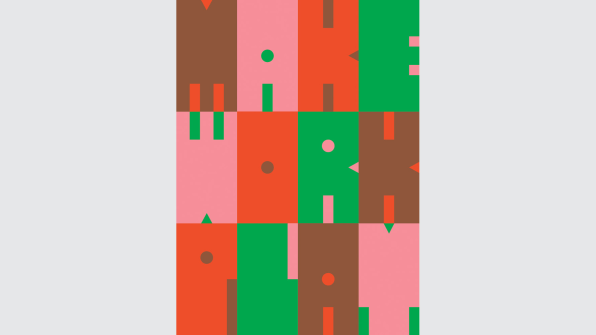 Make Work Play
"Having fun when I'm working, looking at a project in a playful way, and making things with my hands have all been successful approaches to design for me. Some of my favorite projects have come from a place of play. Experimenting with collage led to some award-winning designs at Esquire. Fooling around with food faces with my son turned into a column for Lucky Peach and a fun project with Disney. Making and designing gifts for my family and close friends led to being approached to write a craft book. Making your designs playful and bringing that joy of creating and experimenting into a project can make your work sing."–Erin Jang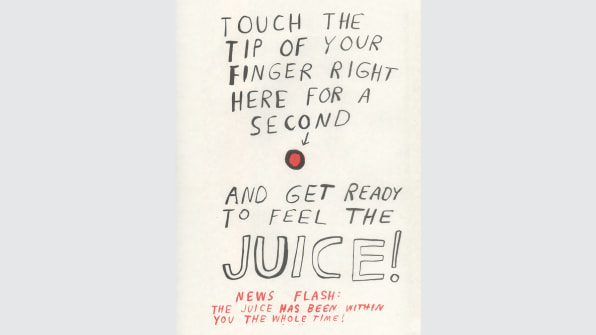 Touch the Tip of Your Finger Right Here For A Second And Get Ready To Feel The Juice!
"I made this inspirational poster as part of my time as an artist-in-residence at the Facebook campus in Menlo Park, California. When I think of 'the juice,' I think of all the invisible forces and energies we feel as humans here on Earth: inspiration, excitement, love, power, confidence, and so on. That magic is real, and it can be conjured and awoken within each of us with practice and patience.
"I made this print as a version of an inspirational poster one would find in the workplace. I find the idea of being able to touch the poster for a quick upload of 'the juice' very funny but also sort of sad, especially when we realize that the act of touching the poster is to trick us into realizing that 'the juice' is already within. It's funny in the way that it makes fun of the pop culture cliché ('the call is coming from INSIDE THE HOUSE!!'); it's sad in the way that after all this time we, as humans, must constantly remind ourselves that we are magic, we can overcome, we can be our true and fulfilled selves.
"But it's not too late! As you read this, you can look at the page with the poster printed on it, and you, the reader, can touch the button on the page and feel that 'juice' again, anytime you need it!"–Nathaniel Russell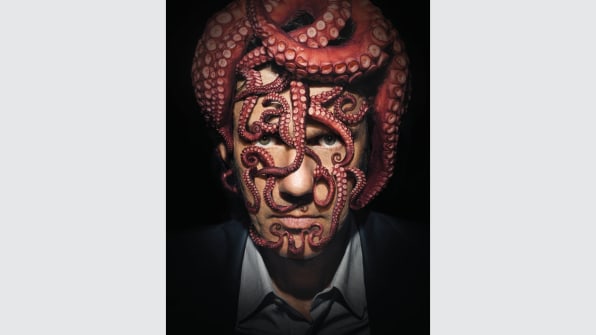 Take It On
"This was originally a line from my cognitive therapist who was encouraging me to be less afraid of confrontation.
"These posters were created for the School of Visual Arts (SVA) in New York City. We looked around our studio and realized that, as teachers and students, the Sagmeister & Walsh team is rooted in the SVA community. We embraced the maxim by literally taking on the typography on our faces. We worked with renowned photographer Henry Leutwyler and creative retoucher Erik Johansson to achieve this poster series, which was then displayed throughout N.Y.C. subway stations."–Sagmeister & Walsh
This article was adapted with permission from Creative Pep Talk: Inspiration from 50 Artists by Andy J. Miller, published by Chronicle Books 2017.