Last week, Milan hosted its annual Salone del Mobile furniture fair and design week. During Salone, designers and manufacturers pull out all the stops to present their best work to the more than 300,000 people who flock to Milan for the fair. Think of it as the furniture industry's fashion week.
This year, designers explored the fertile ground between digital fabrication and craft and the value of multisensory experience-driven design; they developed new materials and production techniques; they tried to solve some of our most mundane problems, like moving; they found ways to make boring furniture categories exciting; they looked to design to alleviate some of the stresses wrought by our trying political times; and, of course, they created a lot stuff that's simply gorgeous.
Here are a few of our favorite new products–ranging from 3D-printed rugs to a lamp that glows like a summer's day and speakers that disappear into your living room.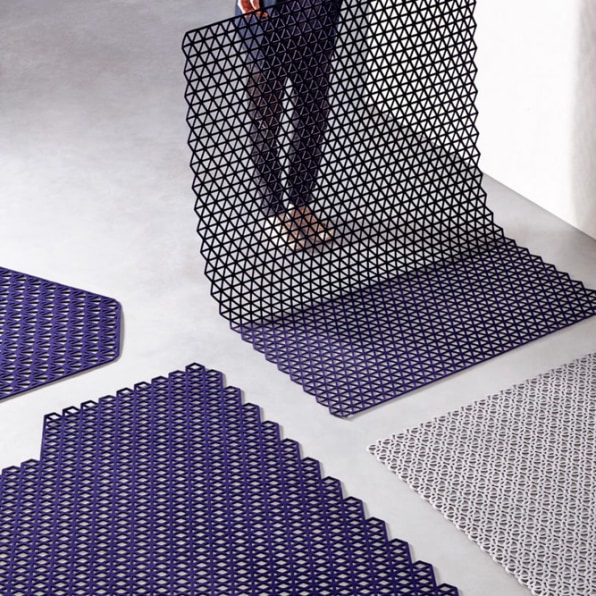 Open Rugs by Studio Plot
Designers Mireille Burger and Rudi Boiten of the Eindhoven-based Studio Plot are aiming to make 3D printing more sophisticated by using textile-based techniques like stitching, weaving, and knitting to inform digital fabrication. Their geometric rugs are printed from a flexible plastic and coated with textile fibers for added tactility.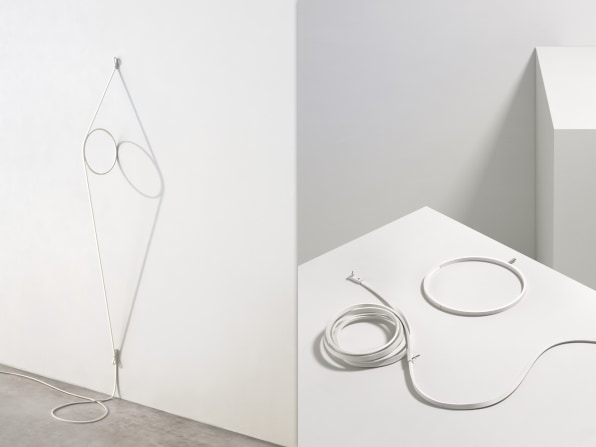 Formafantasma for FLOS
Known for exploring artisan craftsmanship, Andrea Trimarchi and Simone Farresin launched their first production pieces at Euroluce, the biannual lighting fair that takes place within Salone del Mobile. The Italian designers, who are based in Amsterdam, created two pieces for the lighting brand FLOS. Blush, an LED lamp outfitted with dichroic film, creates an iridescent shadow that evokes the memory of a summer's day. Meanwhile, Wire Ring is composed of an LED hoop that's held to the wall by its cord–a clever use of a light's wiring.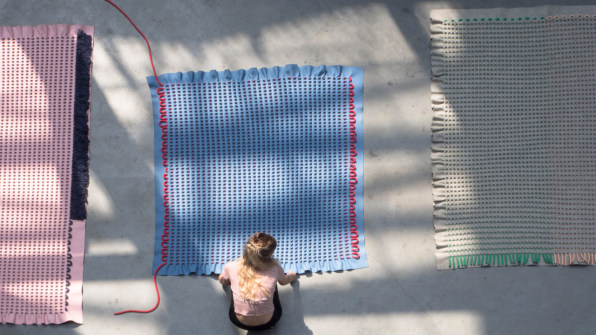 Acoustic Landscapes by Robin Pleun
Robin Pleun, a recent graduate from the Netherlands' prestigious Design Academy Eindhoven, created sound-dampening textiles that require both digital cutting and hand-weaving to fabricate.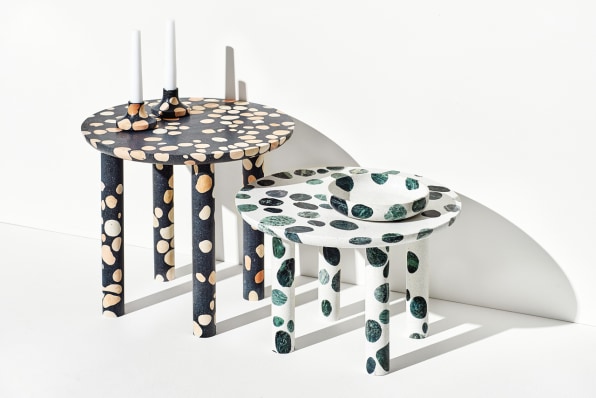 Terrazzo furniture by Alberto Bellamoli
For designer Alberto Bellamoli, terrazzo–a composite material made from stone fragments set in concrete–holds a special place in the cultural history of Italy. It's a material that's still made by a small group of artisans near his hometown of Verona. Here, he made his own version of the material using offcuts and waste from marble fabrication.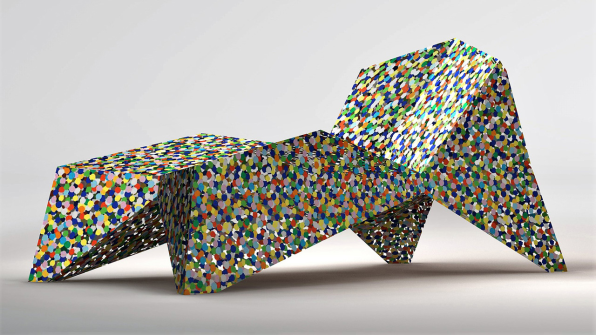 Ecopixel Terrazzo
While most terrazzo is made from stone, Ecopixel makes its own from a low-density plastic that melts at a low temperature and can be remelted over and over again, meaning that there's virtually no waste material. The company worked with Alessandro Mendini–one of Italy's iconic designers–to create a chaise lounge using the material.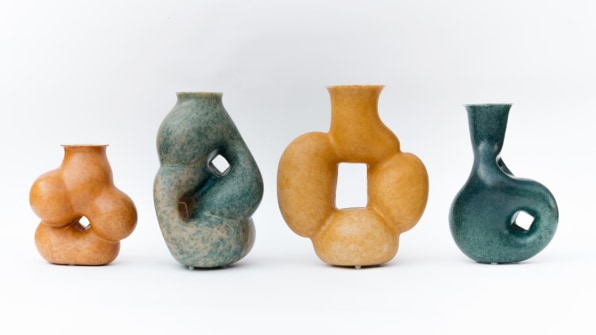 Impose Ceramics by Handmade Industrials
Designers Rutger de Regt and Marlies van Putten, who are based in the Hague, used a flexible mold to produce these ceramics. While it's a standardized process, the results are different each time based on how they manipulate the mold.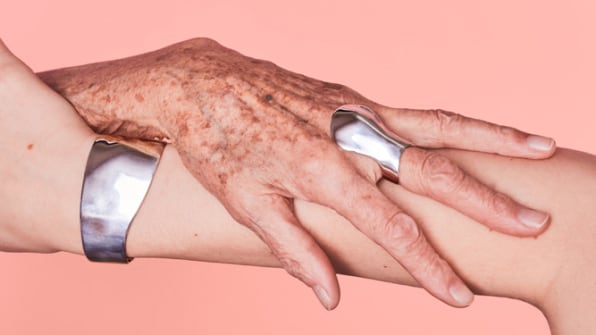 Embracing Touch Jewelry by Marija Puipaite
Interested in the many shapes and forms the human body can yield, Marija Puipaite created a line of jewelry made from molds of various body parts: wrists, knuckles, collar bones, and even an ear. To create the metallic pieces, she uses molds made from wax forms that have melted under body heat.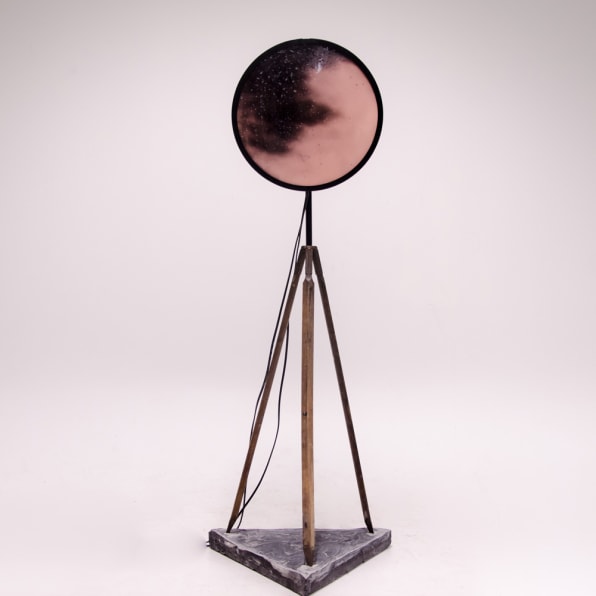 Dispersion Mirror by Nila Rezaei
An interactive piece by the Sydney-based designer Nila Rezaei, Dispersion is intended to get people thinking about the environmental devastation caused by oil spills and oil extraction. She coated the mirror with a heat-activated pigment. When the lamp heats up, it becomes black. People are invited to "clean up" the ink by blowing onto it, revealing the pink surface beneath.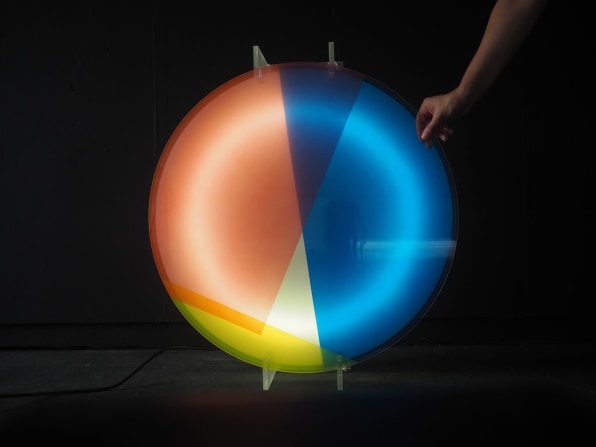 Visible Light by One Design Space
Designer Dessislava Madanska's interactive, prismatic lamp is composed of colored plastic. When you rotate the lamp, the colors change the light's tone. (Think of it as a much nicer, analog version of a Hue bulb.)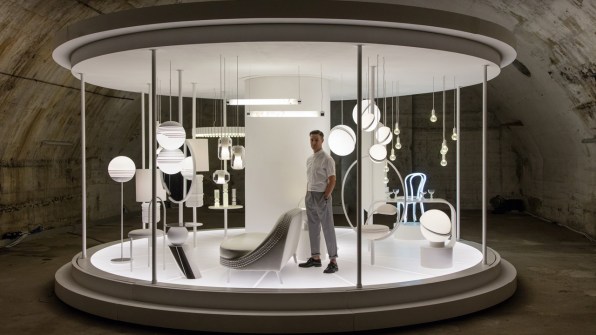 The Time Machine by Lee Broom
Ever a master of theatrical presentations, British designer Lee Broom celebrated his studio's 10th anniversary by creating a carousel-like "time machine" of some of his greatest hits. And further riffing on the notion of time, Broom designed a new marble grandfather clock that debuted at Salone.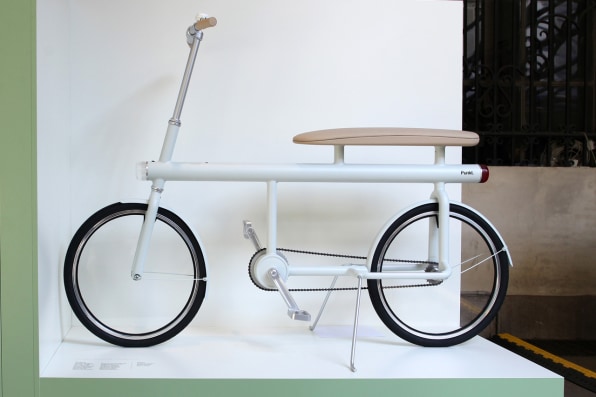 Urban Mobility Project by Punkt
The Swiss brand Punkt–an electronics company that takes a more mindful approach to tech–collaborated with design students to reinvent the bicycle for urban use. We liked the Design Academy Eindhoven's contribution: a bike that lets two people ride together comfortably, no need for piggybacking or handlebar acrobatics.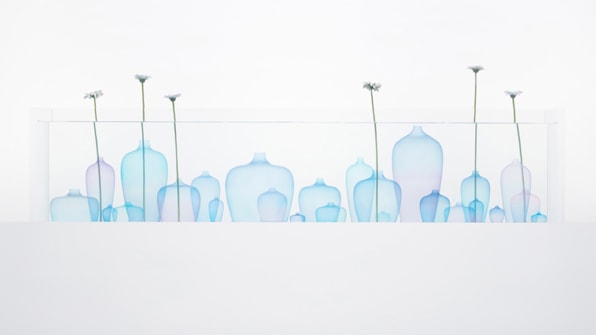 Nendo for Jil Sander
Nendo, the Japanese design firm headed by Oki Sato, created two projects for the minimalist German fashion brand Jil Sander. One was an accessories line emblazoned with Yayoi Kusama-esque polka dots. Another, a series of silicon vases that look and act like jellyfish–which were displayed with an unusual presentation: immersed in an aquarium.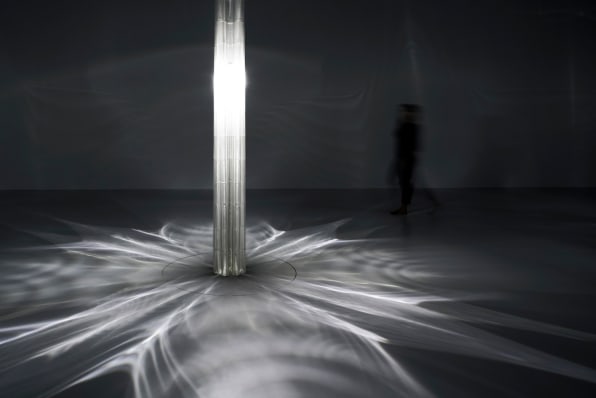 Yet by Neri Oxman for Lexus
In conjunction with the Lexus Design Award, Neri Oxman and the MIT Mediated Matter Group created a glass installation—made from a 3D printer that MIT developed in 2015–that emits painterly shadows.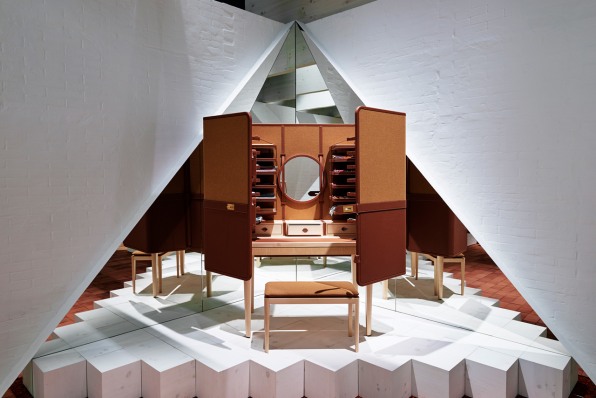 Hermès Collection for the Home
For its collection of furniture and accessories, the French fashion brand collaborated with renowned architects and designers like Alvaro Siza (bamboo stools), Barber Osgerby (a cast-bronze coffee table), and Pierre Charpin (lacquered-leather change trays). But what really stood out was Hermes's elaborate presentation in a pavilion by architect Charlotte Macaux-Perelman and set designer Hervé Sauvage.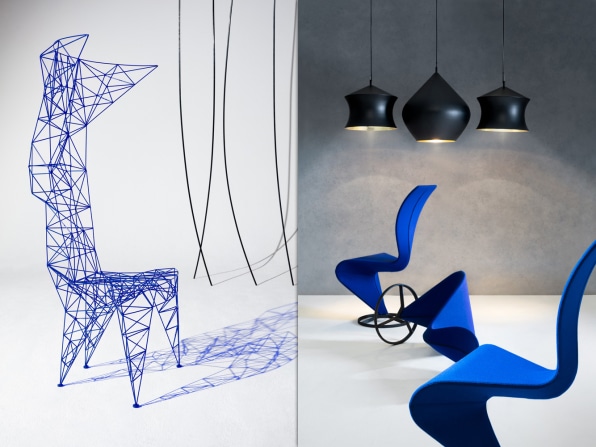 Veterans by Tom Dixon
British designer Tom Dixon looked to his archives for his 2017 furniture collection, which included reengineered versions of his S chair, Bird chaise, Pylon chair, and Jack lamp–a move that makes sense, seeing as how he once told Co.Design that one of the biggest challenges for designers today is asking if it's legitimate to put more products into the world.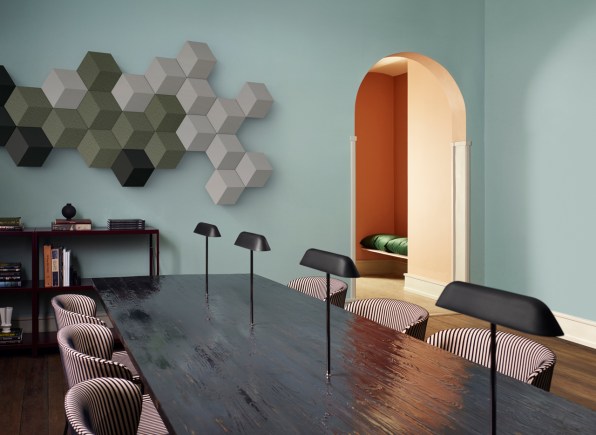 BeoSound Shape Lifestyle by Bang & Olufsen
The Danish electronics brand is known for creating speakers and sound systems that blend in with fancy living rooms, and its Sound Shape system is no exception. The wireless speakers hang on the wall like a sculpture and also have sound-dampening qualities when not in use.