Watching Milan's high-profile design week, Salone del Mobile, unfold from afar is a surreal ordeal. The design industry, for the most part, comes to a reeling halt outside of the festival in Milan, where design news gets released in flood-like fashion every few hours. Everyone is there, which for a design reporter in New York means a barrage of press emails very early in the morning announcing new collaborations, product launches, site-specific pieces—and, this year, an inordinate amount of installations with names like RESET and ESCAPE.
These installations are, presumably, offering to rescue me from the very medium on which they were being advertised to me. A sense of being tethered to email, the constant stimulation of perpetual connectivity, the slow deterioration of a body hunched over a glowing screen for hours—all of these experiences are as universal as they are unhealthy. All this has given renewed popularity to self-care, which reverberates everywhere from Twitter to beauty product marketing emails to discussions of the radicalism of communal self-care. In the era of Trump, it has spawned trend pieces and comedy.
Now, it seems, self-care has hit the built environment.
Milan is known as a place to spot design trends for the coming year, so it seems inevitable that there will be more of these escapist structures–which have popped up elsewhere this year in the Guggenheim and even in some public places, thanks to "meditation pods." Design that enhances our health and well-being is not new, but designing spaces solely for the purpose of finding calm by disconnecting from technology does feel like a distinctly contemporary phenomenon. It's evident in the way these projects are described, which echoes the language of self-care at large.
A sculptural terra-cotta installation that SHoP Architects premiered at Milan this week invited visitors to "pause and reflect, one at a time, on the hectic speed of our world." RESET, an office pod developed by Dutch design studios UNStudio and SCAPE, generously allows users to "take a break from everyday pressures to rebalance, refocus, and reset."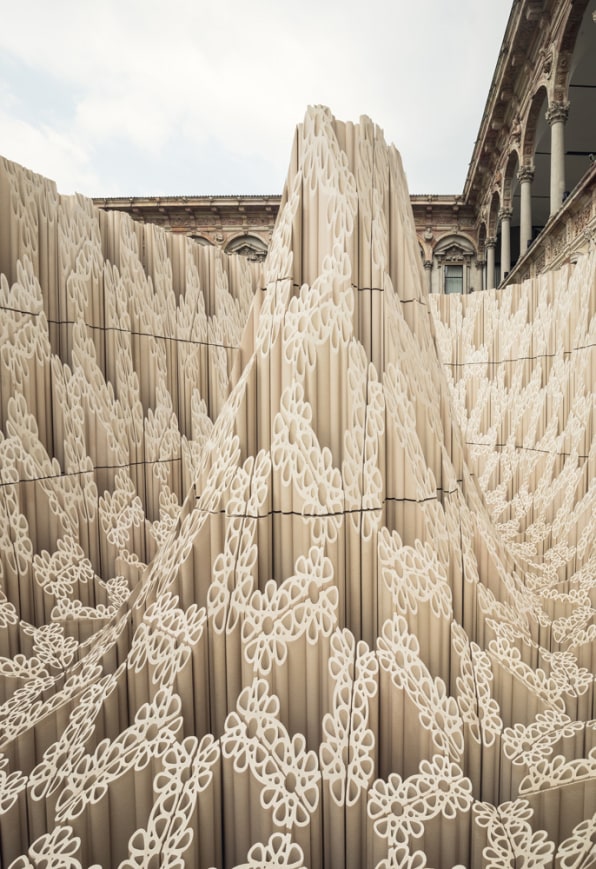 But are areas designed specifically for recharging and disconnecting merely capitalizing on the cultural momentum of the concept of "self-care"? Or are they truly filling a need for a generation of exhausted, overworked, and over-connected people?
In some ways, the sheer influx of spaces purpose-designed for de-stressing and disconnecting is itself exhausting. Commoditized "self-care" runs contrary to the concept's core intent–which is to do what makes you feel the best personally. In other words, self-care is strongest as an individual pursuit, not as a product that you find in a marketing email or in a public installation that promises rejuvenation. Before it became a buzzword for escaping the stressors of technology and society, self-care was as a psychiatric term that applied broadly and could mean working toward a healthier lifestyle with habits like eating well, being physically active, and maintaining good hygiene.
In that sense, the best spaces in this new genre of design encourage those healthy habits. "We apply a lot of human sciences to the work that we do," says design strategist Todd Bracher, who worked with design company and manufacturer Human Scale to realize the Re:Charge Cafe installation in Milan. The cafe is billed as a green "urban oasis," complete with an air-purifying wall and "'green shots' for rejuvenation of body and mind."
But beyond the window dressing, the installation is essentially a way to market Humanscale's biological lighting–a type of LED light that introduces spectrums of light that help regulate users' circadian rhythms and help establish healthy sleeping patterns. Introducing biological lighting into a space is a subtle way of shifting harmful design elements—lights that interrupt our biological patterns—so that we'll get more sleep and thus be more productive.
But, similar to other healthy building elements like good air quality or acoustics, it's an idea that doesn't require a separate space. These are ideas that could be integrated into any home or office.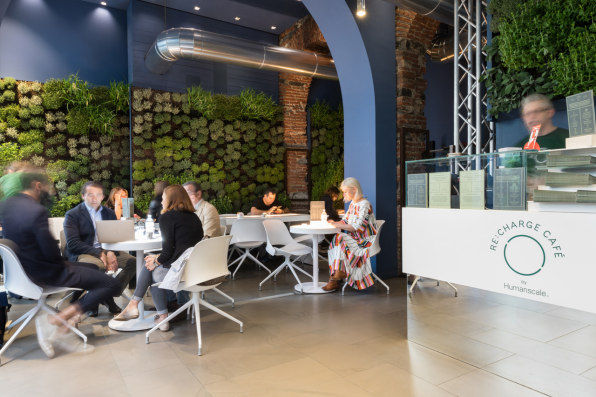 Meanwhile Jeff Povlo, who studies how our environments can reduce stress at his experience design firm SCAPE, advocates for a separate "living lab" to both de-stress and learn new techniques for stress reduction. He designed the technology for the RESET pods currently on display in Milan. According to Povlo, 1 million workers worldwide are absent due to stress every day, resulting in an annual loss of around $300 billion in the United States alone. The pods are designed to help employees develop healthy habits for reducing their own stress levels at work–and thus, reduce stress's drag on the workforce.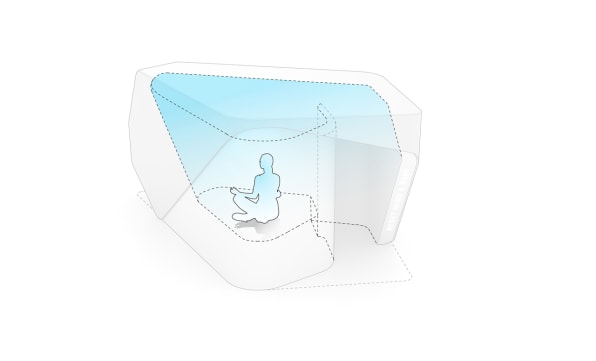 The two prototypes of the RESET pod in Milan introduce two different ways of dealing with stress: One allows the user to lie down and enjoy calming lighting and sounds. The other is outfitted with drum machines and sound effects that make it sound like you're breaking things (imagine smashing plates, without the mess). Each pod measures your biometric data during the experience, giving you a score for your stress level as well as advice on what to do to reduce it.
These pods are meant to be installed in workplaces to promote stress-relief and productivity. Povlo mentions that they can be used as an employee perk, similar to employee wellness programs or fitness passes. "In workplaces where there are high demands on productivity, it really helps to have the ability to de-stress, allowing you to be more creative," he says. "We've seen a lot more companies that understand they have to offer more to retain talents." In other words, employers know that offering wellness programs will attract employees, just as marketers know that buzzwords like "de-stress" and "recharge" will attract consumers as long as self-care is firmly part of the zeitgeist.
The design of spaces can certainly promote healthy habits, particularly now that there is solid science to support it. But, just like any other type of self-care, these habits are most useful when incorporated into everyday life. In the end, when set in all caps and embedded in installations or pods, words like "reset" and "relax" start to sound like stressful mandates, rather than healthy habits you can employ on your own.