At an event on Wednesday put on by the New York chapter of the professional design association AIGA, the Hillary for America design team reunited to share their experiences working on a presidential campaign. Unlike many who work on political campaigns, most of the designers on stage didn't come from a political or professional organizing background—they came from art schools, design studios, and tech firms. Many applied to the position on a whim, or because they supported Clinton personally; all ended up at the campaign headquarters in downtown Brooklyn for several months leading up to November, or up to a year.
At the event the team recounted spending long days and full weeks working in the center of a crucial, at times brutal, spectacle of a campaign. Executing an intricate branding strategy that included social media, state design, video, and web meant responding rapidly across all media, and doing an incredible amount of work in a short amount of time. It all ended pretty abruptly on November 8, to say the least—but they came away with insight into organizing and activism few designers have.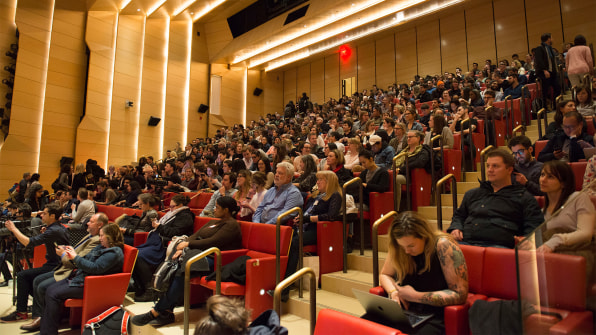 Since the election, we've seen leaders in the design field galvanize others to action and initiatives that encourage designers to do more to advance social progress. Countless groups, apps, and Google Docs have sprung up to help bring the right people together. But concrete steps for designers to use their skills most effectively are harder to come by.
Which is why it was refreshing to hear two HFA designers—Kara Haupt and Victor Ng—end the event with advice for designers wanting to get involved. In a nutshell? Be willing to step out of the design bubble and do the unglamorous, tedious, often frustrating work.
"We have to constantly ask ourselves if we're using our skills, our talents, and our privileges to do the most good, not just good," said Haupt, who led the content and rapid response team. "Doing the most good probably doesn't look like making a poster and tweeting it, and it probably doesn't look like an enamel pin. It's probably not what seems cool or obvious or glamorous."
Haupt and fellow staffer Meg Vazquez recently launched the website called Do The Most Good with resources for designers interested in political organizing. At the event, Ng elaborated on what to do to get started. Here are the key takeaways: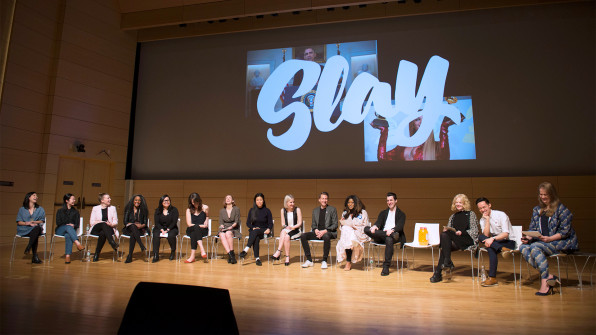 Be Well Versed In The Issues You Care About
On the campaign, designers had access to policy experts, researchers, activists who could brief them on every aspect of a policy decision before they set out to design a graphic or website around it. Before setting out to do any design work, Ng says to do your research and seek out others who have already been working in these sectors for years.
"Do your homework, seek out those experts who do the things you care about, follow them on Twitter or elsewhere, and be specific," said Ng, who led web design on the campaign. "By doing your homework and staying informed, you can inform not just your design decisions, but the values and ideas behind your work."
He also stressed the importance of lending your skills to local politicians or existing organizations before considering starting your own. "If you care about climate change, if you care about criminal justice reform, if you care about trans rights, if you care that black lives matter—there are so many organizations and people who could use your genius," he said.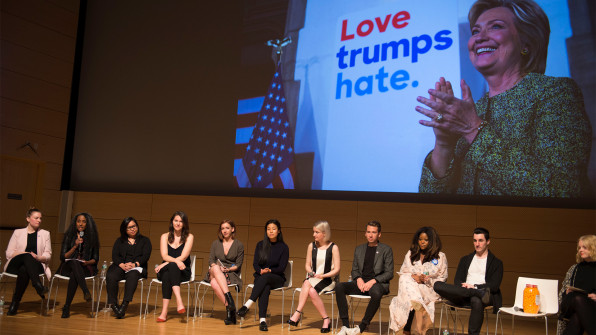 Identify the problems design can solve
Ng stressed the importance of working as an organizer before designing for organizing, since it's always easiest to identify the pain points of the process when already involved. Something as simple as redesigning a sign-in sheet, for example, can make a big difference. "I saw organizers sign in volunteers in a spreadsheet, print that spreadsheet out, hand it to a different person who put it into the DNC database," Ng said. "[It] took 15 minutes just to redesign that sign-in sheet so that the form fields match that database, and it instantly cut down on work time."
The attitude when working on a community organizing or political project should be that no work is too big or too small. "It could be signage that helps volunteers and voters get to where they needed to go," said Ng. It might be as ambitious as a brand-new app. Apps like Mobilize, Hustle, or Flippable are beginning to address problems like how to address your senators, how to text your voters, what are the key actions that you need to take to flip crucial red districts."
"Effective movements require organization, and anyone who has designed  products for people understands the value of empathy in your work," Ng said. "So really immerse yourself in those processes that have been proven to make change."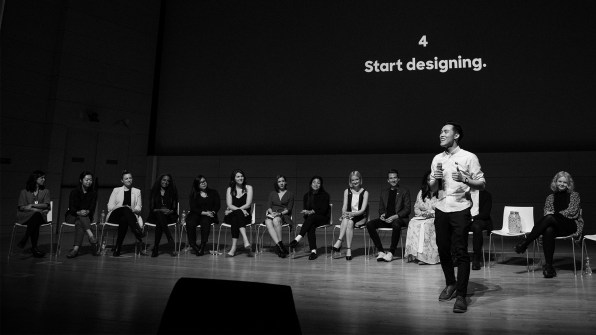 Being A Citizen Is As Important As Being A Designer
"If you employ designers, if you believe that inclusivity is an American value, show that in how you hire your team," Ng said. Designers can uphold their own values by committing to fair compensation and diversity in the workplace. "You should make posters or march in the Women's March, but make sure that your employees have paid maternity leave," Ng said.
Most importantly, designers should decide who are the best people and what are the best causes to dedicate their talents to serve. "When history looks back at this moment, design may not be the hero of the story," Ng said. "But if you really believe in doing all the good you can for all the people you can, and for as long as you can, design might be just one of many talents you have to do that."