Peek behind the architecture industry's public image of gleaming skyscrapers, mind-bending master plans, and sculptural monuments, and you'll find a complex global network of services, labor, and materials that made the building possible. Yet it's not often that the architects of these buildings are confronted with the realities of who actually builds their designs.
Take the 6.6 million-square-foot Hamad International Airport in Doha, Qatar. It was designed by HOK, a firm with offices in nearly two dozen cities. Its construction manager, Bechtel, is headquartered in the San Francisco Bay Area. Buro Happold, the engineer, is based in the United Kingdom. The builder, Tav Construction, is Turkish, and the contractor, the Taisei Corporation, is Japanese. The actual hands that are building the airport? Migrant labor from the Philippines, Nepal, Bangladesh, Sudan, Egypt, Iran, and Syria, among a host of other countries.
Who Builds Your Architecture?, or WBYA, is a collective of architects, activists, and scholars who are studying the systems and networks required to construct contemporary buildings like Hamad International Airport. Their fundamental question: What's the ethical responsibility of the architecture profession toward the people who physically build their work?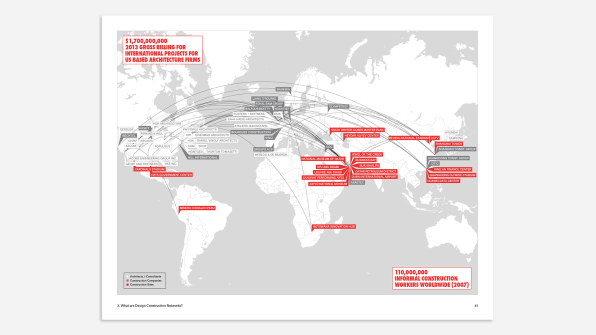 "There are so many nuances of what being an ethically engaged architect is," Laura Diamond Dixit–an architect, PhD candidate, and WBYA researcher–says. "If we don't sort of engage with these issues, it creates this blind spot in the profession."
WBYA's priorities include bringing awareness to issues surrounding fair compensation, safe working environments, and worker housing. It aims to inspire students–an emerging generation of activist architects–to view ethical labor as a critical part of their practice, not an afterthought. The organization, formed in 2014, achieves this primarily through lectures and workshops. But this year, it received a larger platform with an exhibition at the Art Institute of Chicago–and a self-published, downloadable field guide to its research.
Who Builds Your Architecture: A Critical Field Guide is an explainer for the global construction industry. It details where migrant workers come from; how they immigrate to job sites around the world; the relationship and flow of information between clients, architects, contractors, subcontractors, and workers; who oversees the profession's practices; and more.
It's essentially a crash course on how a design moves from paper to completion. WBYA hopes its guide becomes a reference for students, professionals, and anyone curious about the networks upon which the construction industry relies. Its broader goal? To serve as a wake-up call to architects about the role they play in this international network and to offer ideas about how to improve conditions.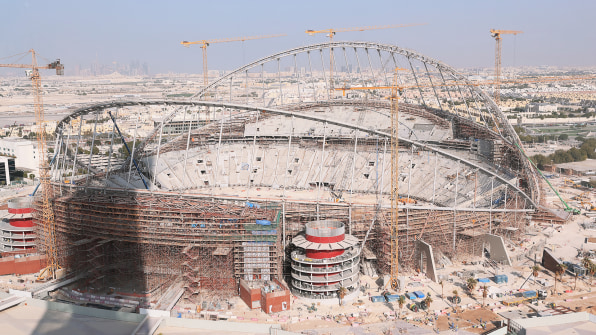 Aside from a few high-profile stories–namely the construction of the Zaha Hadid–designed 2022 World Cup Stadium in Qatar, which saw a death toll of one person every two days in 2014–fair labor practices in architecture aren't discussed nearly as much as with other industries, like fashion and consumer electronics, where sweatshops are routinely in headlines. Part of the challenge with the transnational architecture industry is that laws are inconsistent around the world, and even when there are codes of professional practice, they're thin.
On the subject of human rights, the AIA's Code of Ethics simply reads "members should uphold human rights in all their professional endeavors." What that means, precisely, is unclear. While an architecture firm in the United States is beholden to wage and labor laws for its direct employees, the responsibility to other people who work on their projects after the documents are handed off and contracts are signed is less clear. As WBYA reports, American firms billed $1.7 billion in 2013 on international projects. If they're profiting on a building in a country with lax or nonexistent laws, what should their role be? And if they're specifying materials or building products manufactured in inhumane conditions, how much should that come to bear on their practice?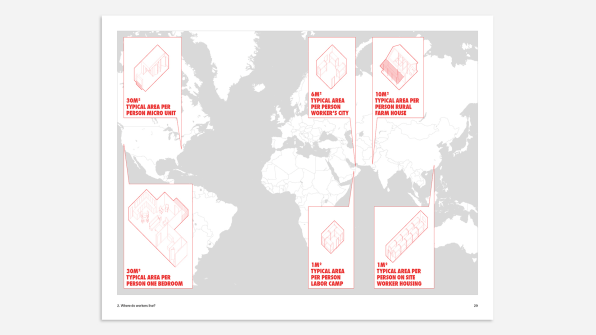 "There are such massive questions about the way material moves around the world, or how labor is moving around the world, or the way construction is financed," Dixit says. "To start asking these questions in our profession may help architects reflect on these issues as they go through their day-to-day [jobs] of working on drawings or going to a site or going through a contract."
For starters, WBYA proposes expanding architects' responsibility to human rights to workers who build their designs, potentially through adding more detail to the AIA's code of conduct, for starters. To promote fair labor practices, architects could leverage their position to pressure developers, who profit off of architects' names, to demand more rights for migrant workers. They could also expand site visits and observations to focus specifically on labor conditions, including worker housing (Dixit points out that some worker deaths aren't only from dangerous construction sites; poor ventilation in housing can lead to heart attacks); redesigning worker housing (the average amount of space for a migrant worker can vary from one square meter in a rural Saudi labor camp to six square meters for housing in an urban context); boycotting contractors who use abusive labor practices; and rethinking the material supply chain.
In the context of the global building industry, architects are service providers and often don't hold the purse strings. Clients do. While some developers pride themselves on fair and ethical practices, and have the financial flexibility to follow them, that's not always the case.
Fair labor is just one of the many increasingly visible ethical and political issues with which architects are grappling. Some architecture firms refuse to design prisons and detention centers. Many architects have vocally opposed Trump's border wall on the grounds that it's morally and ethically bankrupt. However, other firms have come forward and said they're open for business. It's a dichotomy that mirrors the political divisions in the United States.
Dixit notes that WBYA's position on the ethics of architecture is more explorative than prescriptive right now. They're here to provoke questions and propose solutions, not issue edicts. WBYA plans to continue its research, conversations, and workshops, and hopes to reach more students.
"It's the next generation of the profession," Dixit says. "Students right now have a desire to be politically engaged, and I think there's a moment now where the profession as a whole is thinking, 'What is our ethical stance on detention centers? On different infrastructures like the border wall?' There will continue to be heightened political engagement with the profession."