Americans' relationship status with the tech industry: It's complicated. That's the overview of a Pew Research Center survey of 4,594 adults, completed on June 11.
Sixty-five percent agree that the companies, "often fail to anticipate how their products and services will impact society." And 75 percent says that Silicon Valley doesn't do enough to protect users' personal data. But just as many (74%) say that the overall impact on them personally is positive. (Pew reckons the margin of error is plus or minus 2.4 points.) Americans, it seems, are willing to take the good with the bad.
This may help explain why we aren't seeing much concrete action in Washington, despite negative stories like Cambridge Analytica's surreptitious harvesting of data from (at last count) 87 million Facebook profiles. Overall, just half of Americans say that major tech companies should be regulated more than they are now, based on Pew's estimate. And among Republicans, whose candidates dominate Congress, the figure is just 44 percent.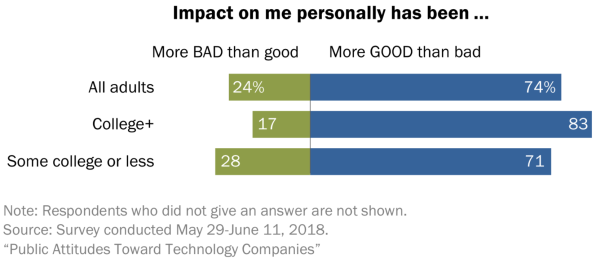 Whether or not the Valley's political muscle also causes politicians to go easy on it, American's aren't too worried. Just 55 percent say the companies have "too much power and influence" in today's economy, versus 71 percent for advertisers, 72 percent for Wall Street, and 83 percent for big pharma.
Most of Pew's survey questions asked simply about "major technology companies." But one focused on social media sites, asking if they "intentionally censor political viewpoints that they find objectionable." That's somewhat or very likely, say majorities of both Democrats (62 percent) and Republicans (a whopping 85 percent).
But again, this isn't a black-or-white issue, according to Pew. In its 2017 survey about online harassment, a slight majority (53 percent) said it's more important for users to feel welcome and safe online than to have unlimited free speech.