In my neighborhood, at least, a fair percentage of Amazon deliveries are made by contractors who participate in the company's Uber-esque Flex program. These couriers pick up items for delivery from local Amazon fulfillment centers, wear utilitarian safety jackets, and drive unmarked, sometimes vaguely disreputable-looking vehicles with packages piled atop their dashboards.
Starting soon, however, some of those items might be dropped off by someone decked out in a sporty Amazon-branded uniform and driving a Mercedes-Benz Sprinter truck with big Amazon Prime logos on its sides. That someone will be neither a Flex contractor nor an Amazon employee—but rather an employee of a local business set up expressly to deliver for Amazon.
The company calls the concept Delivery Service Partners, and on Wednesday, senior VP of worldwide operations Dave Clark hosted a small event in Seattle to brief reporters on the plans. Amazon aspires to help hundreds of entrepreneurs across the U.S. create these businesses, with startup costs as low as $10,000. For all the ways this sounds like a way to scale up the last-mile transportation network Amazon started building with Flex, it also sees the plan as being akin to Amazon Marketplace, the 15-year-old program that lets small businesses sell their wares on its platform and, optionally, using its fulfillment system. These merchants sold more than half of all items ordered on Amazon last year; more than 140,000 of them did at least $100,000 in revenue.
While the idea with Delivery Service Partners is to help Amazon's distribution network grow, the company thinks it's best if each of the delivery companies it's hoping to help birth doesn't get too big. "Our experience says that about 20-40 vehicles is about the right size company to still be a hands-on owner/operator," Clark told me. "It makes it manageable. It doesn't extend the person out too far in terms of the number of people they have to hire or the amount of management required. We think it sets people up for success."
Experience in delivery is not required. "Predominantly, we're really looking for people who have the right cultural, leadership kind of frame," Clark says. "We want people who are people people . . . who enjoy being out in their community." Amazon thinks that it's an especially good opportunity for military veterans—and to encourage qualifying vets to take up the challenge, it's setting aside $1 million so it can give them $10,000 apiece to cover startup costs.
Once a Delivery Service Partner is up and running, Amazon will provide not only stuff to deliver but also the back-end infrastructure needed to manage it; assistance with issues such as training, taxes, and payroll processing; and discounts on insurance, fuel, and truck leasing. The company will sign each firm to a contract based on goals for delivery volume and says that it will be possible to turn $300,000 in profit a year from such a business.
At the Seattle event, Clark introduced Ola Abimbola, an immigrant from Nigeria who had a technical desk job but found he "didn't want to be cooped up behind a computer." Abimbola began driving for Amazon Flex and, as part of the Delivery Service Partners beta test, started his own delivery company. Five months later, his Aurora, Colorado-based business has almost 40 full-time and part-time workers. Thanks to Amazon's never-ending delivery needs, he said, "my employees, all they have to do is show up for work, and there is always work to do–great, steady income."
Being entirely dependent on Amazon for revenue isn't without its risks; some Marketplace merchants have long complained that the company can treat them capriciously and has the power to shut down their businesses in a heartbeat. Still, if Delivery Services Partners lives up to Amazon's vision, it will remove some of the traditional hassles of running a small company. "Our entrepreneurs don't have to fight for customers," Clark said at the event. "They don't have to fight for sales. They get the opportunity, with our demand, to have a good consistent volume and to grow with Amazon as we grow."
Though this model may appeal to prospective Delivery Service Partners, the asymmetry of the relationships also lets Amazon call the shots in a way it can't do when negotiating terms with a giant like FedEx or UPS. Or with the U.S. Postal Service, which the president of the United States keeps declaring isn't charging Amazon enough to deliver its goods (justifiably or not).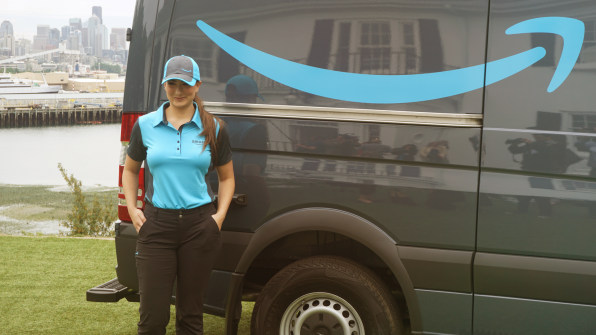 A job, not a gig
As with many gig-economy jobs, driving for Amazon Flex as a free agent–which Amazon pitches as side work rather than a career–involves lots of scrambling to make a buck and doesn't include niceties such as health insurance and paid vacations. Even before launching the Delivery Service Partners program, Amazon has been using the Flex system to outsource delivery to local companies. Last year, Gizmodo's Bryan Menegus reported on these arrangements, which, at least in some instances, also appear to be pretty hardscrabble for the couriers involved.
In principle, at least, working for an Amazon Service Partner company sounds like an upgrade. While Amazon says it won't be intimately involved in telling owners how to operate their businesses, it will set standards for minimum salaries and stipulate that positions offer benefits and paid time off. The services it will provide and the discounts it has negotiated might help these delivery firms provide better jobs than the typical tiny company can.
Putting more responsibility in the hands of locals who run their own businesses might also be good for Amazon customers. Among the many sobering points in Alana Semuels' recent Atlantic story on the Flex program is that when things go wrong, the contractors don't have a manager to help set them right. (In my own wholly unscientific experiences as an Amazon customer in the Flex era, the company has gotten dramatically better at delivering the average package in less time—but the instances in which it fails to meet its self-imposed deadline have gone up.)
According to Clark, "the level of ownership with people who own those businesses is super-impressive." He adds that Delivery Service Partners are "using our technology and using our devices, so we can understand how their on-road safety is. We have lots of audit mechanisms associated with the supplier code of conduct to ensure that they're treating their people fairly. We have a ton of customer metrics that let us know whether we have a great customer experience or not. We think the quality control is very high."
I asked him whether the advent of Delivery Service Partners reflects the limitations of the Flex approach to delivery. Not really, he said: "We are kind of an all-of-the-above place. We need all forms and manner of supply chain tools to accomplish our mission."
If Amazon needs "all of the above" to deliver its own goods–worldwide, it shipped 5 billion Prime items last year–imagine the resources it would require if it chose to take on FedEx, UPS, and the USPS by delivering packages for other folks. That scenario seems increasingly inevitable. And these new local delivery businesses could play a critical role in making it feasible–which would make their success as important to Amazon's future as it is to their own.