Retail continues to dominate the digital advertising industry, according to new numbers from eMarketer.
"Retailers will spend $23.50 billion on digital ads, up 18.7% over last year, representing nearly 22% of US digital ad spending," says the report. Behind retail are automotive, financial services, and telecom, respectively.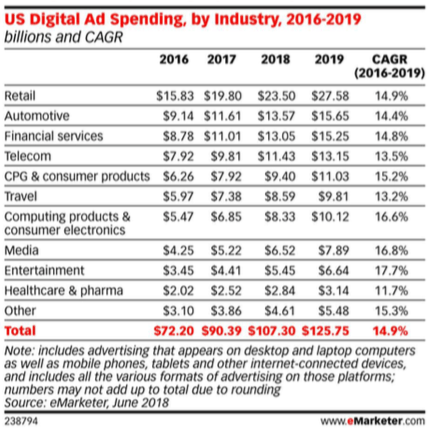 Perhaps most interesting is retail's decision to work with Amazon. While its true that the e-commerce juggernaut is increasingly beating out its competition, retailers are continuing to advertise on the platform. "As a result, Amazon is benefitting as retailers spend more on display ads, with an emphasis on promoted products," said eMarketer's senior forecasting analyst Oscar Orozco in the report's release.
With that, Amazon continues to prove its place as a potential disruptor to the Google-Facebook advertising duopoly. But until that happens, there will have to be many more advertising industry shifts.