Americans may never agree on what the Second Amendment means, or what role the U.S. military should play in the world. But those who want to see fewer guns and bombs can go beyond angry Facebook posts and vote with their money, using a new online tool called Weapon Free Funds. Created by activist organizations As You Sow and Codepink, the project analyzed 3,000 of the most popular U.S. mutual funds for their investment in weaponry.
Those companies include military contractors, nuclear weapons makers, gun manufacturers, gun retailers, and even makers of banned weapons like landmines and cluster bombs. These stocks make up just a few percent of investments by firms like Franklin Templeton (3.55%) or Fidelity (2.72%). But it adds up. Black Rock's 2.85 percent investment in weapon stocks accounts for $31.13 billion across 235 equity funds.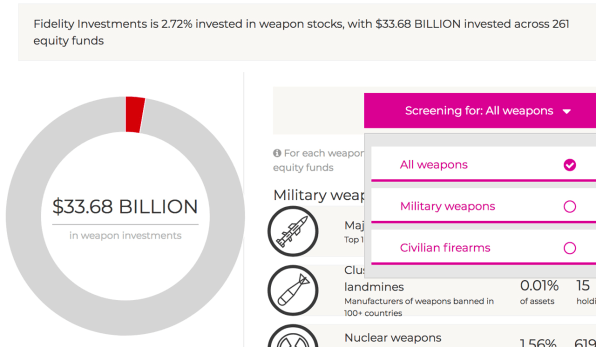 Weapon Free Funds breaks down the individual offerings from investment companies. The Equity Index 500 fund from T. Rowe Price, for instance, has 18 weapons stocks; its New Horizons fund has just three. The Health Sciences, Emerging Markets, and Global Technology funds have no weapons companies. Users can also pick their battles, as it were–filtering on all types of weapons makers or on just military weapons or just civilian firearms.
The results are sobering at first. Nearly every fund has some involvement in weaponry. But nonviolent options exist, and now they are a lot easier to find.