If you want see where streaming audio is headed, the current state of streaming video is a good place to start. The business models, content trends, and user features on video platforms such as Netflix and Amazon Prime Video are increasingly making their way to podcast platforms like CastBox and Stitcher.
"We're a few years behind TV and film, and a lot of things there will probably turn up soon in the podcast world," says Vancouver-based producer Chris Kelly. "We're already seeing podcast companies sign with agencies like WME and CAA. Somebody's gonna do the definitive Beatles series. Somebody's gonna do an IMDB for podcasts. Somebody's gonna do a big awards show for podcasts. I think that's all coming."
Kelly and his brother Pat produce audio and video content out of their Kelly & Kelly digital studio. They're shopping their 2017 self-help satire podcast, Dexter Guff Is Smarter Than You (and You Can Be Too), to TV and streaming outlets, and Chris says their new true-crime satire, This Sounds Serious, has already done more than double Dexter Guff's download traffic.
"It's all just starting to happen," he says. Indeed it is. And part of what's happening are new efforts to get listeners to pay for premium podcasts. That's not a new effort: The podcast business has been wringing its hands for years about when a "Netflix for podcasts" would emerge to generate subscription revenue for contact creators–either in place of or in addition to advertising revenue. Now CastBox is introducing a paid-podcast platform similar to Stitcher's Stitcher Premium–though, technically speaking, both resemble Hulu—allowing subscribers to pay a little bit extra to ditch the ads—more than Netflix.
Bigger money
Podcasting has been around for more than a decade but has seen explosive growth the last few years as smartphones have become ubiquitous media devices. Podcast ad revenue has nearly doubled in the last two years to $314 million in 2017, according to the Interactive Advertising Bureau, which projects revenue to double again by 2020. And an estimated one-quarter of U.S. consumers–73 million people–have listened to a podcast in the last month, according to a new study by Edison Research.
Venture money has spurred a recent wave of investment in player apps and content. In May, the Wall Street Journal reported that startup Luminary Media has raised $40 million to launch a premium podcast service. Spotify just invested more than $1 million in one show–Amy Schumer Presents: 3 Girls, 1 Keith–which launched last week on the major podcast platforms with "an extended cut" available exclusively on Spotify.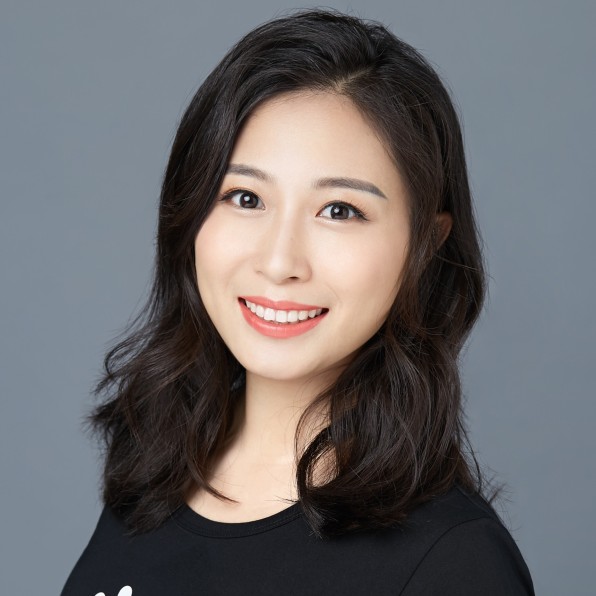 Podcast startup CastBox closed $13.5 million in Series B funding in April and has raised $29 million since launching in 2016. The Chinese and U.S. company is investing in AI search technology for its iOS and Android podcast app, opening an L.A. podcast studio this week, and ramping up orders for original content such as This Sounds Serious, which has a second season in the works.
CastBox CEO Renee Wang says that she plans to announce a premium subscription model this week that will enable podcast studios and individual creators to begin distributing premium content through CastBox's podcast app. With help from CastBox, Wondery–which produces the investigative podcast Dirty John and recently raised $5 million in Series A funding–will begin offering its Wondery+ service this week as an in-app purchase on iOS and Android. "We will have some other content partners to announce soon," Wang says.
The CastBox premium model looks a lot like Amazon Prime Video's Channels service and Ellation's VRV, which both allow consumers to subscribe to video channels à la carte. Peter Vincer, CastBox's head of global strategic partnerships, said he's in discussions with numerous podcast networks and audiobook publishers and expects to announce additional partners in the coming weeks.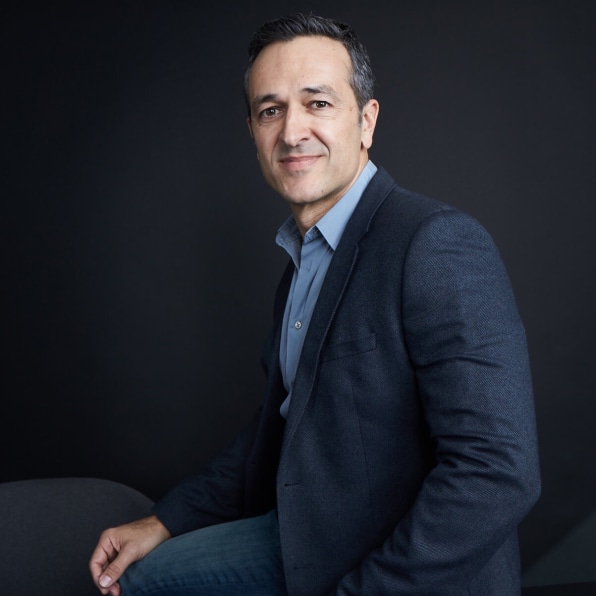 Wondery+ will cost $5 a month and include ad-free versions of podcasts such as Business Wars, American Innovations, and Safe for Work, plus early downloads and bonus material for some shows. "Most people listen to Business Wars when new episodes come out on Tuesdays and Thursdays," Wondery CEO Hernan Lopez says. "On Wondery+, you can get the six-episode season all at once when the first episode releases." Business Wars and Tides of History will also be available individually for $2.99 a month.
Wang and Lopez both emphasized that they don't see a premium subscription model as a pivot from ad-supported to premium podcasts but rather as a mechanism for listeners to support content creators and to provide content creators with a recurring-revenue model to plow into new content. "When we survey our users," Wang says, "many of them say they'd like to pay something to their favorite podcasters, and this is a way to build that connection."
Lopez pointed to the success that podcasts have had on Patreon. Indie podcaster Sam Harris's The Waking Up Podcast, which features conversations with big thinkers such as Michael Pollan and Steven Pinker, is one of the clearer examples of listeners ponying up even when they don't have to. The show's Patreon page shows more than 8,500 patrons, which–if Patreon's average contribution of $6.70 a month holds true–would add up to roughly $700,000 a year.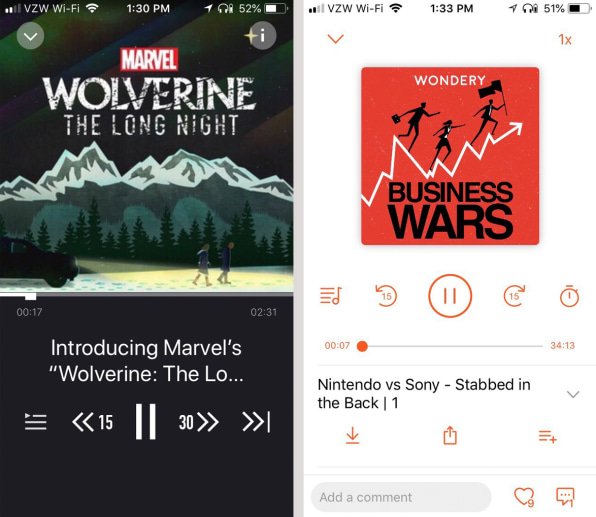 Pay to play?
For podcast creators, the notion of premium content carrying a price tag is appealing. Listeners, however, might fear the exact same scenario. Still, I wouldn't get too concerned about your favorite free podcasts suddenly switching to a premium model that requires you to pay a subscription fee instead of listening to ads. The podcast business is early in its growth curve, and most content creators are not ready to wall themselves off to a single app.
Paul Scheer is cohost of How Did This Get Made, a popular podcast about terrible movies. Along with film writer Amy Nicholson, he recently launched Unspooled, a weekly series about classic films such as The French Connection and Titanic. It's distributed by Midroll Media's Earwolf nameplate as an ad-supported series available across all the major podcast platforms rather than on the company's Stitcher Premium subscription service.
"How Did This Get Made has a broad appeal, and Unspooled potentially has an even broader appeal," says Midroll Media and Stitcher CEO Erik Diehn. "It felt like a show for hitting the widest release possible, and it's certainly something we could do with premium elements down the road. It's also available ad-free in Stitcher Premium."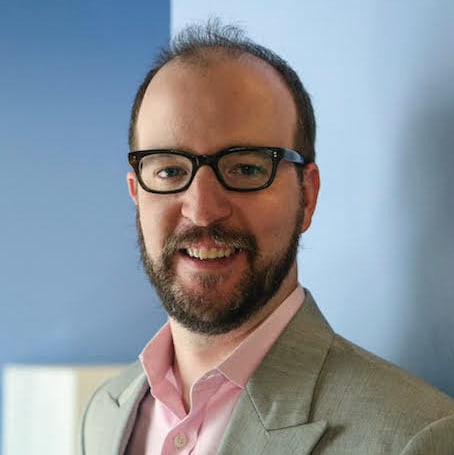 Midroll Media, which is owned by TV/radio/digital conglomerate E.W. Scripps Co., launched Stitcher Premium in December 2016 as a paid tier of its Stitcher podcast app. Stitcher Premium, which is $5 a month, includes ad-free episodes, bonus episodes, and catalog access for many shows plus exclusive originals like Matt Besser's musical comedy Stolen Idea and Marvel's Wolverine: The Long Night.
Even the Wolverine podcast, a scripted limited series that features actors Richard Armitage and Bob Balaban and has extremely high production values, will only stay in the walled garden of Stitcher Premium for so long before moving cable-style to the next window. The series will likely premiere across other podcast platforms before the end of this year.
Currently, Apple is the closest thing the podcast business has to a Netflix–albeit one which doesn't charge–but dominant players don't dominate forever. Apple Podcasts and iTunes' share of the U.S. podcast player market slipped from 69.3% in May 2017 to 63.3% in May 2018, according to data provided to Fast Company by podcast hosting company Libsyn. That six-point slide was largely Spotify's gain, and Google's new Google Podcasts app for Android is entering the market at a time when smart speakers like Google Home are just beginning to show up in the listening metrics.
And maybe premium models will take podcasts past ad-free listens and bonus features into some completely new direction. "Once you move out of the ad-driven world, the possibilities really open up because you're no longer gambling on the reach of the show and whether it appeals to advertisers," Stitcher's Diehn says. "With premium audio, you can take that consistent, monthly revenue and make content for your most engaged listeners. It's why Netflix has such a massive audience."