Best Friends Animal Society, the national animal welfare organization, and Waze, the navigation app, are working together in the hopes of helping 10,000 pets across the country find homes in 10 days.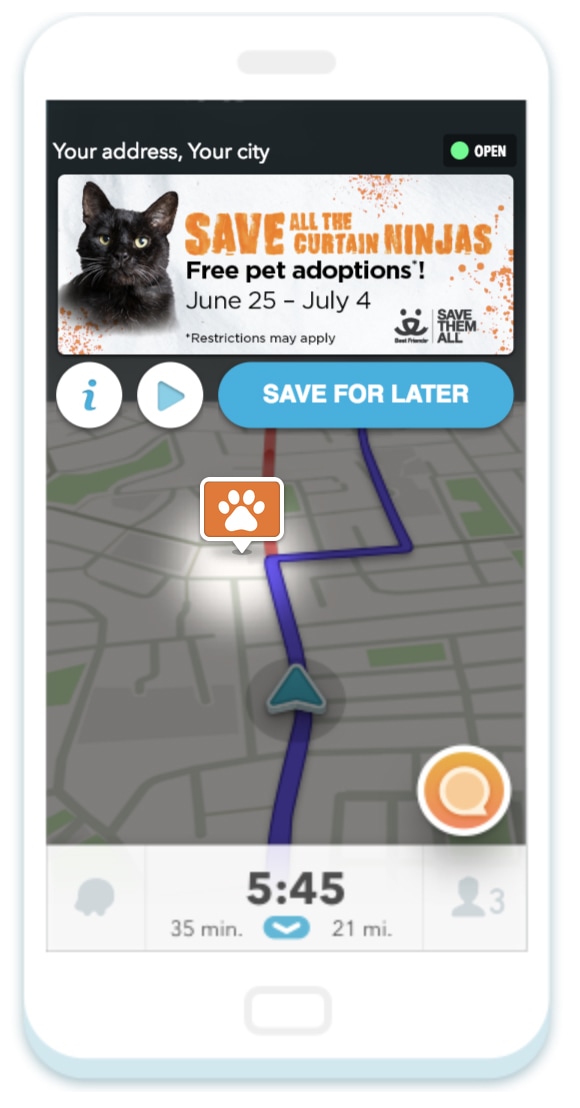 From today until July 4, Waze will feature every adoption center location in the United States with a paw print. When people are stopped in traffic, more info will appear on screen to help wannabe pet companions find a participating location. Users can also search "Best Friends" on Waze to find the nearest adoption center to their location, then navigate right to it.
If you're ready to make the commitment to adopt a pet, the summer is a great time to do it. There are 20% more animals coming into city animal shelters in July than the rest of the year, due in part to animals fleeing from fireworks. That means more crowded shelters—and more puppies, kittens, used Pugs, and tiny Persians who will end up looking for new homes. If you're interested in bringing a smile to a dog's face by bringing them home with you, now is a great time to take the leap. Over the next 10 days, participating shelters in the Best Friends Network Partners are waiving the fees on all pet adoptions. You can save your cash for squeaky toys, catnip, organic pet food, and high-design pet furniture.
Animal lovers who are not quite ready to commit can help by covering the pet adoption fee for someone who does have the room, space, and time for a new dog to love. Head to save-them-all.org to "Pay It Forward." A $25 donation will cover the fee for one pet.