The 2018 midterm elections are coming, and Apple News is on it. The news service has just launched its 2018 Midterm Elections section, available to readers in the United States through the elections in November, promising "trustworthy midterm election information" from a diverse set of publishers, curated by Apple News editors.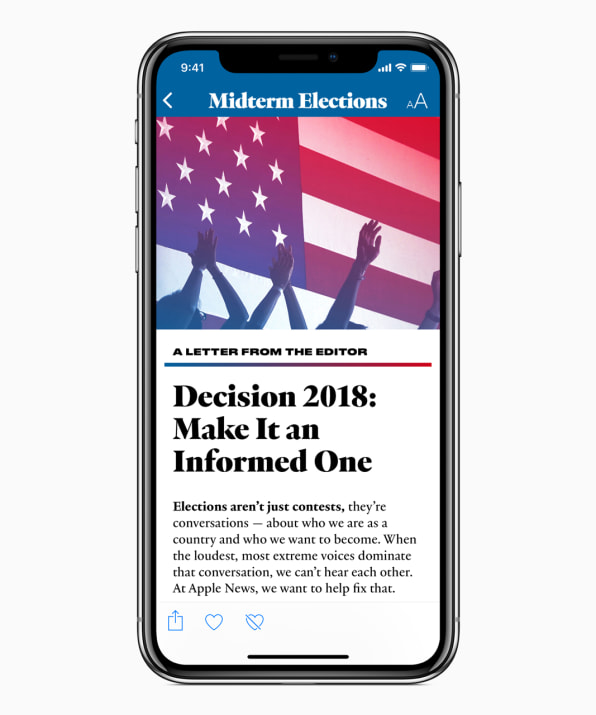 Apple News is taking a bipartisan approach, as the coverage will include stories from President Trump's trusted news source Fox News, as well as Vox and other publishers—so there will be news you can use, whether you want to flip the House or continue making America great. The new section will also offer exclusive features from publishers, including The Washington Post, Axios, and Politico. In addition, the "On the Ground" feature will focus on the local issues that matter to constituents on the closely watched races.
It also appears that the New York Times isn't the only one planning to offer "both sides" coverage of hot-button issues: Apple News's Midterm Elections section will offer its own version of an op-ed page with "The Conversation," a collection of issues-oriented opinion columns meant to offer readers "a full range of ideas and debate" about important subjects, from news sources they may not already follow.
If you want to be an informed voter for the midterm elections, access the new section and start reading up on the issues now (you can access it through a banner or through Top Stories and the Spotlight tab). Then put that newfound knowledge into action: Register to vote, and then on November 6, 2018, actually go vote.