Justin Woolverton and Devin Dawson know there is a particular joy associated with digging into a pint of your favorite ice cream or cranking up the volume when your favorite song comes on. They've both made careers out of creating such moments of cathartic joy.
But being an ice cream magnate or country singer-songwriter isn't where either of these restless innovators thought their personal journeys would lead them. The Los Angeles–based Woolverton, 38, began his professional life as a high-powered attorney, jetting around the world to advise clients whom he charged in 15-minute intervals. Dawson, 29, has called Nashville home for the past few years after pivoting from a punishing touring schedule that saw him crisscrossing the country playing hard-core and metal shows.
Although both had enjoyed success in their chosen endeavors, they also discovered that they shared something in common: the passion that had originally driven them in their respective careers was beginning to diminish. So they decided to make big changes, whatever the odds.
Lighter Than Air
Justin Woolverton was in the Four Seasons Hong Kong when he had an epiphany. "I was sitting in the hotel room," he says, "going through this mountain of paperwork in preparation for a case. And I realized, I hate this, and it wasn't going to get better for me."
So he quit his job soon after returning from Hong Kong. But it wasn't until he was at home, thinking about what he wanted to do next, that he found inspiration in an unexpected place: the freezer.
Like most people, Woolverton loves ice cream. But he is severely hypoglycemic, which means that his blood sugar is too low. Recognizing that others suffer from the same affliction, he began experimenting with different frozen dairy products, in an effort to find one that he could better metabolize. "I realized other people were trying to eat like me, which was basically just limiting sugar," he says. "It started [by] blending up Greek yogurt and, instead of using sugar or stevia, I added fruit or other stuff. I bought a cheap ice cream maker on Amazon and it evolved from there."
In 2011, with a home-brew recipe in hand, Woolverton started searching for places to manufacture his new high-protein, low-sugar ice cream at scale. He called every local ice cream factory he could find in Los Angeles. Woolverton found 10 producers; the first nine laughed him off the phone. "There was a little bit of interest on the 10th one I called," he recalls. "I was very cagey, and I told him, 'Oh, we'd have to have you sign an NDA and this, that, and the other.' " The factory owner was intrigued, and Woolverton had his first vendor. (The manufacturer, a retired record executive, was disappointed to learn that Woolverton wasn't planning on making marijuana ice cream.) And like that, Halo Top was born.
Woolverton encountered some potholes on the road to ice cream ubiquity. The high-protein content of his concoction created a potentially explosive situation when the Halo Top recipe nearly overloaded another factory's pasteurization equipment. But Woolverton kept tinkering, even working with a local university's dairy-science department. Now, Halo Top pints outsell those from industry giants Ben & Jerry's and Häagen-Dazs.
---
Related Video: More with Justin Woolverton and Devin Dawson
---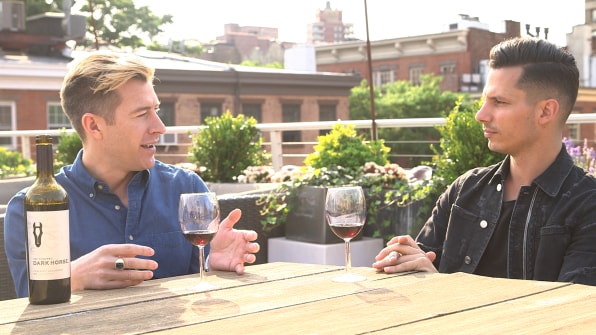 From a Busted Van to the Nashville Skyline
As soon as Devin Dawson picked up a guitar, he was hooked. A native of Orangeville, California, near Sacramento, Dawson grew up on a steady diet of classic rock—Creedence Clearwater Revival was a particular favorite—but as a teen he developed a taste for harder, faster sounds, which found their way into various high school bands. "Classic rock turned into hard rock turned into heavy rock turned into metal turned into heavy metal turned into death metal turned into black metal," Dawson says. "Being rebellious teenagers, we were pushing ourselves and pushing our boundaries and seeing how far we could go—and what we could get away with."
After high school, Dawson's band, Shadow of the Colossus, quickly graduated from scrappy DIY venues in northern California to rock clubs across the country. At his peak, Dawson was performing between 250 and 300 gigs a year, catching sleep whenever he could before loading into a beat-up van and heading to the next venue. "I like to call it 'slum touring,' " Dawson says. "It was just surviving. You got gas in the van, and you got road in front of you, and you got a show to play—whether there's 10 people, or 1,000, or whatever."
The grueling schedule finally caught up to Dawson when the band had an accident, totaling their vehicle. "That was the turning point," he says. "If I'm happy, I can do something all day regardless of whether I'm getting anywhere. But if I'm not happy, and I'm not fulfilled, and I'm not getting anywhere, what am I doing?"
Following that revelation, Dawson turned to odd jobs: baling hay, driving a forklift, working at Home Depot. He even went to culinary school for a while. But he always came back to music, and he knew that if he was going to make it he needed to dive in headfirst. Dawson recognized that country music was at the root of how he wrote, and he wanted to get back to basics. So he packed his bags and went straight to the heart of country: Nashville.
After toiling as a tunesmith for others, Dawson found that he missed performing. He recorded an infectious mash-up of Taylor Swift's "Style" and "Blank Space," which became a viral smash on YouTube and caught the attention of several major labels. He signed a deal with Warner Music Nashville, and in 2017, Dawson released his first single, "All on Me," which proved that he was no fleeting viral sensation. The song reached No. 2 on Billboard's Country Airplay chart in both the U.S. and Canada.
---
Related: More Dreamers and Doers: Sallie Krawcheck and Amber Venz Box
Related: More Dreamers and Doers: Damian Kulash and Alli Webb
---
Credit Where Credit Is Due
Woolverton found his calling not by arguing international cases for a hot-shot law firm but in a pint-size tub of goodness. For Dawson, it was by recognizing that the spark of his talent was rooted in a musical genre he never could have imagined. Yet both are quick to acknowledge the sources of their inspiration. Woolverton attributes his brand's success to focusing on people, above all. "We're not the type of company to have a mission statement," he says. "But if we did, it would be something like, Always be genuine. And talk to people."
Dawson credits his mother for instilling in him a broad appreciation of music. "She raised me on everything," he says. "Country music and rock and soul and R&B, everything." After all, what other former black-metal acts are now on the top of the country charts?
His professional pivot complete, Dawson released his debut album—the aptly titled Dark Horse—in January, and in June was awarded Breakthrough Artist-Writer of the Year by MusicRow, the Nashville country trade publication. "A dark horse is somebody who little is known about but unexpectedly rises through the ranks," he says. "That's exactly how I see my story unfolding at this point—and it's almost becoming truer as the day goes on."