Google announced today its brand-new Google Podcasts app for Android, available globally in the Play Store. The app not only makes it easy to listen to old favorites and find new podcasts to add to your commuting playlist, but it is also fully integrated with the Google Assistant across devices, so if you're listening to a compelling podcast (Creative Conversations, perhaps?) on your commute home, there's no need to walk around your house listening on your phone and risk accidentally ripping your earphones out in a jarring and awkward move. Instead, simply pick up the podcast on your Google Home device when you walk in the door.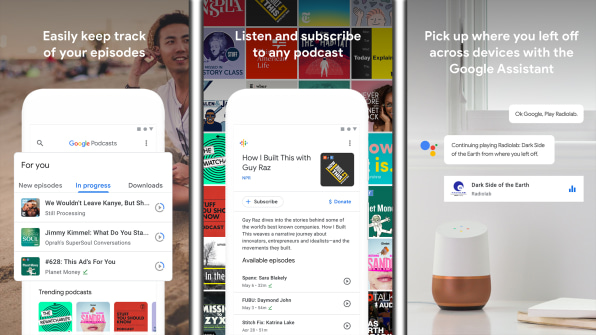 This is Google's second attempt at a podcast app. It originally had one called Listen, but the company shut it down in 2012. That move may have been shortsighted, as 2012 was also the year that Apple debuted its own Podcasts app, which helped make podcasts into the auditory behemoth they are today, entertaining the ears of some 50 million Americans.
While Google is a bit late to the podcast game, it is already planning on a bigger, better future. Not only is it working to use AI to help transform podcasting (details on that are still sparse), but it is also actively working to break down podcasting barriers and make the platform more inclusive and diverse. That includes creating programs that will teach podcasting skills to underrepresented voices, developing features like automatic subtitling—which can help the hearing-impaired enjoy podcasts—and using Google Translate to add subtitles to series to make them available in a wide variety of languages.