Facebook shares just crossed the $200 mark for the first time.
Original post:
Remember just a few months ago when it looked like Facebook was facing an existential crisis that could even threaten its bottom line? Revelations about Cambridge Analytica's ability to hoover up tens of millions of Facebook users' personal data came to light, and the company was forced to reckon with the fact that its business model is predicated on people unknowingly giving up their personal data. The stock dropped significantly, and the executives were asked to testify before numerous government committees.
So what has happened since then? Not much. Despite Congressional calls for action, the U.S. government has yet to do anything–truly anything–regarding the company's exploitation of user data. And despite the huge stock slip in March, the company has been trudging along ever since–and just hit an all-time high this morning.
Currently, Facebook stock is at $199.22, inching it closer to that $200-per-share mark.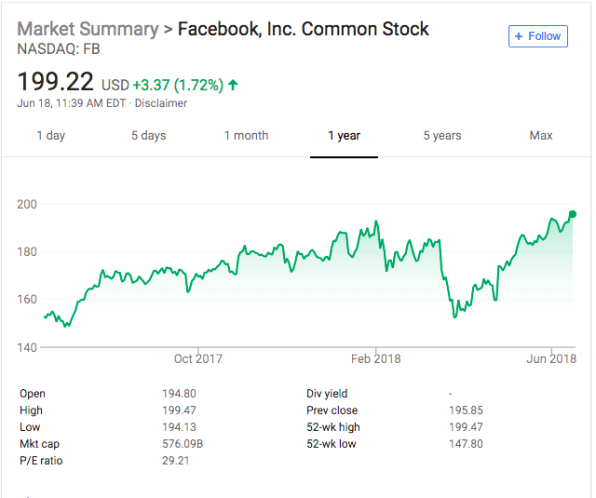 It seems the Cambridge Analytica scandal (on top of previous scandals) hasn't really impacted Facebook's stock. While the company is scrambling to look more prepared as the midterm elections approach, investors don't seem too worried. Perhaps the next scandal will be the one that has more of a lasting impact.