People interested in investing typically have two hurdles to clear: First, the learning curve associated with where their money might go, and, perhaps more importantly, making sure they can afford it. For millennials, that's increasingly an ever-more complex value question: Many only want to put money into ventures that improve the world (and certainly not ones that hurt it). They also don't trust traditional power brokers, and want evidence that their investment is used in a smart and impactful way.
Newday Investing, a recently founded impact investment firm expects to make all of these leaps far easier with a new kind of socially responsible investing platform that's launching this week. It's an iOS app that allows people to make financial investments that also generate some social and environmental returns. Contributors can invest in one of six funds, each of which have clear guidelines about where and how the money will be spent and claim to support specific causes.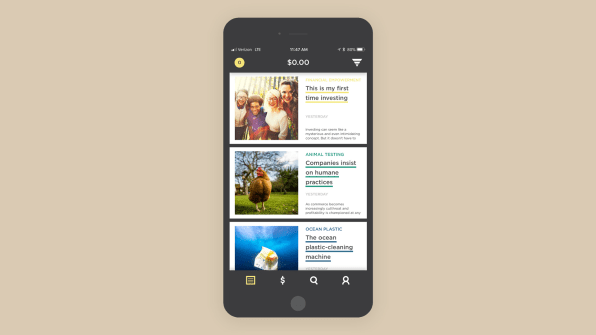 There's "global impact" for companies that address and put some revenues toward issues outlined by the United Nations Sustainable Development Goals, "climate action" for businesses that either run on reduced greenhouse gas emissions or work on tech in this area, and "gender equality" for places with employment practices reflecting that, including for transgender people.
Other buckets include "animal welfare," "ocean plastic," and "freshwater," all of which have their own standards around protection and preservations. The ocean plastic portfolio, for instance, promises to put money into companies "with waste management policies to keep the coast clean," and that curb their own "plastic, hazardous waste, and carbon output."
As an added incentive, Newday will also automatically share a portion of its own revenue with major nonprofits working in those same areas. The minimum investment starts at a very low $5. That's smart long-term strategic investment for Newday, which hopes that once millennials get comfortable they may invest more, especially as that demographic is set to receive an unprecedented $60 trillion transfer of wealth from older generations in the coming years.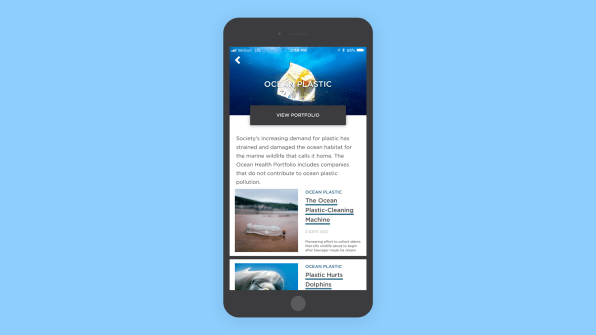 The company is led by a trio executives with deep roots in the asset management world: CEO Doug Heske and cofounders Alexander Meek and Anthony Randazzo, who are the company's president and CTO, respectively. "Anthony and Alex and I would get together to talk about building a solution was essentially addressing this need to democratize the access to values-based education, investment, and engagement," Heske says. "And one of the traditional problems that exists in this business today is that this younger generation of people care more about sustainability than anything, but also have been disenfranchised from opportunities to invest and really get educated and engage with those values that they care most passionately about."
Founded in 2016, Newday set out to change that, in part by recognizing that in order to build confidence and invest more over time, particularly on socially impactful issues, people from all levels of society often need to have a cheap and non-intimidating way to build their learning curve.
The mobile platform, which launches this week, has been available in beta for a few thousand users already, and has seen millions invested in its portfolios, which were shaped by Cara Barr, formerly the chief strategy officer at BlackRock. But Newday isn't just targeting small sums from millennials. Their platform can obviously handle much larger contributions, and they have forged an alliance with several major family office investment groups. Newday executives are coy about exactly which families are backing them, but expect at least one investment north of $10 million to happen this week. "There are a couple of other families we are talking to right now for similar size investments," Heske notes.
The company charges 1% on assets under management, and gives 5% of its revenue back to partner cause groups that fall in line with each target area it's promoting. That includes Conservation International and Lonely Whale, a nonprofit group. In turn, it is also working with those organizations to share the concept with traditional donors, who may have their own retirement accounts that they'd prefer to see better invested.
At the same time, Newday expects to keep trying more creative ways to get people more invested in using their money to build social value alongside the monetary. It plans to roll out an impact banking and checking concept that reinvests in affordable housing initiatives later this year.
Meek says all of this is in service of answering the previously pretty unknowable questions of what's in your portfolio. "You're making the purchasing decisions every day by buying Toms shoes or reusable water bottles, but you're investing in oil and gas. It's not alongside your values," he says, making it clear that this happens in many traditionally managed and diversified funds. "That's the big thing we're trying to upend."