Earlier today, I wrote about Etsy's new subscription offerings and increased transaction fees. The latter, Etsy CEO Josh Silverman told me, would yield funds for Etsy to invest in marketing and attracting new buyers. It looks like shareholders were emboldened by the news: Etsy's share price is $41 and climbing—the highest it has been since the company's IPO in 2015.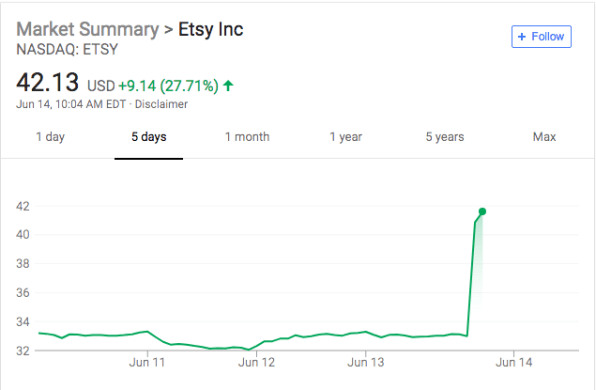 With the fee change, Etsy has significantly updated its revenue guidance for 2018, from a 22-24% to 32-34% increase year-over-year. Etsy stock has inched up slowly over the past year, since Silverman was brought in as CEO, and has seen multiple quarters of revenue and sales growth. But even Etsy hitting $1 billion in sales for the first time didn't prompt this kind of response from the market.
Whether sellers understand the price hike, though, remains to be seen. Etsy's fees are still cheaper than on platforms like Amazon and eBay, but the company has always been far more invested in listening to its sellers.