Apple Books is getting a fancy new update this fall, and Audible may have cause for concern.
When the iOS 12 update hits iPhones and iPads, the trusty old iBooks app will disappear, to be replaced by a shiny new and totally redesigned Apple Books. The new Apple Books app will feature a prominent, dedicated audiobooks tab for the first time. It will make it easier to find and listen to audio books, and allow for seamless transitions between iPhone and CarPlay, so you'll never have to sit in your driveway waiting to find out what happens next in your story.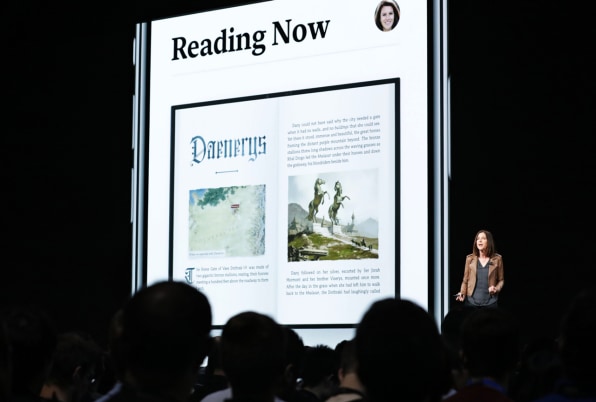 Apple previewed the app at its Worldwide Developers Conference, but now we have details about the app, which launches this fall. There's a new "Reading Now" tab, which will house the books you are currently reading or listening to. The "Want to Read" feature tab is a bookworm's godsend to keep track of all the recommendations you discover in your daily life. There are also features to help readers complete series and make recommendations of new books based on previous selections. The Book Store tab will include charts, staff picks, and editorial collections, as well as a selection of free books (a.k.a. the best kind of books).
The Library tab will serve as a virtual bookshelf to show off your collection, including the books downloaded to your device and the all-important "Finished" section, so you can make recommendations of the books you loved, even though you can't quite remember the name.
Now if only they could integrate the Apple Books Library with the digital copies of books you can borrow for free from most public libraries. That would make the lives of digital bookworms a lot easier.