If you're an investor, you're always looking to figure out what is next. So it's interesting to look at the list of investors for the new news curating platform, Zig. Last month, the Brooklyn-based company closed a $1.6 million seed round, and had a varied list of investors–many of whom hail from the old media vanguard.
Vanity Fair's recently departed iconic editor-in-chief, Graydon Carter, for instance, invested in the company. So did Marc Cimino, chief operating officer of Universal Music Publishing, and Ron Meyer, the vice chairman of NBC Universal and the founder of Hollywood powerhouse CAA. "Technology can do so much good for mankind if we use it the right way," Quincy Jones said in a statement, "and the Zig team has their finger right on the pulse." (The music legend is also an investor.)
The problem Zig thinks it's solving–and what the investors are betting on–is that people aren't happy with how they find news content. It provides both a website and an app that lets users scroll down through visual-heavy, Instagram-like posts to find the news content they want to read. And it also may provide an antidote to the iron-like grip Facebook and Google, and to a lesser extent Twitter and Apple, hold over the business of news discovery.
The idea came when the cofounders–Zig CEO Josh James, president Adam Platzner, and CTO John Tornow–noticed everyone around them on apps like Instagram, scrolling endlessly through pictures and other visual content. They thought, why not tie that to the news?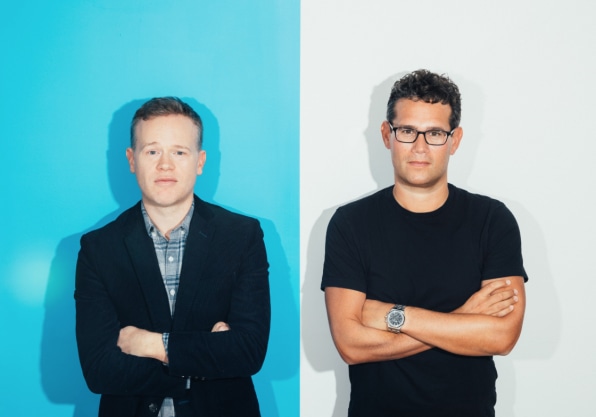 "Basically, we catalog anything published anywhere," says James. The company's servers extracts the main images of news articles and feeds these to users in a feed; clicking on an article takes you to the publicaton's site in an in-app browser.
"Pictures are the headline," he says. "People have been referring to it as 'the Instagram of news'–which we didn't love at first." They've since come around to it.
On Zig, people can either sign up for an account–which will connect with their social data to figure out the topics they like–or simply use Zig and tell it personal preferences. From there, the feed will populate news it thinks users will find relevant. Over time it will keep track of the stories each user clicked on and the ones they skipped to optimize the algorithm for each person.
In essence, Zig offers users a picture-heavy news app that keeps track of people's digital history to curate the best content. It's like Apple News or Flipboard, but with more images and more personalization.
James and Platzner initially pitched the idea to the Vanity Fair editor at a tech conference hosted by the magazine in 2016; at the time, Graydon had been thinking about millennials' supposed preference for visual over textual media.
"That sort of sat with me for a bit," he told the New York Times in a January telephone interview. "And then when Josh and Adam came in and saw me and explained Zig, I thought this goes right to that." (Still, Carter said, this wasn't his major focus. "I may wind up running a pig farm here in France.")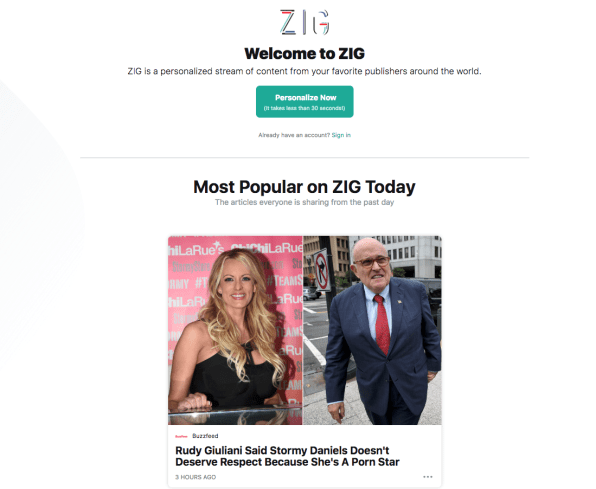 Zig officially launched in April. "We like to joke that we had 43 users the first day," says James. Over the next month that grew to 40,000. (Initially the app focused on celebrity news, but after a suggestion from Carter, expanded its scope to a wide range of topics.) This coming month, the app is trending toward over 400,000 users, say the founders. Session time, James and Platzner tell me, are proving impressive.
"We're seeing [average] session time of over four minutes," says James, who sold a previous digital startup to Warner Music Group. Demographic-wise, Zig users are 60% female, and its biggest age demographic is people between 20 and 30 years old.
With this, the cofounders say they are emboldened to go forward. They intend to raise another round of funding later this summer, but won't say how much.
Beyond these partnerships, Zig is also thinking about adding ads. James adds that the company needs to be "super careful about that," because he doesn't want to clutter the experience. (Each article is displayed on its original web page and includes whatever ads that publication is displaying.) Similarly, the company hopes to build a database based on the browsing trends of its users. Zig's privacy policy gives the company typical access to the wide set of browsing and other personal data collected through its tracking cookies, but James says that it does not collect data in the way Facebook does–in addition to basic uploads like selfies and comments, the company only looks at traffic behavior and top-line demographic data–so users shouldn't worry about a Cambridge Analytica-like fiasco.
James adds that the company is also speaking with publishers and other potential strategic partners. "We're already in discussions with Fortune 50 companies," says Platzner, although he won't describe what these partnerships are. Still, he says, Zig's entire purpose is to send traffic to news sites. Those kinds of referrals could lead to revenue share agreements for the advertising served up on publishers' pages. Amid the simmering tensions between publishers and platforms–especially the big ones like Facebook and Google, which media companies are begrudgingly dependent on–these sorts of partnerships could also pave the way for a more diverse media consumption ecosystem.
As it tries to find its legs, Zig sees a future in combining a slick home base with news discovery. First, of course, it needs more people on the platform. User acceleration may be big, but 400,000 users is an atom compared to the over 2 billion people who use Facebook. Nearly half of all U.S. adults (45%) get news from Facebook, according to a survey conducted by Pew in August 2017. That's dramatically more than YouTube (18%), Twitter (11%), Instagram (7%), Snapchat (5%), LinkedIn (5%), and other platforms.
Then again, in the wake of a string of controversies, trust in some of those large platforms as news sources is in shorter supply. As people continue to seek reliable, digestible news feeds, and if growth for Zig continues apace, anything is possible. From a broader media perspective, its success could be another healthy development: a company that isn't a Facebook or a Google driving readers, ad dollars, and subscribers to quality journalism.