Not that long ago, Peter Sursi was a middle school English and Japanese teacher. Today he's in charge of all new hiring at the FBI. That's exactly the kind of unconventional path the bureau is hoping to encourage more of via its latest recruitment marketing campaign.
FBI job offerings are split up into three buckets: special agents, intelligence analysts, and professional staff positions. There are about 800 jobs in the latter category, which include human resources, doctors, nurses, accountants, linguists, and many others.
The tagline #UnexpectedAgent sounds like it could be a meme for unsuspecting criminals, or a rejected title for that 2015 Melissa McCarthy flick Spy. But launched this spring, the new recruitment effort builds on last year's "Career Like No Other" campaign theme by more explicitly drawing a line between certain sets of skills and a career at the FBI. And those skills don't necessarily have anything to do with law enforcement. Like, say, art history.
From identifying forged masterpieces to recovering paintings stolen during WWII, your knowledge of art history can take you on an adventure worthy of being immortalized in a work of art. Bring your passion for art to the FBI. #FBIJobs #UnexpectedAgent https://t.co/pELDUAIQFH pic.twitter.com/J0R98D8vMB

— FBIJobs (@FBIJobs) May 22, 2018
"The people who dream of becoming an FBI agent early in life, I don't have to go looking for them," says Sursi. "The core idea here is that we need to find people who aren't thinking about becoming special agents or [pursuing] a career at the FBI. When I was in the foreign language program, and I was in charge of national linguist hiring, what I needed were 60-year-old Pakistani women who speak fluent Urdu to come work at the FBI–and they are most likely not thinking of a career at the FBI. So my previous job was convincing people that the FBI could look like them, and I bring that to this job."
The bureau isn't exactly known for its marketing campaigns, and that's partly the nature of a government agency, but also a result of Hollywood doing much of the heavy lifting when it comes to brand building, thanks to a constant stream of TV shows and movies featuring FBI agents and their work. Hell, CBS just launched a new show that's literally called F.B.I. While far from perfect, Sursi says these portrayals do play a significant role.
"We work to make sure they show the best bureau they can, and then, of course, we're trying to augment and expand on what Hollywood shows, like the 700 other jobs we have here," he says. "Go back to Marketing 101, and the biggest part of the funnel is awareness. Hollywood's fascination with the FBI helps keep us and our mission in the public eye. I only have to expand and supplement awareness, unlike my colleagues at the National Geospatial Agency—no one knows what they do unless you're in geography. We protect the American people and uphold the constitution. I don't have to explain that to people, in general."
Sursi says he often jokes with his CIA and NSA colleagues because they're more likely to be cast as the villains on screen, while the FBI isn't as much anymore. Still, some depictions don't quite line-up with everyday reality. "They typically give a one-sided view of the organization," he says. "Usually in some sexy city like New York, where everyone has abs and great eye make-up."
Of course, there other unintentional brand image consequences, thanks to one-off, bizarre IRL incidents going viral, like last week in Denver, when an off-duty agent accidentally shot a bystander after his gun slipped out of his pants while dancing at a nightclub. For branding the FBI can control, it works with ad agency Horne Creative Group, and the key insight behind #UnexpectedAgent comes from all the existing agents with unconventional backgrounds. The woman who now runs Sursi's recruiting unit, for instance, became a special agent after a career as an environmental scientist.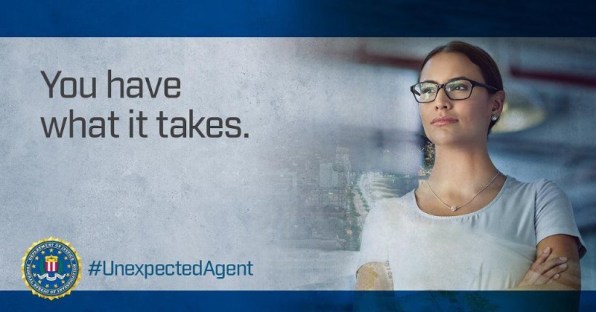 "She never thought of being an FBI agent," he says. "But her husband, who's a cop, came home one day and said, 'I have the job for you. I met some FBI agents today, and you're exactly like them: inquisitive, great interpersonal skills, always trying to find out the why…' She said he was crazy, but she became a special agent, and she's amazing. So we have story after story about amazing agents who work here that found us unexpectedly, and we really wanted to highlight that."
Two years ago, the FBI focused its marketing approach to recruit more diverse and female candidates. So far, the bureau says its overall minority application rate has gone from the upper 30% of the applicant pipeline to mid-40% this year. There wasn't as much of an increase in female applicants, so they are putting more emphasis on that this year.
---
Related: MI6 is trying to shake its James Bond problem with this video
---
The new campaign lives primarily where most of its target audience of 23- to 36-year-olds are–on social media, YouTube, and online–but it has also included radio ads. Sursi says their research shows that the best tactic is to start with the skillset before introducing the possibility of the FBI. "We did some testing of different slogans, and we found that if you put up a general ad that says the FBI needs special agents, you get a certain group of people who will click," he says. "But another ad asking 'Are you a financial expert? The FBI needs financial experts to become special agents,' a whole different group will click through that ad. So we try to mix them up."
In the corporate world, you oversaw accounting, investment, and lending operations to ensure legal compliance. As a Special Agent, you'll investigate the evolving threats facing our nation. Discover a career you never imagined. #FBIJobs #UnexpectedAgent https://t.co/08cfiw7mDQ pic.twitter.com/CMWD2BaTis

— FBIJobs (@FBIJobs) April 23, 2018
Modern digital ad targeting has been particularly effective for the bureau when looking at specific age ranges, as well as seeking out more women and people of color, but it's still tough to find someone who might be interested in the FBI if they aren't already thinking of the FBI.
"The research shows that if we target people who think of themselves as healthcare professionals, educators, psychologists, financial experts, then draw the line between those career fields and being an agent, then we will have more people–and a more diverse group of people–engaging with the content than if it was just an ad for new special agents," says Sursi.
The real challenge is convincing people they might actually have what it takes to become a valuable FBI employee. "You definitely need to be in shape, you definitely have to learn the law, but we can teach you that part," says Sursi. "It's much harder to teach amazing interpersonal skills, a thirst for knowledge, and a desire to help your community."