In the dystopian future portrayed by The Terminator series, the robots are alive and shooting, nuking, and otherwise hunting down what's left of the human race. It's hard not to think of those iconic movie images of the red-eyed cyborgs with the news that the U.S. Marine Corps (USMC) has started to use autonomous robots for target practice.
It feeds the dire warnings from artificial intelligence pessimists that, one day, the robots will rise against us. But for now, at least, they're the ones taking the bullets.
Marathon Targets, a startup that's building on research developed at the University of Sydney in Australia, have developed unarmed robo-targets for military live-fire training. Think of them as an enhanced version of the stationary and pop-up targets that have dominated marksmanship courses for generations.
"When it comes to actual real bullets and real guns shooting at stuff, it really is almost unchanged since Valley Forge," says Ralph Petroff, Marathon Targets's president for U.S. operations.
The bots—essentially small self-driving cars that can be mounted with human-shaped targets—can zoom across a training ground in a variety of configurations.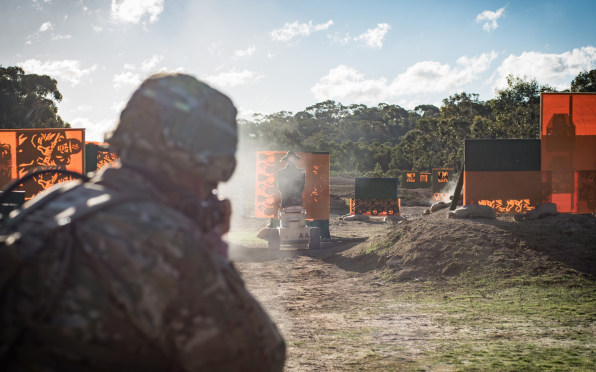 "You can have, for example, a very basic scenario where the robot just goes left to right, left to right, and mimics someone going across an alleyway," Petroff says. Or the robots can play roles in a more complex scenario, with training instructors able to tweak parameters like their aggression and confidence levels.
"Once the shooting starts, the robots—if you have any kind of scenario—one robot gets hit and others will immediately run for cover, or they will all try to gravitate to their fallen comrade," he says. "They will run for cover, or they may just try and attack you."
The robots aren't armed, and Petroff emphasizes the company has no plans to deploy them as actual offensive combat tools, though it's possible the technology could one day be used as moving shields or for transportation in combat scenarios.
They've been used in training by the Australian army and are currently being tested by U.S. forces, including Marines at Camp Lejeune in Jacksonville, North Carolina, and at other bases. One Marine Corps test found troops training with the devices more than doubled in "combat accuracy" within 24 hours.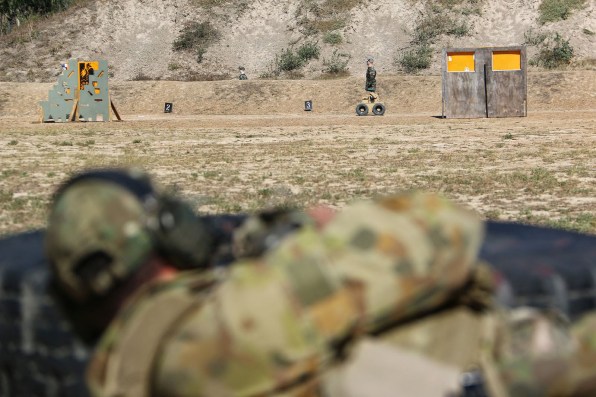 "We are under contract with a third party to supply robots to various USMC facilities," Petroff wrote in an email to Fast Company. "It is a test and evaluation project managed by the Marine Corps Warfighting Lab."
The robots are heavily armored and able to resist fire even from a "standard light machine gun," Petroff says, and they're designed to be quickly repaired in the field if parts get damaged. Their Wi-Fi antennas, for example, cost under a dollar and can be quickly changed. Even the target dummies mounted on the bots can withstand a few thousand rounds of fire and aren't too pricey to replace, he says.
Thanks to lidar (think light and radar) collision detection systems and a blend of position-finding technologies, the robots have never collided with a human. As an aside, the technology has even been tested for autonomous mail delivery bots in a four-week Australia Post project late last year.
Petroff says it's unlikely that civilians would ever be able to shoot at bots with human-shaped targets, though deploying civilian versions with deer or bulls'-eye-style targets wouldn't be out of the question.