Washington State Attorney General Bob Ferguson charged Facebook and Google on Monday with violating decades-old state campaign finance laws that require public disclosure of political ads.
The lawsuits stemmed from efforts by Eli Sanders, a reporter for The Stranger, and Gareth Edwards, a transparency advocate, to obtain details on the political ads the companies have sold during elections in Washington State. The laws of Seattle and Washington State are unique for the broad scope, applying to companies that sell any political advertising aimed at influencing the electorate during an election.
According to the law, companies like Facebook must reveal, upon request, the "exact nature and extent" of the political advertising services they've provided, as well as specific information on each political ad's cost and purchaser. But as Ferugson charges in Monday's filings, the companies have "at no point" provided all the data that he and the public have requested. Their repeated failures to produce legally required political ad data constitutes "negligent and/or intentional" behavior by the companies, Ferguson charges. (The lawsuit against Facebook is here; the lawsuit against Google is here.)
While Facebook's much-touted new political ads archive aims to document all political ads, the platform still does not meet the strict standards of Seattle and Washington: it not disclose data on each political ad's intended and actual audiences, as Wayne Barnett, the director of the Seattle Ethics Commission, has said it should.
The Facebook archive is also currently limited only to ads sent on or after May 7, 2018, and has so far missed an untold number of ads that should have been labeled in its database. It also does not appear to be "open for public inspection," as mandated by Seattle and Washington State disclosure laws: It's only available to Facebook members. (Google does not offer a political ads archive.)
The ads in question are a microcosm of a national and global phenomenon, in which sometimes false information can be spread through micro-targeted messages funded by unknown donors and only visible to certain voters—so called "dark ads."
In one case uncovered by The Stranger, a failed candidate for Seattle city attorney used narrowly targeted Facebook ads to promote a misleading claim about property crime during Seattle's 2017 municipal elections.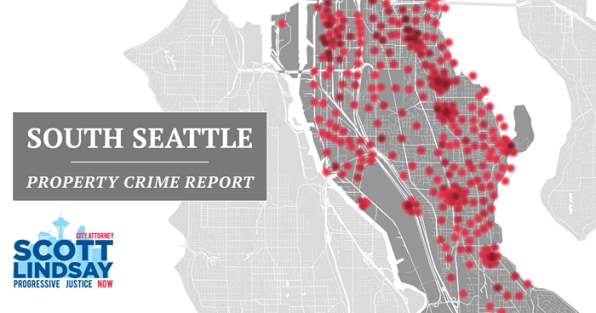 New questions have been raised about a recent well-funded campaign on Facebook—backed by Amazon and Starbucks, among others—called "No Tax on Jobs," aimed at repealing Seattle's controversial head tax.
It's not known how many other campaigns used ads like this to influence Seattle voters in recent years, or what those ads said. In his suits, Ferguson notes that at the state level, campaigns have spent $4.6 million on political ads on Facebook and Google since 2008.
Ferguson's filings ask for penalties against the companies to be determined at trial. Companies could pay up to $10,000 per violation of campaign finance rules, which could quickly amount to millions of dollars. (The companies' failure to comply with state laws stretches back five years, to 2013, according to Ferguson. Last year alone, nearly 650 political ad expenditures were made on Facebook during Seattle elections.) Ferguson is also asking that Facebook and Google pay for all costs associated with the state's investigation and trial.
FCC rules currently exempt digital ads from transparency disclosures, but the broad language used to define "commercial advertiser" and "political advertising" in Washington State apply not just to television, radio, and billboards, but also to digital platforms. A number of efforts are afoot to close the digital ads loophole nationally, including Congress' proposed Honest Ads Act, and Facebook, Google, and Twitter have also pledged to institute more transparency measures around elections.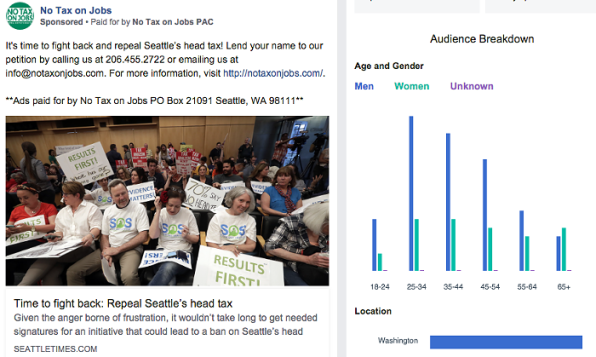 Facebook managers have said the new political ads transparency system is still a work in progress. As it seeks to stem the influence of foreign and other malicious actors, the company has also pledged to provide data to a group of independent researchers studying social media's impact on democracy, but the exact details of that project have yet to be determined.
Separately on Monday, the company came under fire for its data sharing practices after the New York Times reported that Facebook offered mobile device manufacturers, including Apple and Samsung, access to private user information.
---
Related: How Facebook Blew It
---
Rob Leathern, Facebook's director of product management, said in an e-mailed statement, "The tools we are introducing set a new standard for transparency in digital advertising. We are eager to hear people's feedback as they use these features and will continue to explore how to build upon them to ensure people know who is behind the political ads they see on Facebook. Attorney General Ferguson has raised important questions and we look forward to resolving this matter with his office quickly."
A spokesperson for Google wrote, "We are committed to transparency and disclosure in political advertising. We are currently reviewing the complaint and will be engaging with the Attorney General's office."
Ferguson has already filed two dozen lawsuits against the Trump administration over its policies, joined an effort to take on oil companies over climate change, and sued Purdue Pharma over its role in the opioid crisis. In 2016 his office won a court victory against the Grocery Manufacturers Association, which resulted in an $18 million penalty against the association for campaign finance violations, which is said to be the biggest campaign finance penalty ever issued.
A pretrial resolution with Google and Facebook is possible, Ferguson said. "We need a resolution that makes it easy for any member of the public to get the required information in essentially the same way they get it from everybody else," Ferguson told The Stranger. "Now, look, we want to be reasonable on that. But what's happening now is not legal. They are not following the law. They're not even close."