While on pretrial release awaiting trial, onetime Trump campaign chairman Paul Manafort attempted to tamper with two witnesses, prosecutors said in a court filing Monday.
Given the weight of the accusations, special counsel Robert Mueller asked a D.C. federal judge to consider revising the terms of his release—he is currently under house arrest on a $10 million unsecured bail—or even send him to jail to await trial.
Manafort and an associate allegedly reached out to a pair of public relations people who were linked to an alleged conspiracy by Manafort and others to illegally lobby on behalf of Ukraine in the United States. Those potential witnesses, said to have been principals of a PR firm, are identified only as D1 and D2 in the court filings.
Manafort and his associate, who is also unidentified by name, allegedly hinted the two should indicate that the lobbying, involving a group of pro-Ukraine European politicians nicknamed the "Hapsburg group," took place in Europe, not the United States.
"Person D2 explained that he and Person D1 had been responsible for interfacing with the Hapsburg group, and acted as 'intermediaries' between Manafort and Ukraine government officials and the Hapsburg group," prosecutors wrote.
"Person D2 further stated his opinion that Manafort and Person A's outreach to him and Person D1 was an effort to get them to relay a message to the Hapsburg group: If the members of the Hapsburg group were contacted by anyone, they should say that their lobbying and public relations work was exclusively in Europe—a representation that would be contrary to Person D's knowledge that the Hapsburg group worked in both Europe and the United States."
Manafort called Person D1 and sent him encrypted WhatsApp messages, while his associate reached out to Person D1 and Person D2 through a mix of encrypted WhatsApp and Telegram messages, according to court documents. Evidence included documents and testimony from the two PR people, as well as phone records and "documents recovered pursuant to a court-authorized search of Manafort's iCloud account," according to a declaration from an FBI agent involved in the case.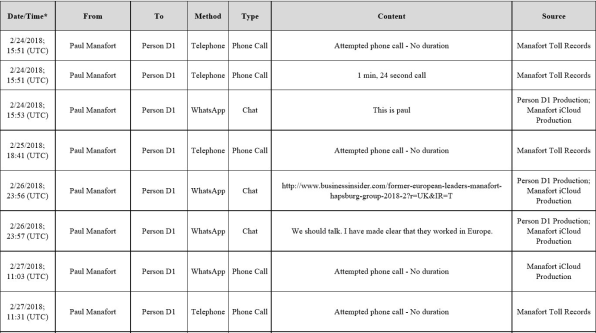 "My friend P is trying to reach [D1] to brief him on what's going on," Manafort's associate allegedly wrote in one Telegram message to Person D2. A minute later, he allegedly followed up by writing, "Basically P wants to give him a quick summary that he says to everybody (which is true) that our friends never lobbied in the U.S., and the purpose of the program was EU."
After another minute, prosecutors say he sent yet another message: "If you have a chance to mention this to [Person D1]. – it would be great. It would be good to get them connected to discuss in person. P is his friend."
Prosecutors were able to obtain the encrypted chats because, as Motherboard notes, Manafort was backing up information from his WhatsApp to Apple's iCloud, where data is not encrypted and is thus available to police armed with a valid search warrant.
Manafort and onetime colleague Richard W. Gates III were the first to be indicted in special counsel Mueller's probe of Russian meddling in the 2016 election. They were accused of laundering millions of dollars in income from pro-Russia political parties in Ukraine. Gates has since pleaded guilty to making false statements and conspiring against the United States, with other charges dropped in a plea bargain.
In December, Mueller also said Manafort had tried to improperly influence the trial by secretly ghostwriting an op-ed piece by a Ukrainian politician describing Manafort's work.
Manafort, who has pleaded not guilty, is also accused of defrauding a bank in purchasing a luxurious Manhattan condo. According to prosecutors, Manafort claimed it would be a second home for his daughter and son-in-law when it was allegedly instead used "as an income-generating rental property, charging thousands of dollars a week on Airbnb, among other places."