At Monday's WWDC keynote, Apple announced that its upcoming operating system upgrade, iOS 12, will contain tools specifically designed to help people control how much time they—and their kids—spend with their phones.
A new Screen Time feature will monitor how much time users are spending in apps and websites. Daily and weekly Activity Reports will show the number of notifications that came in, and how many the user responded to. Users will also be able to use Screen Time to monitor their kids' usage, and to schedule "limited use" times (such as dinnertime or bedtime).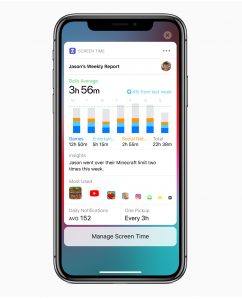 There will also be some new Do Not Disturb modes, including one that dims the phone screen and hides notifications on the lock screen at bedtime. Notifications can now be grouped together or turned completely off.
Here at WWDC, the new usage control features were one of the most talked-about additions to iOS 12. And the reactions I heard from analysts and media were almost all positive.
Creative Strategies analyst Carolina Milanesi appreciates the fact that Apple didn't try to dictate to users how (or how much) they use their phones, but rather gave them the tools to make their own decisions.
"When you have such a large user base, it's hard to find a middle of road that pleases everybody, including the power user and the more basic users," she says. "You create the tools and leave it up to them."
Technalysis principle analyst Bob O'Donnell believes Apple may have done a good thing by simply making users more mindful of their usage levels.
"You have to be aware of your problems before you can solve them," O'Donnell says. "This is an effort by Apple to go more granular with usage information and at the same time provide [users with] a look at the bigger picture."
A credible response to criticism
For most of the iPhone's history a few voices have complained loudly about the addictive power of the device. And Apple already has built some usage control features into iOS, including the previous version of the Do Not Disturb version and a mode that limits phone functions while the user is driving.
But this update feels different. The usage monitoring and control features Apple rolled out are more than just a bullet point or two on iOS 12's feature list. In fact the company delivered some of the main features responsible-use advocates had asked for. It spent a significant amount of stage time here at WWDC talking about responsible use, too.
"Why are they doing this now?" asks Moor Insights & Strategy principal analyst Patrick Moorhead. "And is it just a coincidence that Apple introduced these features at almost the same time Google did?"
Moorhead says what makes this year special is that the culture now looks at Silicon Valley tech companies in a different way. For years, people viewed them as basically benevolent forces in the world. But that assumption has been called into question in the past year.
"It has something to do with Facebook," Moorhead said. Moorhead believes Facebook's role in the 2016 election, and the more recent scandal involving the social network providing personal data on 75 million voters to Cambridge Analytica, may have fostered a feeling of mistrust toward all tech companies.
The responsible-use issue came up again this year as new studies appeared showing how addicted kids are to both their phones and social networking sites.
In early January, a pair of Apple's institutional investors raised the flag on adolescent smartphone abuse. Then iPhone co-creator Tony Fadell went on a tear on Twitter, saying that Apple, Google, Facebook, and Twitter design their products to addict not just kids but adults too.
5/10
We need to control our own environment & we need information:
Step 1: We need to know where the line is & when we've crossed over to addiction.
Step 2: We need our ongoing usage habits reflected back to us.
Our smartphone "bottle" needs to tell us we've had enough. https://t.co/wWBQNMdsYK

— Tony Fadell (@tfadell) January 8, 2018
"Apple Watches, Google Phones, Facebook, Twitter – they've gotten so good at getting us to go for another click, another dopamine hit," Fadell tweeted. "They now have a responsibility & need to start helping us track & manage our digital addictions across all usages – phone, laptop, TV etc."
These outcries might have come and gone without much effect in some other year. But in 2018, the criticisms contain a special sting. Apple may have felt it needed to react in a concrete and convincing way. We saw the result today.