Crayola is expanding beyond children's doodles: On Monday, the esteemed crayon brand announced a makeup collaboration with fashion retailer ASOS.
The rainbow-bright collection features 58 products with 95 shades, starting at $14.50 for a lip color. With a tongue-in-cheek nod to its crayon roots, there stubby lip colors, highlighters, and other items fashioned like a kindergartner's art tool. The "Face Crayons" all boast the brand's signature chevron-striped wrapping and yellow-green packaging.
"Cute, right?" reads the product description. "Our inner child is beyond excited. Celebrating individuality and self-expression, the brand's ultra-creamy, multipurpose face crayons are great for blending and experimenting – who cares if you color outside the lines?"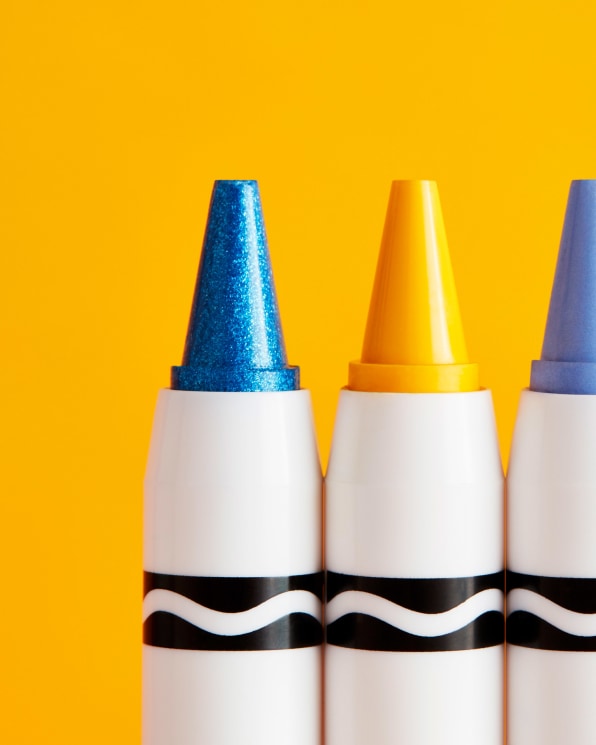 This isn't even Crayola's first venture into cosmetics: In 2007, it released a line of pink and red chubby lipsticks for Clinique. But the ASOS collection bears a markedly brighter, more experimental foray into color cosmetics. It brings to mind other recent launches, like Pantone's "color of the year" products for Sephora (even when said color is a zesty green), or the Andy Warhol Foundation for Nars. Such namesake debuts often lean heavier on their inspiration than on actual wearability.
Basically, does anyone actually color their face with sea blue pigment or dandelion yellow? It's a cute concept–but, and herein lies the issue–in concept. The Crayola x ASOS collection certainly possesses a few wearable hues, but I have yet to see the average women take to some of these wild color combinations, unless they were paid to perform at a children's birthday party.
I'm all for brand cross-pollination and innovating my morning makeup routine, but would it kill these companies to throw in a few more classic reds?