Following the healthy living trend, Whole Foods has announced a new home goods expansion. The Amazon property opened Plant & Plate, collection of artisanal pottery, plants, crafts, candles, and other feel-good home decor and gardening products that are most likely in line with the healthy grocer's ethos. The shop, which looks a lot like a Goop pop-up, features faded brick walls, vintage wall ornaments, hanging succulents, and cobblestone bricks. It's like a manic pixie Brooklyn dream store.
"We wanted Plant & Plate to be part of the overall shopping experience," Genevieve Monette, Whole Foods's whole body coordinator in the Northeast, told Mind Body Green, noting its boutique feel. "It's easy to stop into the shop and pick up a gift for someone (or for yourself), find a new décor piece for your home, or pick up a great cookbook while on a regular trip to the grocery store."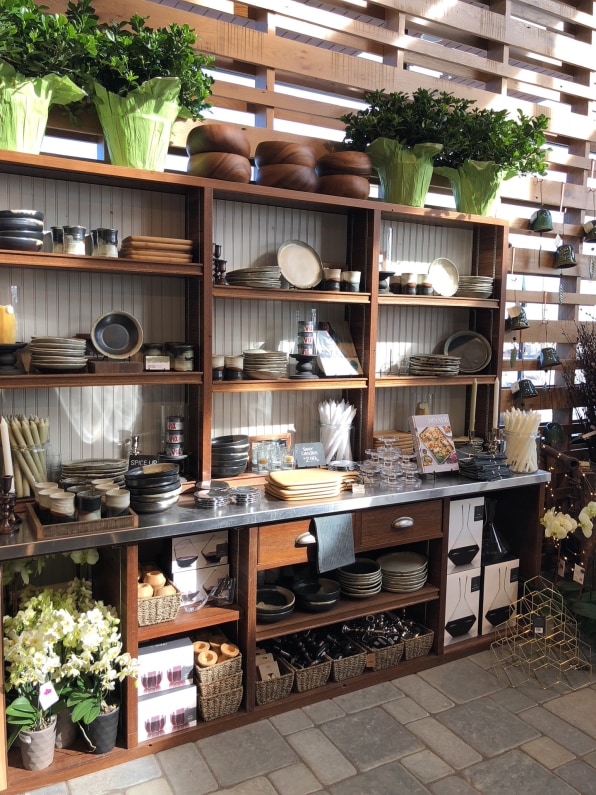 So far, the offerings are available in the Bridgewater, New Jersey, location. The New York metro area is on the horizon, and the retailer reportedly intends to work with local craftsmen to source a portion of their inventory.
Branching out into home goods isn't a stretch for the nationwide retailer. It already sells soaps, candles, and a few other lifestyle items. It's a smart move: Consumers increasingly spend more money on their health, and the trend is expanding into sister categories like beauty, household, and apparel. It's why IKEA similarly launched a wellness-inspired section, and why retailers like Anthropologie now sell aromatherapy.
The global wellness industry is worth $3.7 trillion. Getting a piece of it is just good business.