Apple is updating its HomePod speaker today with multi-room audio and stereo mode. The former allows for synchronized audio across multiple HomePods or other AirPlay 2-compatible speakers throughout the home, while the latter allows two HomePod speakers to create a wider stereo effect in a single room. Apple announced both features last year, but they weren't ready in time for HomePod's February launch.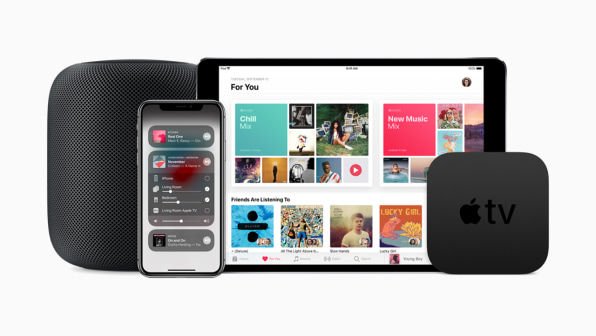 Setting up these features won't come cheap, given that each HomePod speaker costs $349. Rival Sonos sells a pair of Sonos One speakers for just $30 more, and they work with Amazon's superior Alexa voice assistant (and, eventually, Google Assistant) instead of Siri. Meanwhile, Amazon and Google sell their own smart speakers–all of which support whole-home audio–for as little as $50.
Apple has pitched HomePod as a superior smart speaker for audiophiles and Apple Music subscribers, and the new features might help with that, but so far the audio quality angle hasn't resonated. A report by Strategy Analytics estimated that Apple sold just 600,000 HomePods in their debut quarter. During the same period, Amazon reportedly shipped 4 million Echo speakers, and Google reportedly shipped 2.4 million Home speakers, adding to the tens of millions they've sold already.