After more than 30 years, Delta's got a new look. And it's purple. Or to use the brand's nomenclature: "Passport Plum."
Overnight, starting in Sydney, Australia, all 64,000 members of the Delta workforce, from flight attendants to ticketing agents to mechanics, began wearing the new garments. At 7:30 am this morning at the Atlanta airport, Delta's hub, a catwalk had been set up in the international terminal, as Delta staffers walked on stage in a sea of plum and grey, with dashes of red.
The entire suite of clothes was designed by New York designer Zac Posen, who spent months shadowing employees throughout the company to identify how to make the clothes as functional and high-performing as possible. Delta also put together a committee from across different divisions who wear-tested the garments and provided feedback through every stage of the process.
Every Delta employee receives between three and five standard-issue garments as part of their uniform, with the option of purchasing more. In addition to the core pieces, Posen designed sunglasses and leather handbags (all in plum, of course), wool coats for cold weather, and maternity outfits, to give employees a complete look. Over the last few weeks, more than a million pieces of clothing were handed out to employees around the world, and they will all be wearing them starting today. All of the clothes will be manufactured by Land's End. Delta also partnered with Atlanta-based shapewear brand Spanx to provide the female employees with compression undergarments, and male and female flight attendants will also receive compression socks.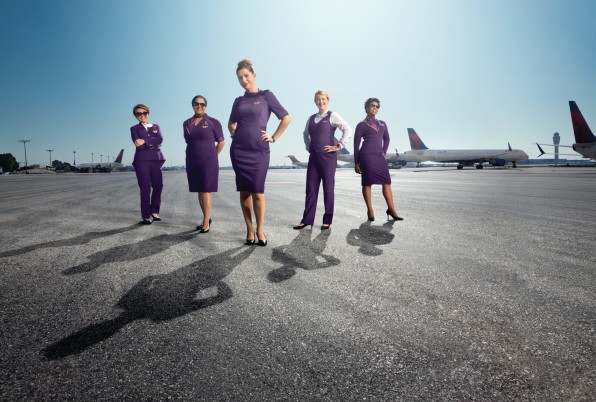 At the fashion show, employees looked snazzy in their new uniforms. Flight attendants and ticketing agents wore sleek suits, shift dresses, vests, and pencil skirts, accessorized with ties, pocket squares and scarves emblazoned with Delta's well-known widget logo. Mechanical workers wore grey trousers and shirts. Some customer service representatives known as redcoats wore head-to-toe red suits so that they are easy to identify at chaotic ticketing counters.
Delta has been dropping hints about the new uniform for several months, sharing early images of the garments with the media. So far, they have received a fairly warm reception from the fashion world and fliers. While we heard rumblings from a few employees who were resistant to the change, the employees I chatted with seemed excited to have a wardrobe update.
"We all fell in love with this shade"
The new garments are a refreshing update for a brand that had not altered its previous red, white, and blue uniform since 1983. But it is really the color that makes all the difference. It is designed to stand out, particularly in domestic terminals where all the major American Airlines have uniforms that carry the colors of the American flag.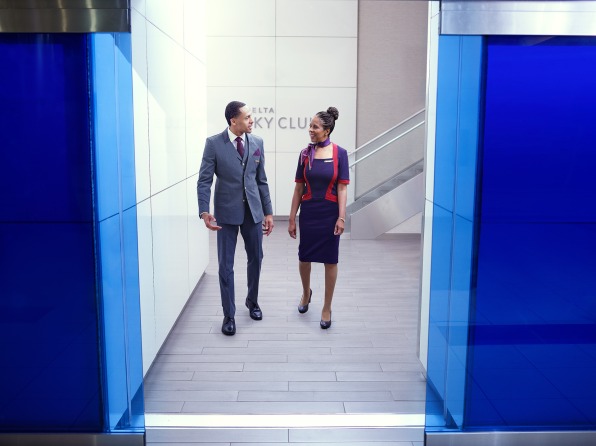 Posen says that the plum color came about by accident. When Posen and his team were experimenting with colors, they had the idea to combine red and blue, and they chanced upon this particular shade of purple that happens to pair nicely with Delta's previous colors. "We all fell in love with this shade," he says. "It seemed to be an evolution of the brand's identity, and communicated this idea of unity and integration that is core to what Delta stands for."
Delta's vibrant new color take a page from international airlines that have been more daring in their choice of colors. Many airlines around the globe have colorful, easily identifiable uniforms. AirAsia's are bright red, Qatar's are maroon, while Australia's Quantas has a blue uniform with red and pink color blocking. Air New Zealand's has purple patterns, while Indonesia's Garuda flight attendants wear teal and orange. "We think these new uniforms look more global," says Ed Bastian, Delta's CEO. "It was hard to identify Delta employees before but we want our people to be instantly recognizable."
Looking back to Pucci's designs for Braniff
The whole redesign process took three years. Delta tapped Posen to take on this task right from the start. The celebrated New York designer says that he has always been fascinated with planes and loves flying and was fully aware of the enormity of the challenge. "Before I started designing, I studied the history of airline uniform design, starting, of course, with the famous Braniff uniforms," Posen tells me.
He's referring to one of the first collaborations between a designer and an airline. Back in the 1960s, Italian designer Emilio Pucci was tasked with designing uniforms for now-defunct Texas-based Braniff. The outfits he created were plastered with wild geometric designs in a kaleidoscope of popular colors from the era, like pinks, browns, and greens. The silhouettes involved micro miniskirts and long sleeve jumpsuits, and risqué ads featured flight attendants doing a striptease. Oh, and there were also bizarre plastic space helmets. Over the years, Pucci's designs have been both mocked and applauded, but they certainly didn't survive that era.
Delta also had its share of experimentation in the '50s and '60s, when it incorporated yellows and pinks into uniforms while maintaining fairly traditional silhouettes, like shift dresses and blazers. Delta's earliest uniforms, from the '40s, were more formal and military-inspired. Posen appears to have been inspired by both strands of Delta's history when designing these uniforms. He wants his uniforms to stand the test of time, although he expects to provide minor updates in the years to come. He's included stylish details, like asymmetrical necklines on blouses and a red trim on a shift dress, but he was ultimately going for a classic look that is consistent with Delta's previous look.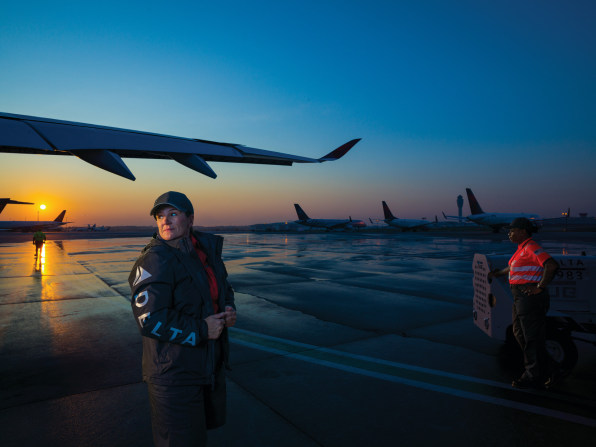 The real magic, he says, has everything to do with what's under the surface. Posen says his team focused their energies on using the latest high-performing materials to ensure that the clothes live up to the work that Delta employees do every day. The textiles themselves are high-tech. The fabrics are breathable, anti-microbial, and moisture-wicking, to keep employees cool through long hours on the job. The clothes are stretchy and wrinkle-resistant, so they look polished at the end of the day. They are also machine washable. Much of this mirrors what is happening across the fashion industry, particularly in the world of workwear, where functional elements are incorporated into elegant clothes.
Posen says that he had to learn a great deal about the inner workings of Delta in order to create uniforms that would be up to the task. Employees tested early iterations of the garments, providing honest feedback about things like whether the skirts hiked up too far when they were sitting down or whether the sleeves pilled when the inner arm rubbed against the torso. Posen himself spent hours doing many of these tasks, from loading luggage onto conveyor belts to serving food.
The hardest task, he says, was trying to respond to angry customers at the airport check-in desk. "It's such a high-stress environment, with people feeling anxiety and time pressure," he says. "It just reinforced to me that part of making a garment functional is ensuring that the employee feels dignified in it. We want these uniforms to command respect."