Dish Network's Sling TV has always been one of the best streaming channel bundles for antenna users. While rivals like DirecTV Now and YouTube TV make customers pay for the same broadcast networks they can get over the air for free, Sling omits them from its basic $20-per-month package, and only includes NBC and Fox in its $25-per-month package. This has helped Sling keep costs down, even as competitors charge upwards of $35 per month for streaming cable channels.
Now Sling is doubling down on the antenna with AirTV, a $120 box that relays free broadcast channels from an antenna to Sling TV's apps on Roku players, Amazon Fire TV devices, iPhones, iPads, and Android devices. This gives Sling subscribers a single app and unified TV guide for watching both cable and broadcast channels. It also allows them to watch broadcast TV from outside the house.
Mitch Weinraub, AirTV's director of product development, says a majority of Sling TV's 2.2 million subscribers already use an antenna somewhere in their homes, and a recent Parks Associates study found that 20% of U.S. broadband homes used an antenna for TV last year. As more people supplement their streaming video services with free broadcast TV, AirTV could be Dish's secret weapon. (Both AirTV and Sling TV are subsidiaries of Dish Network, which is trying to win over cord-cutters while its satellite TV business collapses.)
"We think there are an awful lot of folks out there who already know the value of this content, of how much you can get with an antenna," Weinraub says. "This really gives them a much easier way to integrate it into their lives."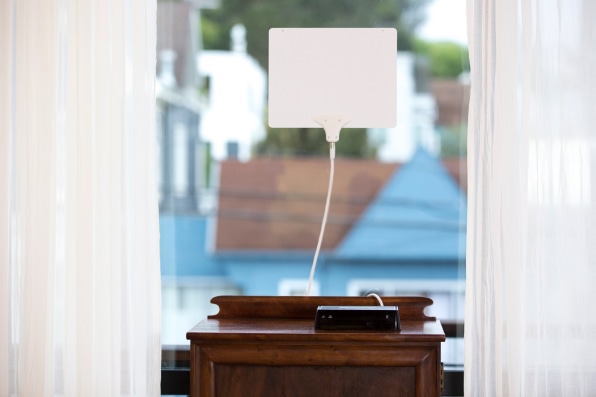 Second effort
Dish unveiled the AirTV brand in January 2017, along with a product called the AirTV Player. The $100 box ran Google's Android TV software and came pre-loaded with the Sling TV app. A separate USB tuner allowed users to connect an antenna and integrate live broadcast channels. That product flew under the radar for several reasons: It was buggy at launch, it didn't get much promotion from Dish, and Android TV was (and is) relatively unknown to consumers.
AirTV is still improving the Player, with features like DVR for broadcast channels, but the new AirTV box seems like a more promising product. Instead of making users replace their streaming players, AirTV will work with popular devices like Roku players and Fire TV Sticks. And this time around, AirTV began with a soft launch. It started selling the new box in December with virtually no promotion, while refining the software and adding more device support.
Weinraub also says AirTV will do more marketing for its products, though the company is still being judicious about how it gets the message out. Antennas aren't entirely foolproof, so AirTV wants to avoid giving customers the wrong impression about what they can do.
"If you live 100 miles from the city, and you go to your local Best Buy and buy a cheap window antenna, you're not going to be a very happy customer," Weinraub says. "We're trying to make sure that as we market it out, we're marketing it in a way that customers can understand what to expect, and we can help guide them in terms of antennas."
AirTV will have one major limitation at launch: It won't be able to record over-the-air channels like Sling TV can with streaming ones. That feature is in development for later this year, but, in the meantime, other networked tuners such as Tablo and HDHomeRun already offer robust DVR features, albeit without the Sling app integration that AirTV promises.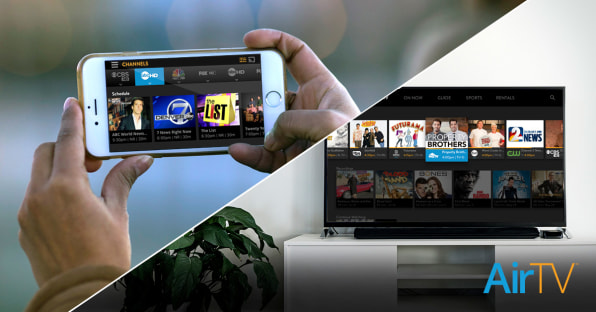 Bargaining chip
Although AirTV could be useful to cord-cutters, it also serves an ulterior motive.
Last week at an industry conference, Sling TV group president Warren Schlichting vocally complained about escalating retransmission fees. Those are the fees that TV providers must pay to broadcasters to carry their signals. Currently, the fees for local channels can make up around $12 per month of a customer's TV bill, Schlichting said, and he predicted those fees could rise to $15 per month next year.
Schlichting pointed to over-the-air TV, and AirTV in particular, as an antidote. "We won't get rich off selling the AirTV box; in fact, I don't know if we'll even make money," he said, according to industry news site FierceCable. Still, he noted that the device could still help Sling push back against rising fees.
Weinraub echoes those talking points in our interview, noting that over the last 11 years, Dish's retransmission fees have risen by 5,000%. AirTV is helping to "complete the circle" for Sling, which intentionally tried not to burden customers with those fees, Weinraub says.
"Most customers who have a cable TV package or satellite TV package, whether they know it or not, they're paying between $10 and $15 per month to get their local channels," he says. "That's an awfully big hit for a lot of folks, especially for folks who are looking to create a more cost-effective bundle."
That made me wonder if AirTV is less of a genuine product and more of a bargaining chip for favorable retransmission deals. In the past, Dish has given its satellite customers free antennas while fighting network affiliates over carriage fees. As Dish negotiates new deals with the major networks and broadcast affiliates, it's not hard to imagine the company wielding AirTV as a threat.
Weinraub demurs on the topic, saying that AirTV is committed to the product, and pointing out that an antenna can provide lots of channels that aren't even part of the retransmission debate. (None of today's streaming bundles offer PBS, for instance, and few offer digital subnets like MeTV and Comet.) But either way, AirTV fills a need that other streaming bundles aren't even trying to meet.
"We think there's a real opportunity here to get a whole lot of content rather cost effectively to the customer," Weinraub says, "and most customers are really pleasantly surprised when they see what's out there when they pick up an antenna."