This past weekend, 40 of the most popular, talented and sought-after NFL rookies gathered at The Beverly Hilton in Beverly Hills, CA  for a four-day crash course on the business of football, the role of the NFLPA union, and meetings with major brands like Nike, Gatorade, Fanatics, New Era, EA Sports, and more. The NFLPA's Rookie Premiere event is a sports marketing mash-up of tradeshow-meets-job fair-meets-speed dating, and for many of 2018's incoming class of pro football rookies, it's their first chance to explore the brand opportunities beyond the gridiron. Or, asAhmad Nassar, president of the NFLPA's licensing and marketing arm NFL Players Inc., puts it, "This is their first business trip."
What began 24 years ago as an opportunity for trading card companies to get rookie photos taken before the season has evolved into a branded extravaganza in which business relationships are forged, content created, and young pro athletes get their first taste of the lucrative potential in off-field opportunities. It's also the only business event specifically mentioned in the NFL's collective bargaining agreement because as Nassar points out, everyone understands "the value created here … from the players, the brands, the team, and the league, not to mention fans and consumers."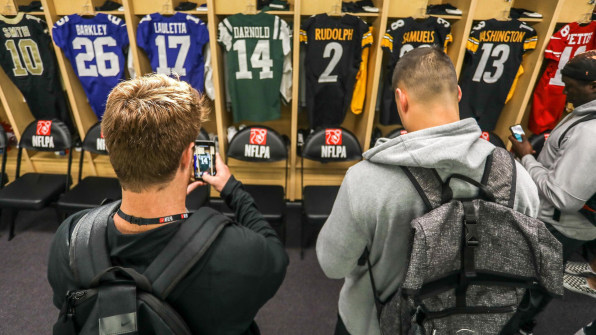 Trading card company Panini America is the title sponsor, but the pitch to the laundry list of other brand partners is that Rookie Premiere gives them first access to the NFL's next generation of stars. Each year NFL Players Inc. facilitates individual player service deals from conversations started at the event, and this year anticipates it will garner up to 100 rookie deals alone, along with many deals for current and former players throughout the weekend. These deals run the gamut from a national endorsement campaign for a single player to a series of local-market trade deals for multiple groups of players, to a single deal for an appearance or a social media push.
Steve Scebelo, NFL Players Inc.'s vice-president of licensing and business development, says that being among the 40 rookie players out of 300 draft picks who were chosen to be here lets the players know they've been earmarked as having significant marketing potential, so not only should they get to know the various brand partners, but also think a lot about their own brand image.
"We talk to players about how much they've thought about their own personal brand," says Scebelo. "What is it? What does it stand for? What does it do out in the community? What products do you like and use? What causes are you passionate about? This event allows us to help them to start focusing on some of these things."
Excited to host 40 NFL rookies and 30+ partners at #RookiePremiere this week:

More Info: https://t.co/5S7FKSSlFM
Who's Coming: https://t.co/ET5mpB8OJS pic.twitter.com/snf9RulQyv

— NFLPA (@NFLPA) May 14, 2018
The New York Jets drafted Sam Darnold third overall at the 2018 NFL Draft, and the young quarterback says it's been great to meet with various brands, but perhaps the most valuable aspect of the weekend has been being able to get advice from NFL vets who have been through this process, and managed to balance their career between the business and the filed.
"Like Jay Z said, 'I'm not a businessman, I'm a business, man,' and I think that's the mentality you need to have in this process," says Darnold. "It's amazing to talk with these former players, mapping out what we're going to go through, how we should best approach it, how to treat yourself as a business in your career. I've tried to conduct myself in a way that is true to myself, just as I did in the [NFL] combine interviews because I want these teams and companies to know what they're getting."
Retired New England Patriots star and former Super Bowl champ Willie McGinest is there as a player ambassador and was at the very first Rookie Premiere in 1994. Back then, McGinest says it was just about starting to understand the business he was about to embark on. "As young athletes, many aren't prepared for what's to come, which is natural, but you lean on the veterans and mentors, and people from the NFLPA who can give you a snapshot of what's to come, says McGinest, adding Rookie Premiere is on a whole other level now. "It's a stellar event with all these major brands. What they do for these young men, how they set them up, it's definitely an informative time, and hopefully, it will stay with them long after this weekend."
For EA Sports, the weekend ties directly into the quality of the brand's marquee Madden NFL gaming franchise. The company uses the opportunity to get head scans of all the rookies in order to get each of them in the newest version of the game. The brand also records content, such as Q&A interviews, and rookies reacting to their Madden player ratings, to be used later on. EA Sports senior director of global brand management Joshua Rabenovets says it also gives them the chance to get to know the players.
"It's our first time meeting these players," says Rabenovets. "And as they embark on their careers, you get a sense of their personalities, and that comes into play with ad campaigns, in-game content, and who might be a good fit down the road for things like that."
COMING SOON: Next week be on the lookout for @Fanatics x @NFLPA #RookiePremiere Event-Used Auction hosted on https://t.co/CaQI6zOQRO. Jerseys, footballs, gloves, cleats & more from the @NFL's top rookies. pic.twitter.com/ZYYc02CNPN

— Fanatics Authentic (@FansAuthentic) May 15, 2018
For apparel brand Fanatics, the weekend also provides the opportunity to create real-time content. While it does take care of things like jersey and product photo shoots, Fanatics vice-president of marketing Ryan Donovan says they see this event as a unique marketing moment in itself. This weekend, they looked at customer data to see who's purchased rookie jerseys for players like Josh Allen (Buffalo Bills), Baker Mayfield (Cleveland Browns), and Saquon Barkley (New York Giants), then had the players Facetime call the customer to personally say thanks.  "As we've evolved as a brand, and seen our opportunity to connect with fans on a personal level, that's when we moved towards things like the Facetime idea," says Donovan. "It's less about canned, staged production, and more about real-time interaction with these players."
If there's only one thing Nassar and the NFLPA want the rookies to get out of this weekend, it's this: "We want them to get more out of the fact they play football for a living than the sport of football gets out of them," says Nassar. "For too long players were the cogs in the machine, often chewed up and spit out. We want them to maximize their experience, and part of that is through branding and marketing opportunities off the field. If you wait until you're done playing football to decide how to approach that, it's too late."