Bianca del Rio didn't set out to be "the nastiest bitch on the planet," but she kind of is–and it's really working for her career.
Del Rio, whose real name is Roy Haylock, became known for her razor-sharp wit–and even sharper tongue–on season six of RuPaul's Drag Race. Her unique brand of insult comedy was honed as a local drag queen in New Orleans long before competing for and winning the crown as America's next drag superstar. That seniority combined with the ever-growing platform of RuPaul's Drag Race has catapulted Del Rio's career.
"I think age had a lot to do with it, like being older when I did the show. I think if I were 20, I probably would have lost my mind," says Del Rio, who was 37 at the time of her season. "My goal was not to be the Omarosa of Drag Race, but it was a great platform, and you run with it, and I think it's opened doors for me to get to do what I want to do."
And what Del Rio is doing is quite expansive. Since RuPaul's Drag Race, Bianca has headlined and sold out standup comedy tours worldwide, starred in two feature films, released a satirical self-help book, and created a line of no. 1-selling makeup removers.
One would think it's all been some calculated plan, but Del Rio readily admits her drag career has been one fortuitous stepping stone after the next–she's just known how to make the most of each move.
"It kind of snowballed. I didn't plan to be a comedian. I didn't plan to be a drag queen. It just kind of evolved," says Del Rio, who was a professional costume designer before doing drag full-time. "With drag shows, I was the one who had to kill time [as the host] because a drag queen was changing from one hideous outfit to the next. Think about who's in a bar on a Thursday at 3 pm–a bitch that doesn't want to see me. So [insult comedy] kind of evolved into my act, and I didn't think of it that way until I got to New York and someone said, 'what is it that you do?' And I'm like, well I'm a bitch. And they were like, OK great–and it worked."
For Del Rio, drag and comedy are innate. The learning curve in her career comes in with fine-tuning her brand. A common route for most queens, especially from RuPaul's Drag Race, is to release an album or song, which is an understandable business strategy: a large portion of your income comes from bookings in clubs and bars, so why not have your music playing while you're there? Given the fanbase Del Rio developed on the show, springboarding into an album or even just a single could've been a lucrative move.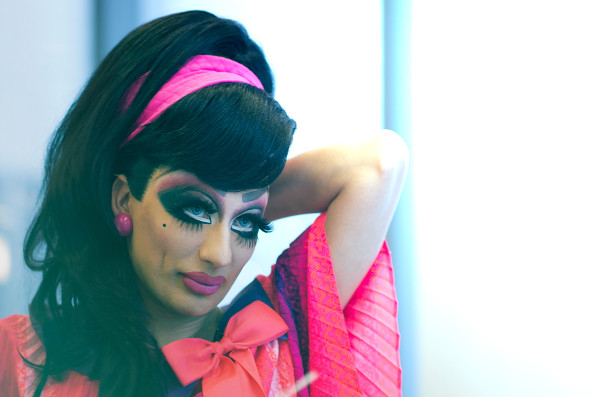 "I had management at one point that discussed doing an album and many people sent songs–and I use that term loosely," Del Rio says. "I'm not going to do an album. There's enough horrible drag queens singing–especially when they do that spoken word over music, 'I'm fierce! I'm fierce!' I don't know what I want, but I know what I don't want, which has worked out well for me."
Case in point: Del Rio was approached at one point by a book publisher to do a memoir, an opportunity most people would've jumped at, but one that Bianca retooled to serve her brand even better.
"That's egotistical to say that someone's interested in my story. Do you want to hear some sad drag story: 'Oh, life was difficult! Nobody liked me! I got beat up!' It's called high school–everybody's been through it. Who gives a shit?" Del Rio says.
Instead of a memoir, she pitched the idea of having people submit questions that she would answer in her own special way.
"It's giving the worst advice possible because if you're a person seeking advice from a 42-year-old drag queen, you deserve the shitty advice," Del Rio says of her book Blame it on Bianca. "A friend of mine was like, 'what made you think you were qualified to write a book?' And I go, 'Dr. Phil, that swollen walrus, he's giving advice–he's not even a doctor. I'm not a woman, so what's the difference?' I didn't want to write about myself, so I thought what's the best way to put it out there and make it fun?"
That's really become the core of Bianca's brand and her business: acerbic honesty wrapped in comedy. Her first film Hurricane Bianca is as ridiculous and campy as they come, but the film tackled the very real and grim fact that there are 28 states where one could get fired for being gay. In the film, Del Rio plays Richard, an openly gay New York City teacher who relocates to a small town in Texas, and is persecuted by his homophobic colleague Deborah, played by Saturday Night Live alum Rachel Dratch. Once he's outed, Richard is fired but returns to the school as Bianca Del Rio to get revenge and enlighten the closed-minded community. Hurricane Bianca's sequel, Hurricane Bianca: From Russia With Hate, picks up where the first film left off–this time addressing LGBTQ oppression in Russia.
Bianca has made it this far in her career with her unapologetically abrasive humor, so she's not about to curb it now–even in an increasingly P.C. culture.
"Everything is offensive, so I'm enjoying the fact that I'm anti-kind. You've got to go out and just speak your mind. It needs to be heard," Del Rio says. "There was a young boy who was 13-years-old who was in drag with his grandmother that came to see me [during a comedy show] and I was nervous because he was like, 'me and my grandma love Drag Race and we watch the show together!' And I looked at [the grandma] and I said, 'you do know my show's going to be a little racy?' She goes, 'well, what the fuck do you think I came for?' So I'm bringing families together–through hate."